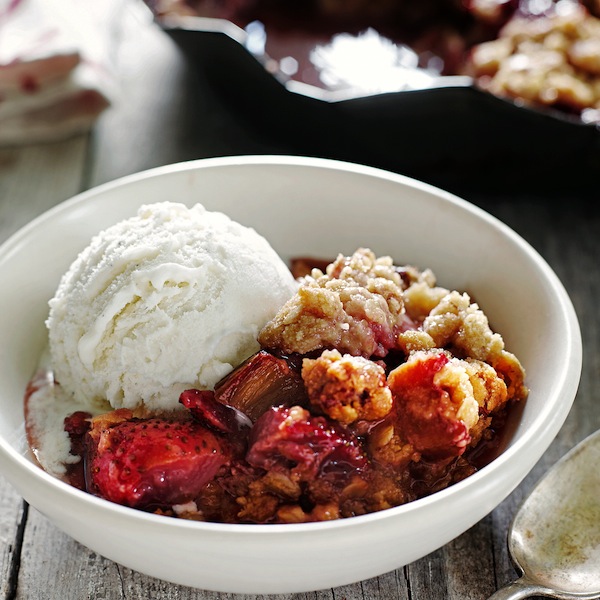 Not since my parents gave me my weekly 50-cent allowance to bike down to Jack's Market and buy a stash of penny candy have I been quite this excited. Every morning when I head out to the strawberry patch, I keep looking around for someone to give me permission, or at least to charge me an entry fee to the garden. I just can't believe there's a whole row of fresh, ripe strawberries simply lying around in my backyard waiting for me (and Libby, when she's here) to eat. (Roy's not much of a fruit guy.)  I'm truly and ridiculously giddy about this situation and I am not apologizing.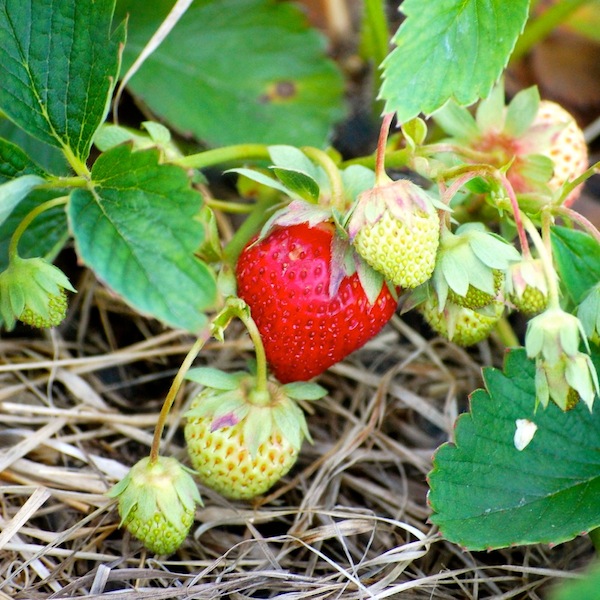 This is the first year we have enough for me to pick a bowlful every morning, but thankfully, not quite enough to sell at the farm stand. Too bad. This means most days, I get to decide how I want to eat them. I'm sure you can guess the next part—it is hard to get inside the house without eating most of them. But I have been practicing discipline.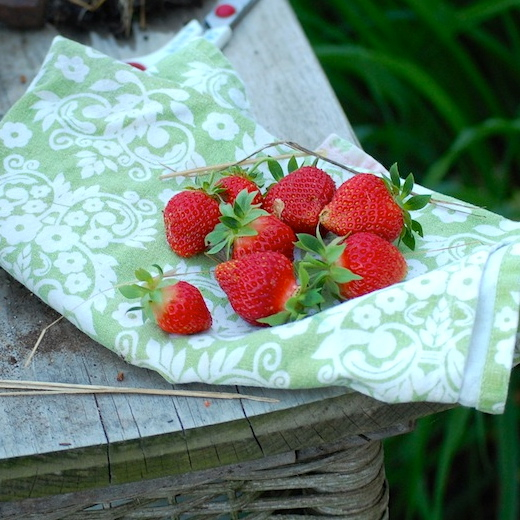 Last weekend, knowing Libby was coming, I saved enough for the two of us to have a nice dessert with whipped cream on Saturday night. We ran out of time to make shortcakes, because we decided to make grilled pizza instead. (If I'd had time, I would have made one of two shortcake recipes from my fabulous baker friend Abby Dodge (author of The Weekend Baker and many other cookbooks). This one is chocolate (oh my!), the other is a classic tender shortcake that Abby did for a story I worked on at Fine Cooking magazine years ago. But since Libby is a huge whipped cream fan, we were okay with just the strawberries tossed in sugar and topped with vanilla (freshly) whipped cream.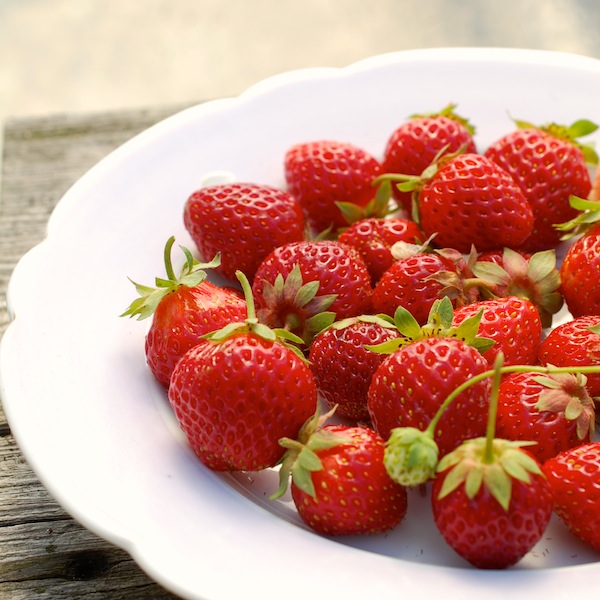 Libby remarked at how tasty the strawberries were—I had warned her that they weren't terribly sweet, because it has been cool here. But I found her comments interesting (she has a sharp palette), because I am finding these Ozark Beauties that we are growing to have a really intriguing citrusy flavor. They're tangy for sure, and at first I kept looking for that super-sweet flavor you get with say, the famous Earli-Glow strawberry. But now I think that for using in desserts, these are particularly nice, adding an intriguing acidity.
The other really cool thing about fresh, ripe, picked-nearby strawberries is how red they are—all the way through. It seems like kind of an obvious thing—that a ripe strawberry should have red flesh—but as you know, most grocery store strawberries are mostly white on the inside.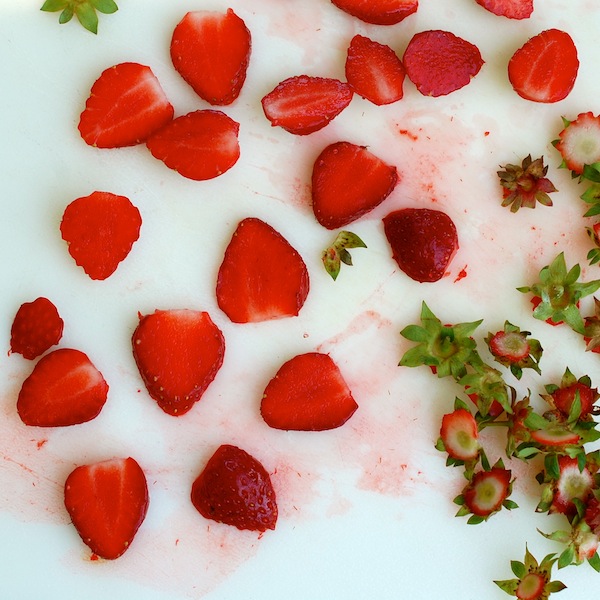 Now I am saving my daily harvest to make one of my very favorite recipes in Fresh From the Farm—the Gingery Strawberry Rhubarb Crisp with Brown Sugar-Pecan Topping. You have to make this one, I promise, even if you have to steal the strawberries from Mr. MacGregor's garden! (Recipe below and photo above.)
After that, my next batch is definitely going to be my (and Libby's) all-time favorite: homemade Strawberry-Vanilla Ice Cream. My other favorite frozen strawberry dessert is this Strawberry-Balsamic Granita from Fine Cooking, but Abby's Strawberry Sorbet looks really good, too. I also see, among the many delicious strawberry dessert recipes Fine Cooking has on their site, an intriguing change-up to strawberries and yogurt—a Strawberry-Yogurt Brulee. Looks easy and delicious. And I remember loving all of Lori Longbotham's strawberry concoctions, especially her roasted strawberries that she then used for her Triple Strawberry Ice Cream Sundaes–with chocolate-dipped strawberries!.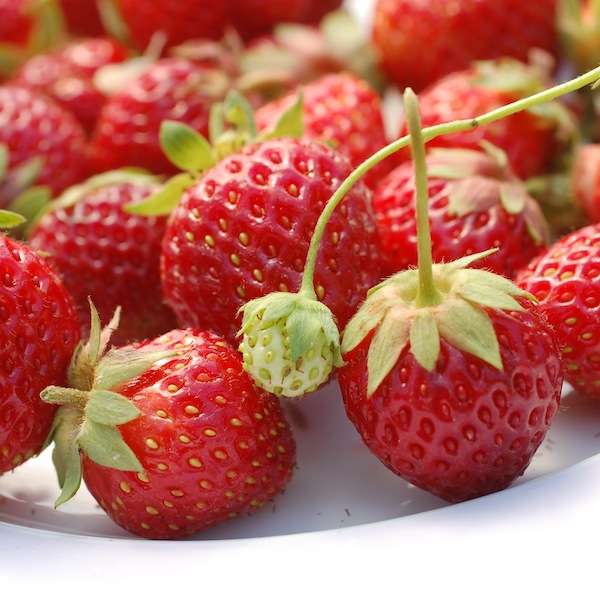 In the last strawberry days (which will trickle through the summer since the Ozark Beauties are everbearing), I will make Farmhouse French Toast with Backyard Berry Syrup as well as Yogurt and Strawberry Parfaits with Homemade Maple Granola (both from Fresh from the Farm). Maybe I'll even have enough strawberries to finally make jam. I hope so, because my friend Cathy Barrow's recent article in the Washington Post ("Canning Class: Strawberry Jam that Works") totally had me wishing I could stop right then and there and make jam.
Heck, maybe I'll even be able to steer some of my berries to the freezer, so that I can recreate this glee in the middle of the winter. But don't hold your breath. Think I'd better order more strawberry plants and get them in the ground this fall.
Gingery Strawberry-Rhubarb Crisp with Brown Sugar-Pecan Topping  
Copyright Susie Middleton, 2014, from Fresh From the Farm: A Year of Recipes and Stories.
This crisp rocks. Sweet and tangy with a most excellent crunchy topping, it gets a flavor jingle from two secret ingredients—crystallized ginger and a touch of balsamic vinegar. Cook the crisp until the topping is plenty golden (about 45 minutes)—enough time to let the fruit juices reduce and thicken a bit, too. This looks pretty in a 10-inch quiche pan, but any 2-quart baking dish will work. Great warm with vanilla ice cream, this crisp is pretty tasty leftover for breakfast, too. I should know.
Serves 6
For the topping
8 tablespoons unsalted butter, softened, plus more for baking dish
1 cup all-purpose flour  
1/4 cup finely chopped toasted pecans
1/2 cup light brown sugar
1/2 cup regular oats
1/4 teaspoon kosher salt
1/8 teaspoon ground cinnamon
1/8 teaspoon ground ginger
For the filling
2 1/2 cups hulled, quartered strawberries  
2 1/2 cups thick-sliced rhubarb stalks (cut 1/2 inch thick; about 10 ounces)
1/2 cup plus 2 tablespoons sugar
3 tablespoons all-purpose flour
2 tablespoons finely chopped crystallized ginger
2 teaspoons pure vanilla extract
1 teaspoon balsamic vinegar
1/4 teaspoon kosher salt
For serving
Vanilla ice cream or frozen yogurt, or heavy cream (optional)
Heat the oven to 350°F. Rub a shallow 2-quart baking dish or large ceramic quiche dish all over with a little butter.
In a medium mixing bowl, combine all the ingredients for the crisp topping and mix together with your fingers until well-combined into large "crumbs."
In a large mixing bowl, combine the filling ingredients and mix thoroughly. Arrange the filling mixture in the baking dish and top evenly with the topping mixture. (Depending on the size of your pan, you may have a little leftover topping. Freeze it for another use.)
Bake the crisp until the topping is firm and golden, about 45 minutes. (The juices will have been bubbling around the edges for a bit.) Let cool for 15 to 20 minutes and serve warm alone or with ice cream, frozen yogurt, or heavy cream.
top photo credit: Alexandra Grablewsky, from Fresh From the Farm: A Year of Recipes and Stories