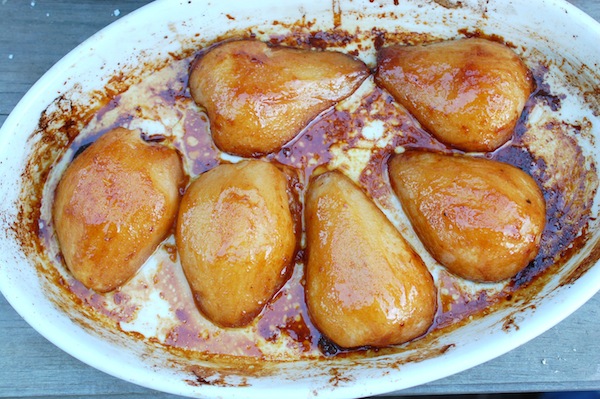 Maybe the best thing about being a cookbook author is that some of your own favorite recipes are, well, in a book! You completely forget about something, and then maybe the season rolls around and the memory of it floats back. But instead of rifling through a pile of magazine clips or trolling the internet, all you have to do is open your own cookbook to find the recipe.  (This is particularly helpful to absent-minded me, as my own record keeping system has deteriorated over the years.)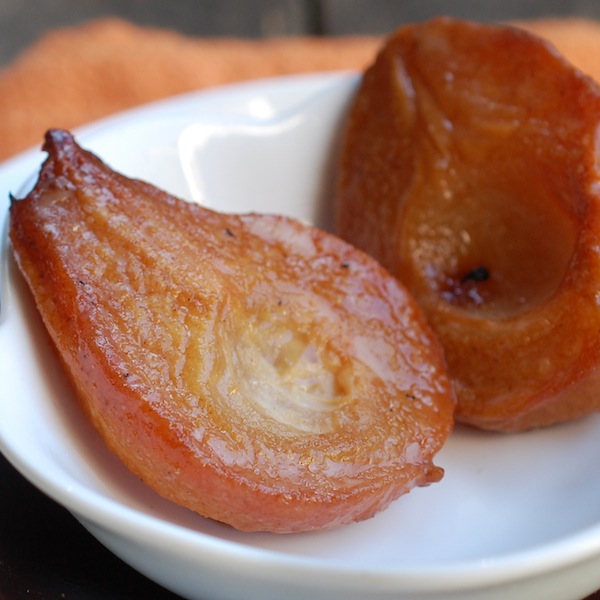 Lately, recipe-memories have been bombarding me. Something about the end of summer and the start of fall really makes me want to cook, plus we have so many fruit-and-vegetable odds and ends migrating from the farm stand into the house. Mostly the recipes coming to mind are ones (not surprisingly) in the Indian Summer and Early Fall section of Fresh from the Farm: A Year of Recipes and Stories. In fact, some of my favorite recipes in the book are in that section–Winter  Green Market Meatloaf; Roasted Beet "Jewels" with Cranberries, Toasted Pecans & Balsamic Butter; Mac 'N Cheese with Kale, Goat Cheese & Sundried Tomatoes; and Indian Summer Minestrone with Late Tomatoes and Beans, which I'm definitely going to make this week.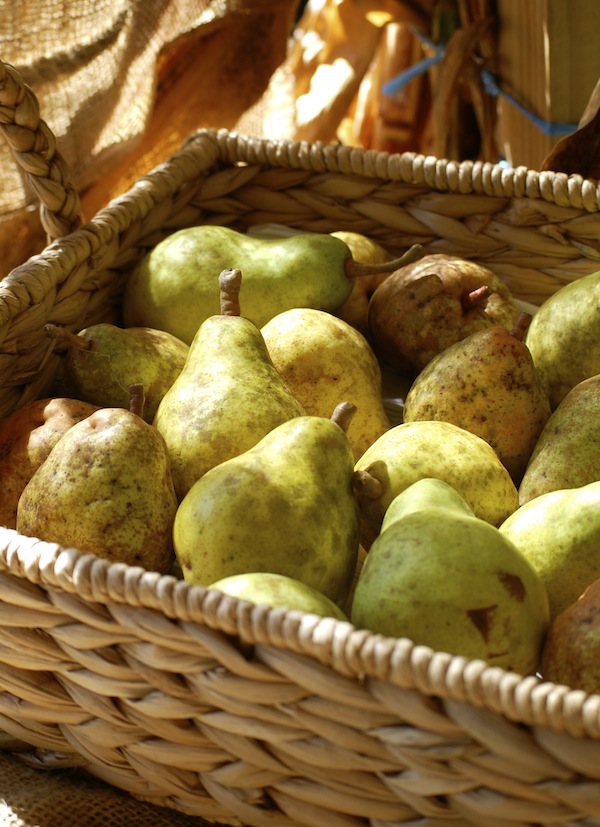 And now Roy is picking pears for the farm stand. Which means I'm getting the discards, ones with a blemish or two. I got this idea in my head that I might make pear butter out of them. I began looking at various recipes and then decided not only that the process was too time-consuming, but also that I wasn't entirely sure how much pear butter Roy and I could consume.  Probably very little, I realized. Finally the memory light bulb went off and I thought, don't I already know the perfect easy and delicious thing to do with these pears? Yes, of course. Roast them. With honey and butter and vanilla. A là Fresh From the Farm. So good.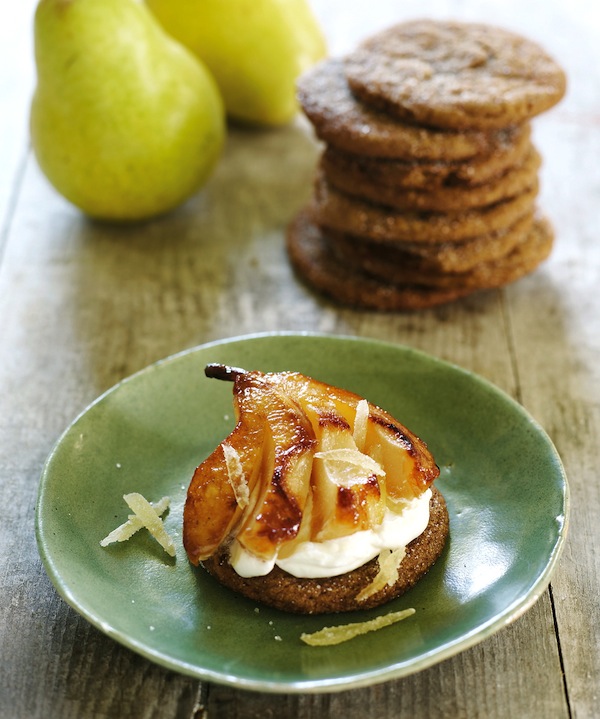 The recipe I developed for the book goes one step further and uses the pears in a totally groovy dessert that showcases the pears on a pillow of ginger mascarpone cream on top of a giant soft molasses cookie (photo above). Yep. That is a mighty good recipe, I will tell you, but in the interest of time, you can just make the Honey Vanilla Roasted Pears and you're good to go, with or without vanilla ice cream. (I also developed a variation on this recipe for Martha's Vineyard Sea Salt's website. I used maple syrup and crystallized ginger instead of honey for roasting the pears, and then paired them with vanilla ice cream, chocolate sauce, and sea salt, of course.)
I thought I'd share the Honey-Vanilla Roasted Pear Recipe with you today in case you've lucked into a bounty of quickly ripening pears (or just have a few from the grocery store—this isn't a big quantity recipe!). And then, if you like them, you can find the entire cookie dessert recipe in Fresh From the From!! Sneaky me. Some of my brain cells are apparently still firing, even after this summer.

Honey-Vanilla Roasted Pears
We like to roast our no-name Bartlett-look-alike pears (very sweet and delicious), but an iconic Bosc makes a lovely shape when roasted, too. I think using pears that are on the smaller side is best with this method; you'll need to extend the baking time a bit for bigger pears. Be sure to baste frequently with the pan drippings, and add a bit of water to the pan if juices are burning. The roasted pears are delicious on their own, but also great with vanilla or ginger ice cream. Caramel sauce or chocolate sauce and a sprinkling of sea salt are nice finishes, too. To serve with Molasses Crinkles and Whipped Ginger Mascarpone Cream, see p. 233 of Fresh from the Farm: A Year of Recipes and Stories.
Makes 6 roasted pear halves
______________________________________________________________
2 tablespoons unsalted butter, plus more for baking dish
3 small firm-ripe pears (6 to 7 ounces each), peeled, cored, and halved
Kosher salt
2 tablespoons honey
1 teaspoon pure vanilla extract
_______________________________________________________________
Heat the oven to 450°F. Choose a 1 1/2- to 2-quart shallow baking dish (oval is nice) that fits the pear halves comfortably but does not leave too much room around them. Butter it lightly. Arrange the pear halves, cut side up, in the baking dish. Sprinkle each with just a pinch of salt.
Melt the 2 tablespoons butter in a small saucepan over medium-low heat. Add the honey, the vanilla, and a big pinch of salt. Cook, stirring, until the honey has loosened and the mixture is warm. Use a small basting brush to brush the tops of the pears with some of the honey butter.
Bake the pears for 10 minutes, baste again with some of the honey-butter (rewarmed to loosen if necessary), and bake for 10 minutes more. (If your pears are on the larger size, bake for 5 to 10 additional minutes on this side.) Gently turn the pears over, baste with some of the butter and some of the pan drippings and cook for 15 to 20 minutes longer, basting after 5 minutes and again every couple of minutes. (When you baste, be sure to "wash" the bottom and edges of the pan with the pastry brush to prevent burning. If the pan is getting too dark, add 1 to 2 tablespoons of hot water and "wash" the pan juices again.) Cook until the pears are nicely browned all over and caramelized around the edges (you can peek underneath with a very thin spatula). Let them cool for 5 to 10 minutes in the pan and then transfer to a plate. (If you let them cool completely in the pan, the sugar will begin to harden and they may stick.) Eat right away or keep well covered in the fridge for up to several days.