Safe to say I am pretty geeky about all things vegetable-y. I especially love to learn about new and different vegetable varieties. So when I got my hands on my friend Cathy Walther's new kale cookbook, Kale Glorious Kale, I was in heaven. Right there on page four was this beautiful photo of nine different kinds of kale. We only grow three different kinds, but I would love to grow more. Down the road, farmer Rusty Gordon grows 13 different kinds at Ghost Island Farm. For the book, Cathy interviewed Rusty about growing kale, so I learned that Rusty's favorite variety is Beira, a specialty kale originally from Portugal that resembles collard greens.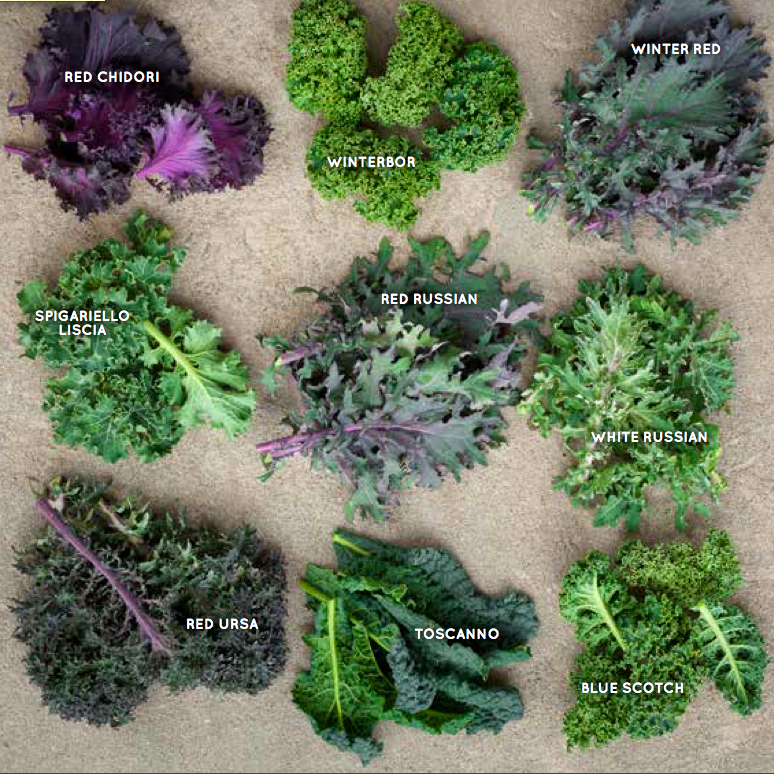 Cathy also touched base with legendary plant breeder Frank Morton, of Wild Garden Seed Co. in Philomath, Oregon. I know his name from the research I've done on lettuce varieties, but I didn't realize that he had developed the lovely and tender White Russian kale, a cross between Red Russian and Siberian, and the sexy Red Ursa. He mentions that Red Ursa has particularly sweet stems, and that sugar tends to concentrate in stems. Throughout Kale, Glorious, Kale, Cathy goes on to feed my curiosity with flavor-pairing charts, technique tips, growing tips, and fun kale anecdotes, many appearing as "The Kale Chronicles" throughout the recipe chapters.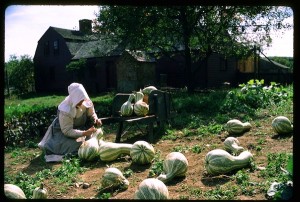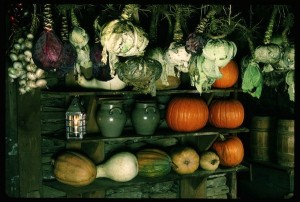 As it happens, the same week I got Cathy's book, I was invited to speak at Old Sturbridge Village, a very cool living history museum in central Massachusetts that replicates an 1830's New England village. The museum is very active in preserving heritage breeds of animals and in growing and saving the seeds of heirloom vegetables. Much to my delight, the folks who invited me to speak that night brought along a selection of heirloom vegetables from the working farm in the village to display around the room. I could barely keep my eyes off this bounty, and later on, I asked OSV's Debra Friedman to give me a little background on some of the vegetables. I think Deb knew I was pretty excited, because wouldn't you know it, guess what showed up in my mailbox this week? Seeds! Boston Marrow Squash, Green Nutmeg Melon, Canada Crookneck Winter Squash, Jacob's Cattle Bush Bean, Red Wethersfield Onion—oh, my! Roy is going to groan when I tell him we need more room for heirloom vegetables. I am pretty thrilled, though. Thanks Deb.
I think Roy is onboard with planting more kale, though. Which is a good thing, as I am excited about all the delicious ways to cook it that Cathy offers in her new book. I've already made Kale Granola (recipe below), and it rocks. I'm sort of a granola freak anyway, and since I've been late to embrace the crispy kale trend, this gave me a chance to do both at once. But with Kale and Feta Pizza; Kale Caesar Salad; Tortilla, Shrimp & Kale Soup; Cider-Braised Kale and Chicken; Kale Latkes; and Cathy's already famous Kale, Pumpkin Seed and Bacon Brittle (yes!), there is a lot to look forward to.  (She even has a gorgeous section on kale cocktails.) That is, if I can stop reading the "Kale Chronicles" or gazing at Alison Shaw's stunning photos.
There doesn't seem to be a limit to the kick I get out of vegetables. Reading about them, growing them, cooking them, photographing them. In fact, I don't see this passion losing steam any time soon. So stand by–now that I'm back indoors with time to cook, I'm tinkering again!
Cathy Walther's
Kale Granola

from Kale, Glorious Kale (Countryman Press, Sept. 2014)

Cathy says in her headnote, "The combination of kale, oats and nuts is crunchy and satisfying. Everyone likes to munch on this as a snack—it doesn't even seem to last until breakfast to top yogurt, mix with fruit or serve with milk. It's easy to vary the nuts and the dried fruit with your favorites.

5 cups curly kale (stripped from stalk, chopped or torn into large bite-sized pieces, rinsed and dried well)

6 tablespoons virgin coconut oil, divided (see Cook's Note)

¾ teaspoon kosher salt

¼ cup light brown sugar

6 tablespoons pure maple syrup

3 cups rolled oats

1 cup broken pecans, broken walnuts, or sliced almonds

½ cup sunflower seeds

¼ cup sesame seeds

1 cup dried cranberries, roughly chopped

¼ cup dried apricots, chopped into ¼-inch pieces

¼ cup raisins, roughly chopped

1. Preheat the oven to 300° F.

2. Make sure the kale is well dried. Place the kale in a bowl with 1 tablespoon of the coconut oil and ¼ teaspoon of the salt. Knead or massage with your hands until the coconut oil is rubbed on all the leaves. Set aside.

3. In a small bowl, whisk together the remaining 5 tablespoons of coconut oil, and the brown sugar, maple syrup and remaining ½ teaspoon of salt. In another larger bowl, combine the nuts, oats, and seeds.

4. Take 2 tablespoons of the wet ingredients and combine with the kale. Rub it over the leaves. Pour the rest over the oat mixture and mix very well until incorporated and the oats are completed covered.

5. Line two 12×17-inch baking sheets with parchment paper or a silicone mat. Place the oats on one sheet, spreading them out evenly, and the kale on the other sheet. (The kale seems to crisp up better separately, but you can mix the kale and oats together and it will work.) Bake all for 25 to 30 minutes, mixing two or three times to prevent the outer edges from burning, and also rotating the pans. I sometimes switch the oven setting to "convection bake" if the mixture doesn't seem to be crisping up. Remove the kale when it is crispy, but not browned. Remove the oats when they are crispy or nearly crispy and before the nuts are burned. Both will get crispier once they sit on the counter to cool.

6. When cooled, combine the kale with the oats. Add the dried fruit. Pack into mason jars for storage.

Cook's Note (on Coconut Oil) from Cathy: "I've switched to coconut oil instead of canola oil for making granola (though substitute canola or another vegetable oil if that is what you have). I love the subtle flavor coconut adds, and nutritionists are recommending its healthier properties. In warmer weather, coconut oil looks like an oil; in cooler weather it tends to solidify. For this recipe, if it has solidified, I usually put the jar in a saucepan of hot water until it becomes liquid again. Also, if you mix it with cold maple syrup it tends to solidify again, which makes it hard to coat the oats and kale, so I usually just have the maple syrup at room temperature or heat it up very slightly before mixing the liquid ingredients."