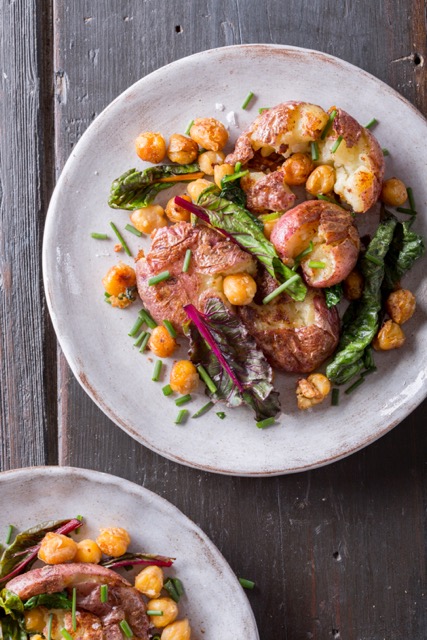 I'm not done with you yet, chickpeas! (Sorry folks, next week we'll move on to miso and ginger and butter and some quick little sauces!) In my last blog, I talked about how versatile chickpeas are, because you can actually sauté or roast them—and turn up their flavor at the same time by browning. I included an Indian Curry recipe from the new book. But with Simple Green Suppers now just four weeks away from bookstores (Yippee! And I may have the first copy in my hands within days!), I thought I'd give you one more teaser recipe with chickpeas, which also happens to make use of, yes, smashed potatoes.
Those of you who've been following me since Fine Cooking days will realize that I just can't leave these little crispy flattened red potatoes alone. Ever since I first developed the recipe more than 10 years ago (and here it is on FineCooking.com), I've been re-imagining them as components of other dishes. In Simple Green Suppers, I've included them in a simple and delicious hash with greens, chickpeas, and, of course, garlic. And they don't even have to go in the oven; in this dish, instead of roasting, the boiled potatoes get smashed and sautéed. A lot of yummy things happen in this sauté pan!
But honestly, I also wanted to run this recipe because I love the photo (by my very talented co-conspirator, photographer Randi Baird) that runs with it. Stand by for a lot more amazing photos, great strategy, and delicious recipes in Simple Green Suppers: A Fresh Strategy For One-Dish Vegetarian Meals.
And if you live on Martha's Vineyard, save this date: Sunday, April 9, 4 pm. Official book launch party at Bunch of Grapes bookstore—yay!
Baby Potato, Greens, Garlic and Chickpea Hash
A simple, comforting supper with just a few ingredients, this was inspired by a freshly dug batch of Red Gold potatoes from the garden. Nutty-tasting yellow-fleshed Red Golds are delicious, but of course not required in this recipe—any baby potato will do! The potatoes get boiled first, then crushed and sautéed with the other ingredients for a delicious crispy finish. I also love that this recipe showcases another tasty way to use chickpeas as a protein—in a rustic "hash." Sautéing the chickpeas until golden is the trick to giving them extra flavor. It even works with canned, drained chickpeas. Choose your favorite tender greens for this, and be generous with the garlic, too.
Serves 2
10 baby red potatoes (preferably yellow-fleshed), about 10 ounces
Kosher salt
3 tablespoons unsalted butter
1  1/3 cups cooked chickpeas (well-drained if canned)
1 (generous) tablespoon minced fresh garlic
3 cups chopped or sliced stemmed tender greens (such as Swiss chard, spinach, broccoli greens, or young kale)
Fresh black pepper
Hot sauce or vinegar
1/4 cup sour cream
Chopped fresh chives
Put the potatoes and 2 teaspoons salt in a large saucepan and cover with a generous amount of water. Bring to a boil, reduce to a simmer, and cook until just tender, about 25 minutes. Drain the potatoes.
Melt 2 tablespoons of the butter in a large (12-inch) nonstick skillet over medium heat. Add the chickpeas and cook, shaking or stirring, until golden brown, about 5 to 7 minutes. Add the garlic and cook, stirring, until fragrant, about 30 seconds. Add the greens and ¼ teaspoon salt and cook, tossing or stirring, until wilted, 1 to 2 minutes. Move the greens and chickpeas to one side of the pan and add the remaining tablespoon of butter. Let it melt and add the boiled potatoes. Using a potato masher or spatula, crush the potatoes into large pieces (you don't want to mash them completely, just break them up) and sprinkle them with 1/2 teaspoon salt and several grinds of black pepper. Turn the heat to medium high and stir everything together. Press down on the mixture with a spatula and cook until the bottom is somewhat browned, 3 to 5 minutes. Flip the hash over in pieces and cook again until the other side is somewhat brown, 2 to 3 minutes.
Remove the hash from the pan and taste for seasoning. Add more salt and pepper and a splash or two of hot sauce or vinegar. (Or serve with a bottle of hot sauce alongside.) Serve right away, garnished with the sour cream and chives.
Copyright Susie Middleton, 2017. From Simple Green Suppers (Roost Books). Photo by Randi Baird.