Yes, okay, I admit it, I am getting a little kick out of this pile of books on my desk. Those copies of Simple Green Suppers are "author" copies to give to all the many people who contributed to the creation of the book.
But I am just going to stare at them for a while.
I have them stacked up that way so that I can see the beautiful spine that the talented book designer, Toni Tajima, created. And also, of course, just to remind myself that somehow I've managed to write (and deliver to my publishers) four books over these last nine years. I never would have predicted that when I left my job as editor of Fine Cooking magazine in January of 2008.
Heading into my tenth year of living on the Vineyard—and the publication on April 11 of that fourth book—I am feeling ridiculously nostalgic and grateful for this supportive, energetic, talented, and yes, tight-knit community I live in.
Take, for example, this launch party we're having next Sunday afternoon, April 9.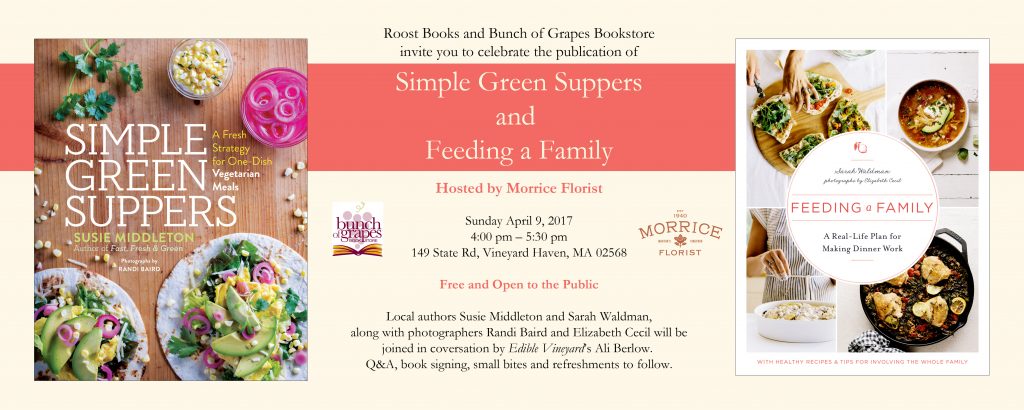 First off, you have to know that my editor at Roost Books (in Boulder, Colorado; they are an imprint of Shambhala Publications), grew up on the Vineyard. Her name is Jennifer Urban-Brown. As it happens, Jenn offered me a contract for my fourth book not long after she offered another Island author, Sarah Moriarity Waldman, a contract for her second book. (Sarah's first book, Little Bites, was with Roost, too.) Then as it happens, both Sarah and I chose (with Roost's approval) to work with talented photographers, Elizabeth Cecil (Sarah) and Randi Baird (me), who are based on Martha's Vineyard, but work and publish nationally as well.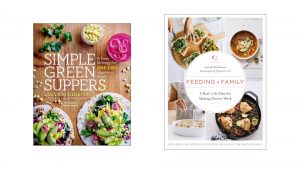 Then, the folks back at Roost Books decided that they would publish both Sarah's book, Feeding a Family, and my book, Simple Green Suppers, on the same day. This seemed like a fun and exciting way to double publicity efforts, though I doubt this would happen in another place. As it happens, Sarah and I have become friends, and though she is younger than I am, we also share many mutual friends in the food and farming community on Martha's Vineyard. (Just so you know, we have a year-round population of 18,000, and yes, there are days, like yesterday, when the ferries stop running, and we are marooned. Winter is long. Friends are key.)
One of those friends is another published author, editor, and radio host who happens to be the first (well, second) person I ever met on this island. Her name is Ali Berlow. Ali was the founding Executive Director of Island Grown Initiative, a non-profit supporting local farmers, (Randi Baird is a long-time board member and director as well) and founder of Edible Vineyard. And she is the author most recently of The Food Activist Handbook and is working on a new radio podcast, The Gleaning.

When Roost suggested that Sarah and I do a panel discussion for our party, we both agreed that Ali was the perfect person to moderate. We asked her, and she said yes. We agreed that the panel should include Randi and Elizabeth so that we could all answer questions about the process of making a cookbook. So there we had our quintet of Island women in food and publishing. (Yay.) (Left to right: Sarah, Elizabeth, Ali, Susie, Randi.)
Two weeks ago, with the event mostly planned, we learned we would need to change locations, as our bookstore, Bunch of Grapes, was going to be moving (only down the street, fortunately.) So we began to quickly look around for another space—the Ag Hall, the libraries, a theatre. Then we thought of a special place that happens to be owned by none other than our editor Jenn's sister. (I told you the Island was small—forget six degrees of separation, it's more like two.) Emily Coulter is the owner of the most enchanting floral shop you could imagine—Morrice Florist.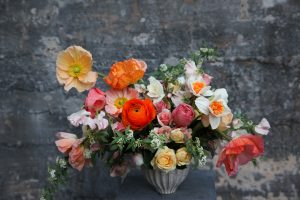 And Morrice Florist also has a big solarium space—big enough to fit a crowd. Emily was happy to accommodate us, and Roost has ordered up chairs and refreshments.
Now all Sarah and I have to do is make several dozen nibbles from our books, and arrive on Sunday ready to talk and sign. Randi and Elizabeth will be there, of course, as will many friends and artists in the community who worked directly or indirectly on our photo shoots or on recipe testing. Bunch of Grapes will be there selling stacks of books. And I will probably get a lump in my front and tears in my eyes when I see all the other friends spilling through the doors, friends who've made living on this Island, for me, a much bigger deal than a stack of books—no matter how alluring they are.