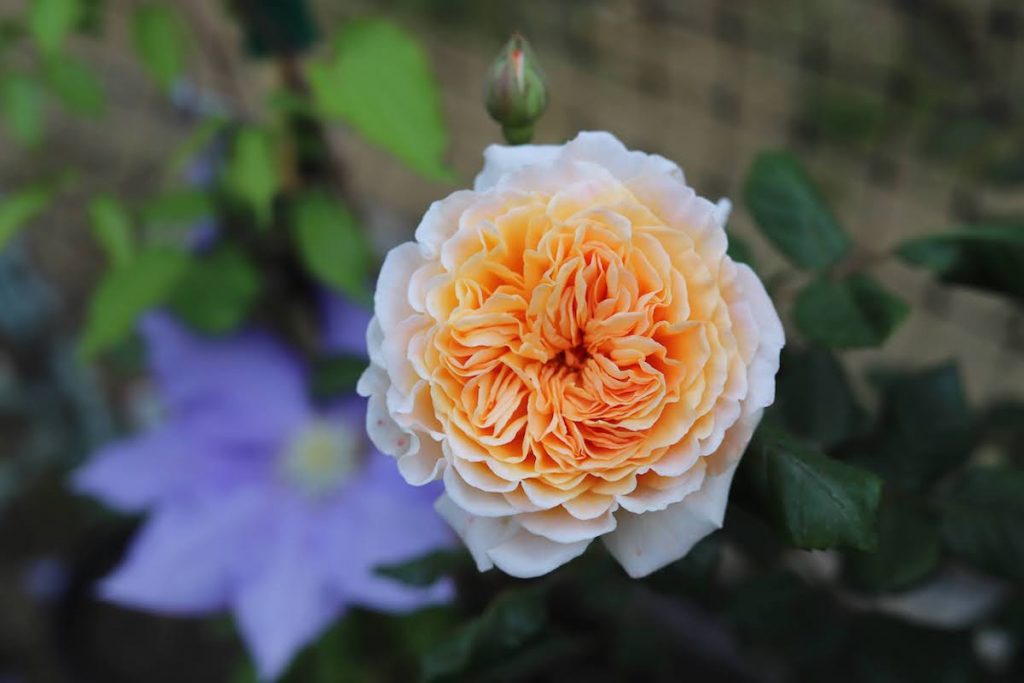 ---
OTHER PEOPLE bake bread, knit sweaters, craft origami. I draw pictures. Sometimes on random scraps of paper, but more often on pads of graph paper strewn around the house. I don't have any actual drawing talent, which is a bummer since my great-grandfather was an artist and my sister is, in the immortal words of my mother, "very clever."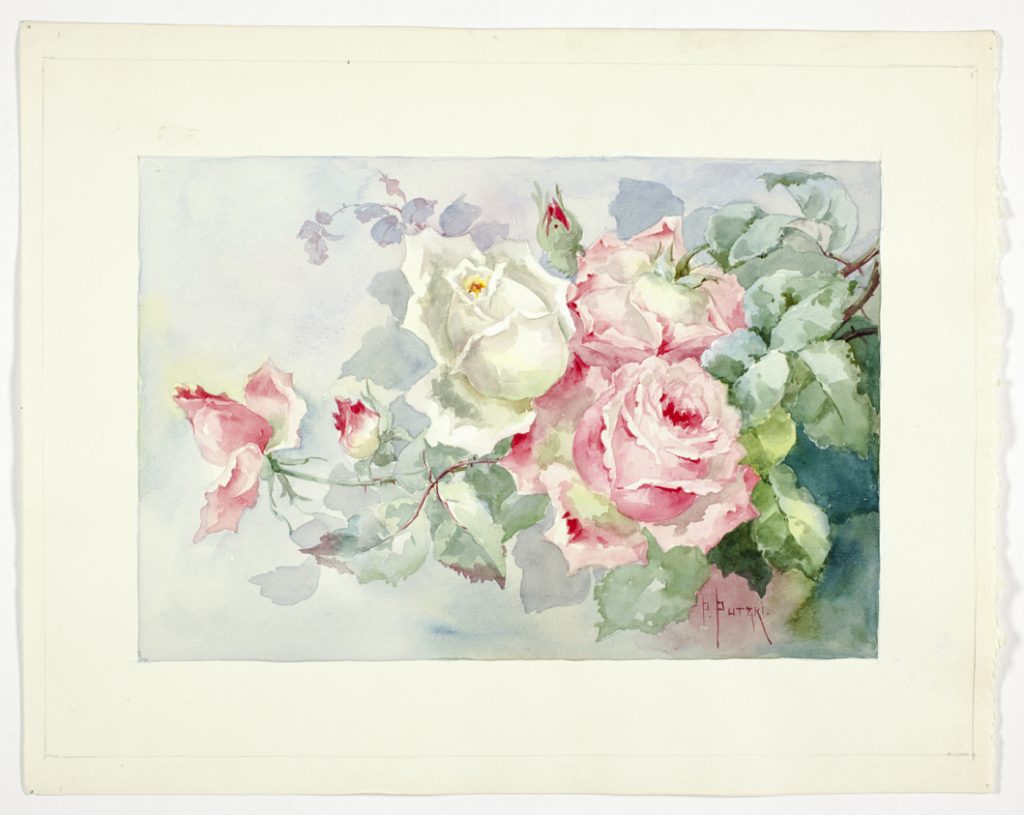 ---
But I sure do like to make plans. It probably says way too much about me that when I'm anxious, creating make-believe worlds in little square boxes calms me down. But I'm going to leave that on the floor like so many discarded Legos. For now, anyway.
I've renovated our tiny kitchen three different ways on paper. And I've designed a fantasy kitchen with wrap-around windows, a baking station, a shallow floor-to-ceiling pantry, a user-friendly island, and big glass doors opening on to the deck. Light! I love light! 
I've sketched (aka scribbled) countless variations of this fantasy design — a room we'd actually have to add on to the southern end of our house as opposed to renovating the kitchen in situ. 
And stuffed away in drawers and file folders are years of garden designs.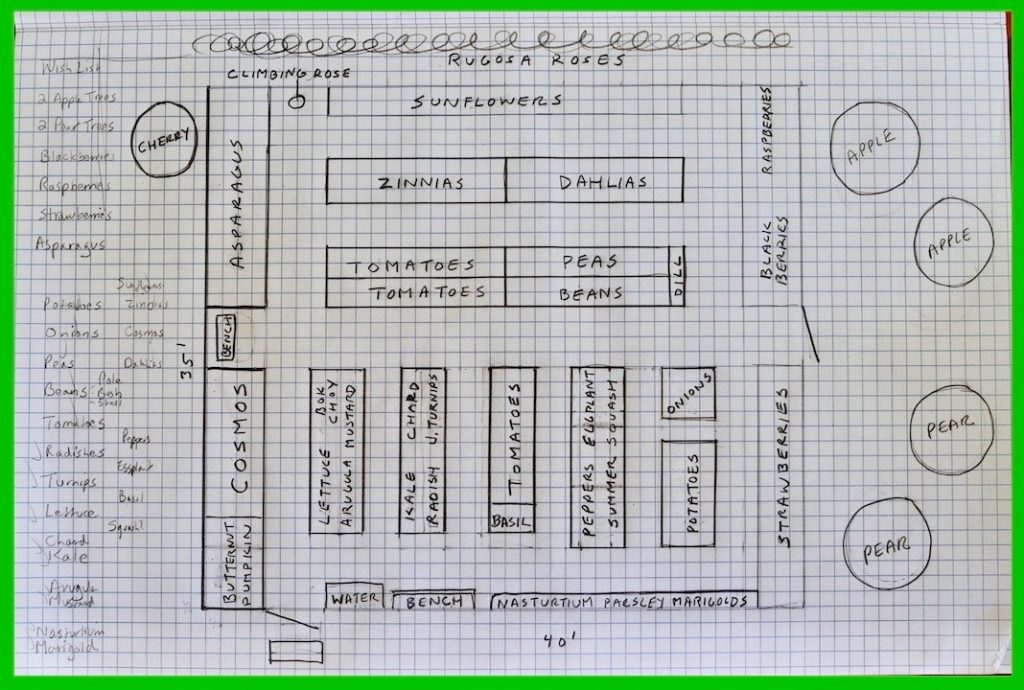 In fact, just this week I drew a plan for a big (35' x 40') fenced vegetable and cutting flower garden that could (theoretically, if we wanted to take this plunge) be located in the open field in front of our house. We'd have to run water down there. We'd have to empty our pockets for fencing, soil amendments, irrigation hoses, the whole enchilada. We'd need a lot of help building this time around. But unlike the fantasy kitchen, which actually makes my teeth hurt when I think about how much it would cost, the fantasy garden has been tugging at me.
I detect a dangerous longing lodging in my bones. 
Which makes no sense.
I had my small farm, I had my farm stand. I said I was done with all that, and I was overjoyed at my partner's generosity in immediately building me a small vegetable garden here at my new home. It would be so perfect, so manageable, so tidy. And it was, and it is, and we've already added on to it. Twice.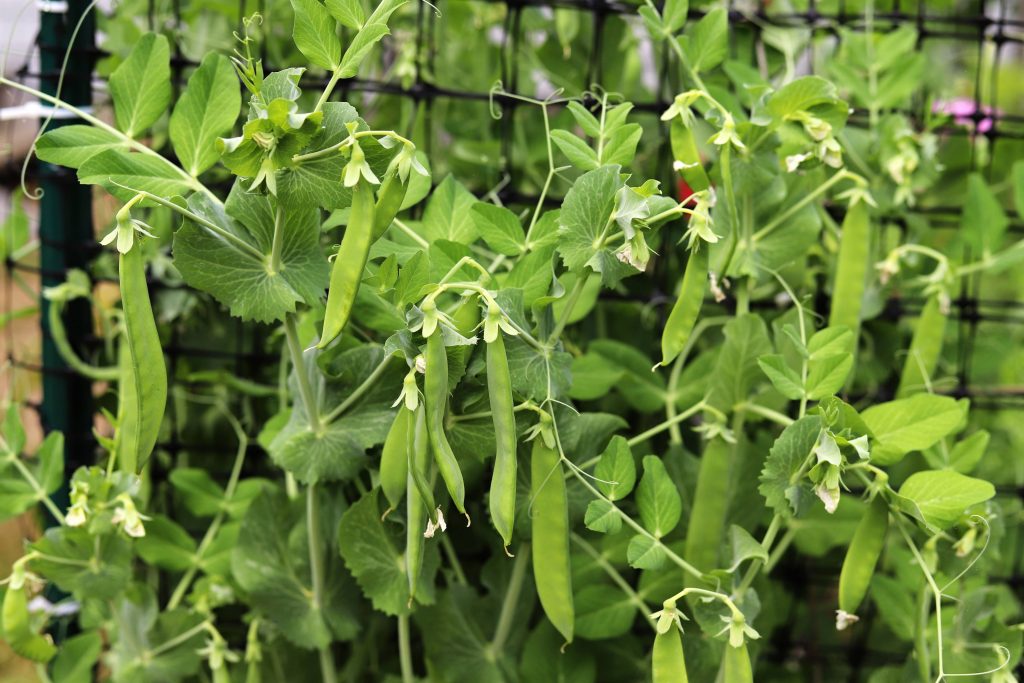 We started with the same three-square design I used for my very first Island garden in 2009. I plugged the virtues of that little design in an article I wrote for Martha's Vineyard magazine several years ago called Holy Homegrown! That baby-bear garden, along with a mama bear and papa bear version, were beautifully illustrated by Fae Kontje-Gibbs for that piece.
Last year, I pushed aside any thoughts of bigger vegetable gardens to concentrate on a perennial garden plan instead. This was a completely absorbing depository for my Covid anxiety, which had mostly alighted on the subject of my 90-year-old dad living alone in Delaware. It had been years since I'd given much thought to perennials, and the open space between our deck and driveway was daunting. It would be a good excuse to call Dad, the Master and Commander Gardener, more often. He's the man who passed the graph-paper gene down to me. 
My gardener friend Laura Coit brought me a stack of books to get started, and one immediately stuck to me – The Perennial Gardener's Design Primer. So many sample garden plans! The "Sunny Four-Season Border" and "The Easy Care Entrance." The "Fantastic Spring Fling" and the "Made for Shade." A meadow garden, a cottage garden, a white garden, even a secret garden. 
---
They all sounded (and looked) so wonderful, but I soon realized that creating a perennial garden was like solving a giant logic puzzle. Venn diagrams would come in handy if you were that sort. The challenge was fun, but keeping track of all the variables was mind-numbing. As soon as I'd wrangle all the deer-proof, long-blooming, dry-soil tolerating, bee-friendly, Zone 7, mildew-resistant plants on to one list, I'd have to start peeling off the ones that had ugly foliage, grew six feet tall, or spread invasively. And that was before considering flower color or leaf shape. 
But I persisted and finally set my pencil down, many pages of an extra-large pad of graph paper later. I went plant shopping while my partner heroically excavated the sand and rock out of what would turn out to be three (not one) perennial beds by the end of the summer.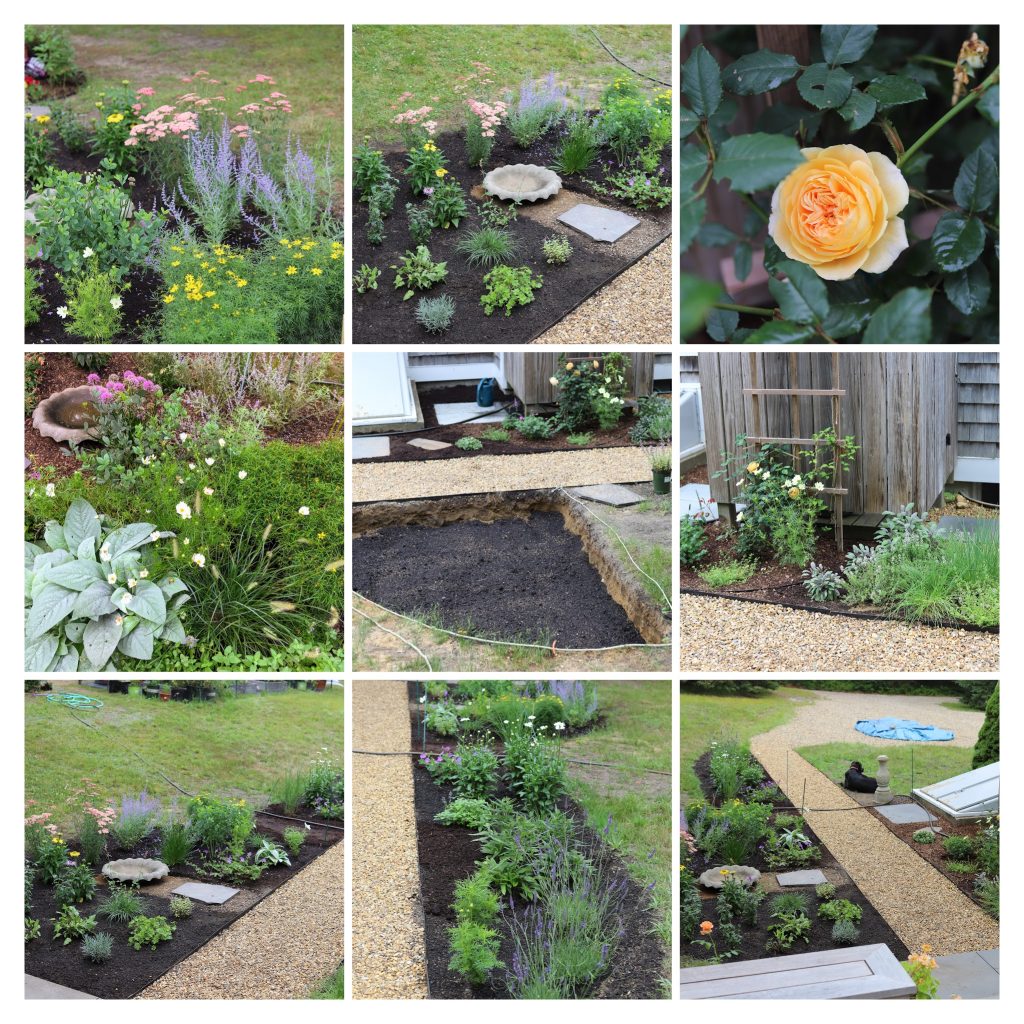 I can't wait to see what's lived through the winter and how everything looks in the second year. 
But as much as I love perennials for landscaping, I'm truly obsessed with cutting flowers, which are driving this new obsession with the big garden down the hill. The big garden would have room for long rows of zinnias and dahlias (yes, here in Deer Central, even cutting flowers need to be fenced), as well as room for all of my favorite vegetables, including space hogs like potatoes and perennials like asparagus. Plus berries— and fruit trees!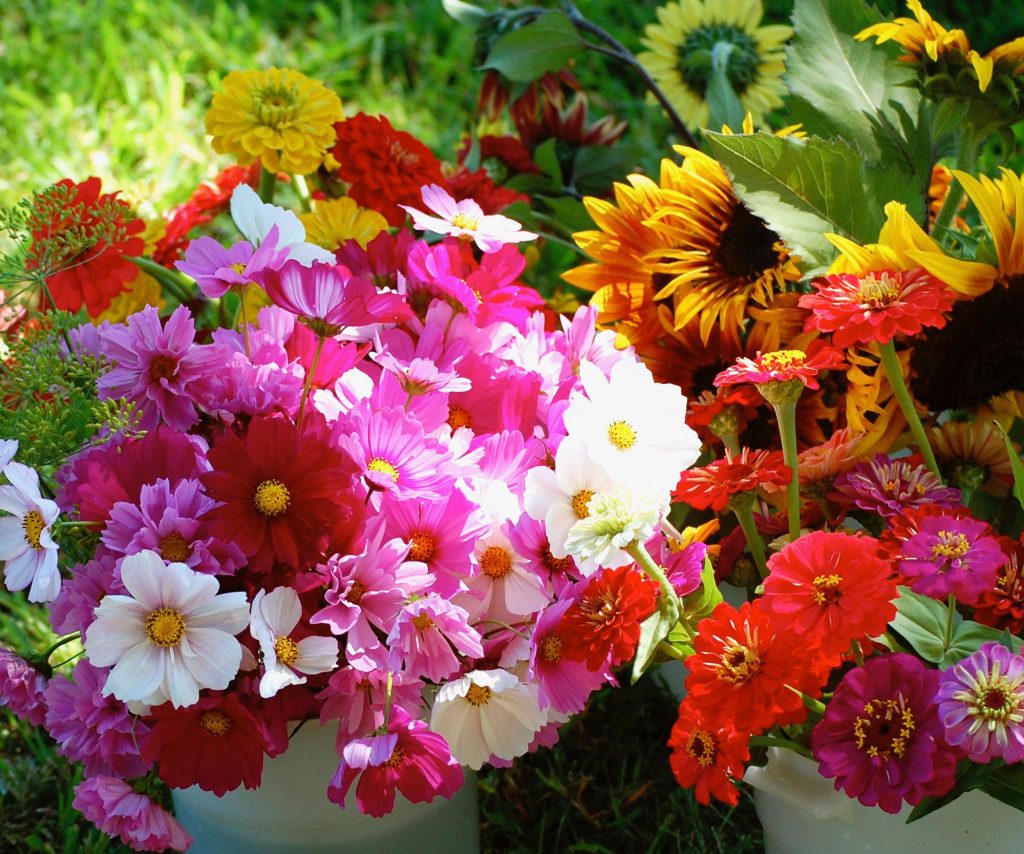 For so many reasons, I hope I'll let go of this fantasy soon. There's still a wee bit of room to expand the little garden, anyway. 
But then again, I just got my friend Ellen Ecker Ogden's new book, The New Heirloom Garden in the mail. And guess what it is full of? Garden plans! Beautiful and smart designs, each with a different theme, and … oh dear, I think we're doomed.
---
P.S. Thank you to all of you who continue to email and comment on the blog since the reboot! So nice to be reconnected. If you feel comfortable, I encourage you to post your thoughts in the comments section under the blog, so that we can share conversations with each other. 
---
Book Recs This Week
---
LOOKING FOR NEW RECIPES? Visit cookthevineyard.com and sign up for the free weekly newsletter. (Something I do as part of my day job.)