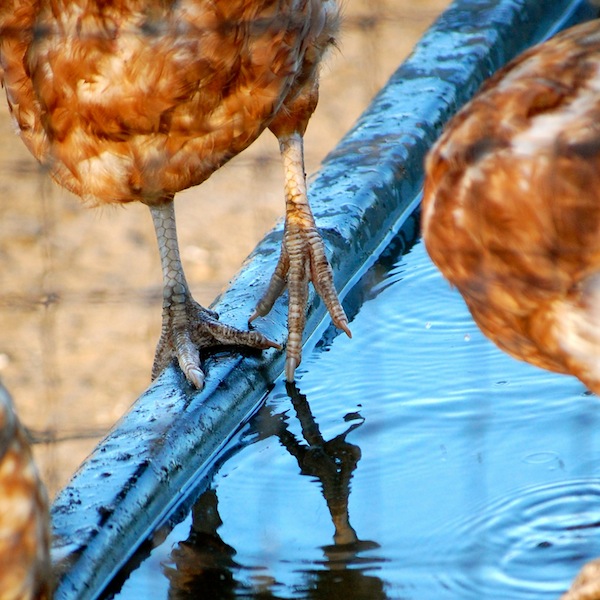 Just when I thought things were going to calm down a bit around here, a whole posse of trucks shows up in the driveway. First it was the electrician and his assistant. They're here to update the wiring in this old farm house. This is actually a very big deal (maybe we'll have an outlet in the bathroom!), but I didn't realize that the work was going to start, er, this week. Already the house is even messier than it usually is with a dog, a cat, no closets, no storage space, etc. Bits of wires and plastic and plaster are everywhere.
Next, I look out and see two very large trucks with very large gizmos on them pull into the lower field. The well guys are here! This is perhaps an even bigger deal.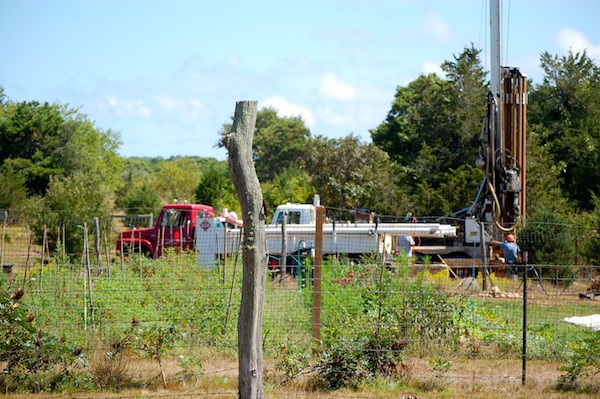 All this traffic is on top of the farm stand traffic, which quieted down after the Labor Day exodus of thousands of people from Martha's Vineyard for maybe one whole day before picking up again. Good for business, which I have to keep reminding myself, we are in. (Business was awesome in August, if exhausting.) I am trying to test and photograph a feature for Martha's Vineyard Magazine this week, plus put up some tomato sauce and pickles, and do my regular farm chores of harvesting, seeding for fall, and watering—so the chaos is distracting.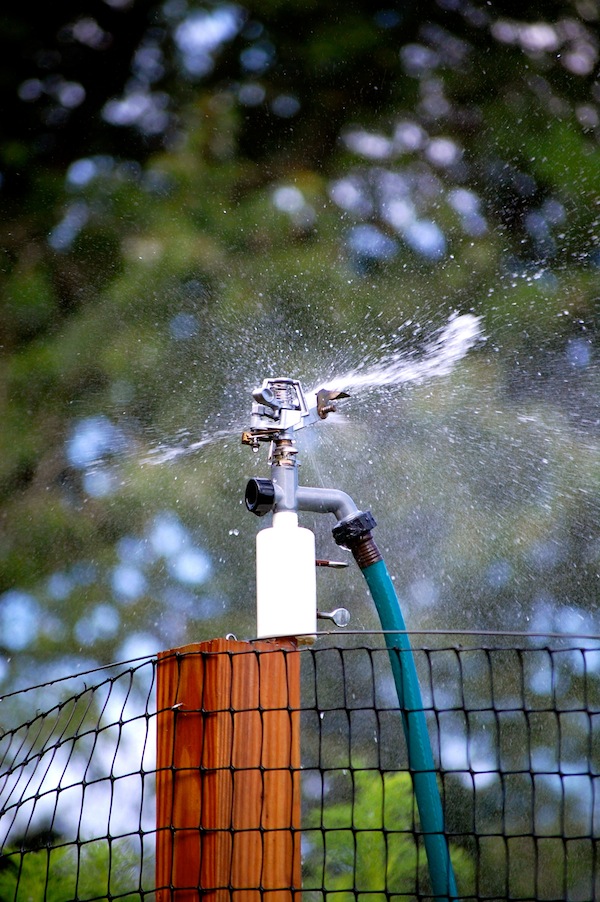 Watering, in fact, is probably the most important thing we do all day–and why the new well is so badly needed. We could neglect everything else but that and the farm would still soldier forward. But no watering, no chickens, no eggs–and no crops (or very little).
The chickens drink an enormous amount of water—the barrels and troughs we've set up in the chicken yards have to be filled every day. A laying hen won't lay if she doesn't have enough water. (Good thing we don't have cows—each can drink 20 to 30 gallons of water a day.)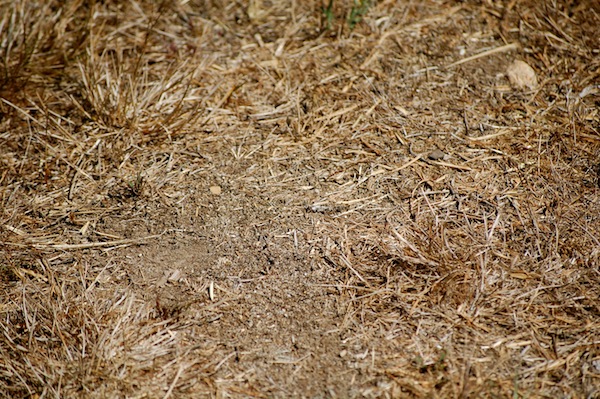 It hasn't rained here in any appreciable way in weeks, so to say it is dry is an understatement. Every time a car comes down the driveway, a cloud of dust enshrouds it. A lot of the grass looks like the photo above. And we can tell when we go to pick blackberries now that the vines are really stressed (below), and a lot of the berries shriveled up. Also, it's been hotter so far in September than it was in August.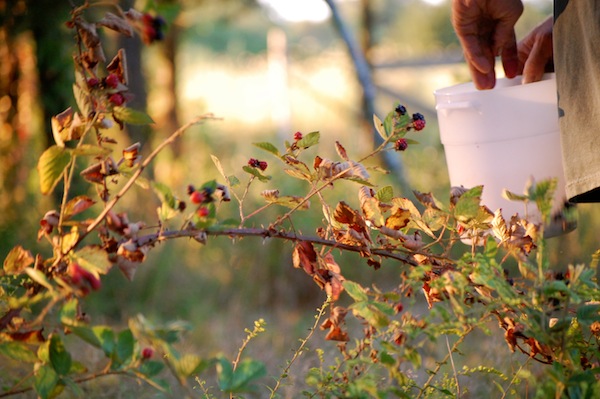 So our cobbled together system of hoses, sprinklers, drip hoses and irrigation tape has to be activated, area by area, every day.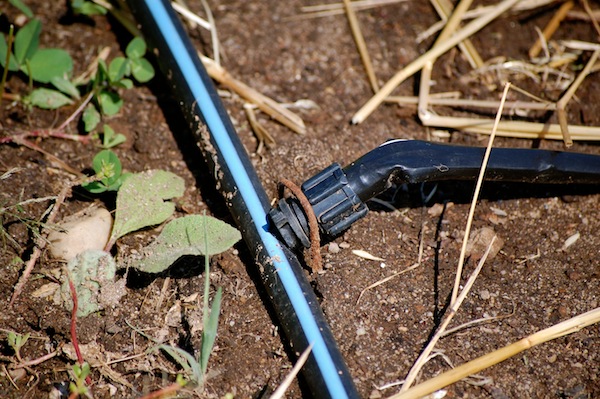 In some areas, like a seasonal seed-starting set-up, or a newly planted apple tree, we have no choice but to hand-water with the hose.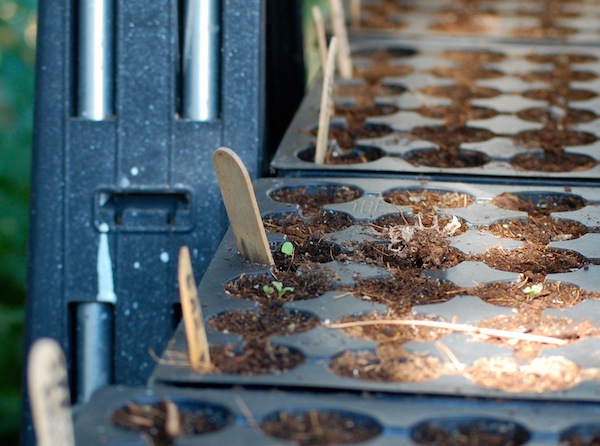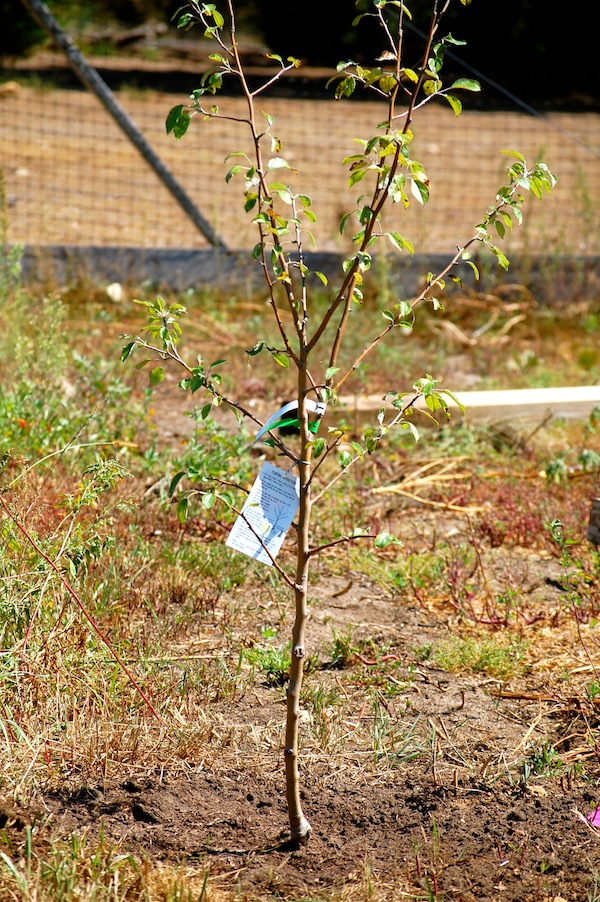 Basil thrives in the hoop house, but only if it is watered absolutely every day.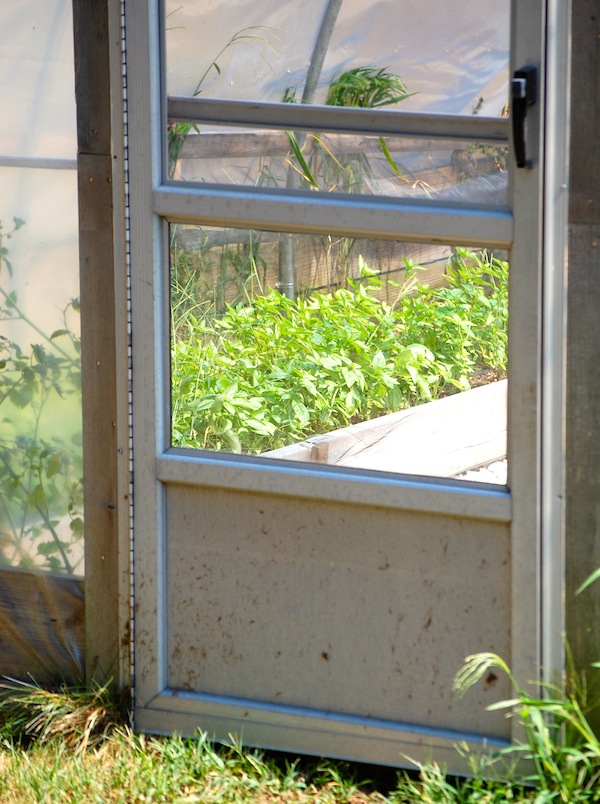 Without the drip hose, this new round of arugula wouldn't be so perky.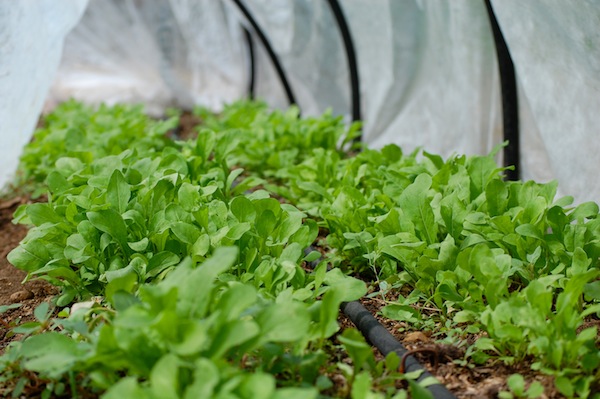 Between turning everything on and off, checking, hand-watering, hooking and unhooking, topping-off, etc., it takes a while.
Plus everything is being run off of our house well. We thought Roy's efforts at installing a new well in the lower field this spring were going to work, but a couple pieces of equipment failed, and ultimately our landlord offered to hire the guys with the big equipment to come dig the well. It just took until the end of the summer for it to get going.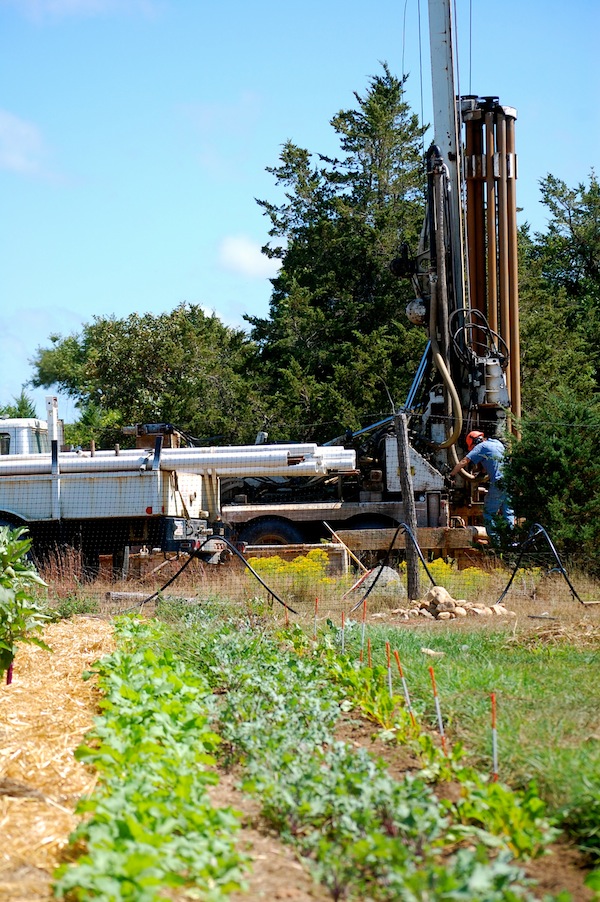 When the well is complete, we will have a separate water source for all the chicken areas and the lower field of crops, as well as the duck pen and the fruit trees, and we will also be able to install a few more permanent watering fixtures that will make some of the daily chores go more quickly.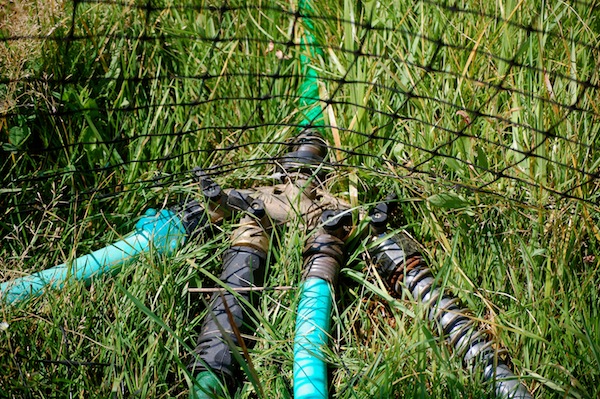 So I am certainly not going to complain (to whom, anyway?) about this happening right now.
In the meantime, I'm in awe of the plants that seem to thrive even without the best attention to their watering, like these amazing Joker sunflowers.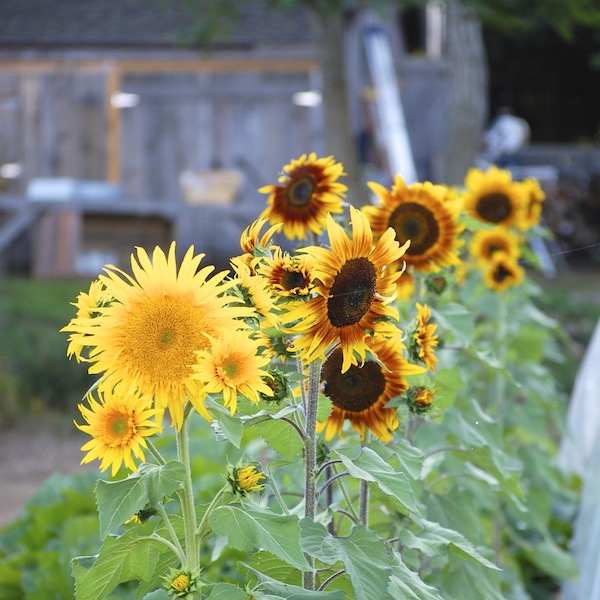 And as for the chaos inside the house? Well fortunately, I have two doors on my little office here and both are shut. Barney and Farmer are hiding out in here with me for now (the noise scares them a bit). The afternoon sea breeze has kicked up and is gently pulsing across the room thanks to opposing windows. And in another hour or so, the sun will be far enough down behind the trees for us to go out and finish those farm chores. Maybe we'll even go berry-picking tonight. Farmer says yes, please.