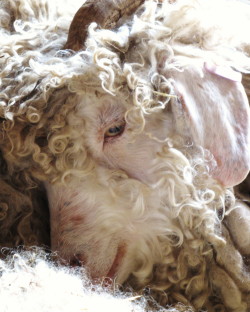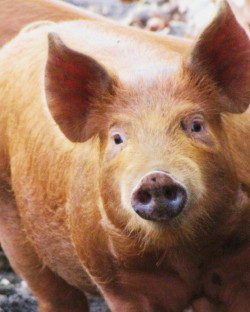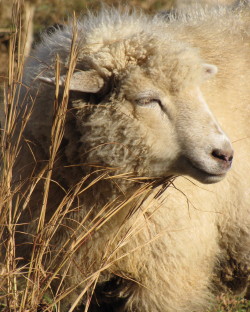 When I first got to the Vineyard, I was totally charmed by farm animals. Back in my suburban  I-95 world, I hadn't run into a lot of pigs and goats, much less a baby lamb or a pair of hulking oxen. I traipsed (okay, maybe trespassed) all over the Island, taking pictures of anything with four legs or feathers. I got lucky I guess, or maybe I was entranced, because I took a lot of nice photos of critters (some of my favorites are above). Sometimes the animals even looked at the camera.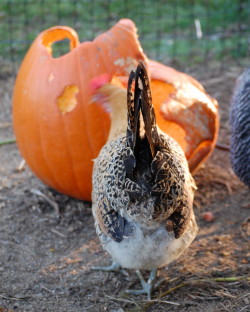 Lately it seems my luck (or probably my patience) has run out. Granted I don't have a lot of time to wander around stalking farm animals. But when I do get close to a critter with the camera, I get mooned. Yeah, butts. Especially chicken butts. This week, I wanted to blog about our chickens…and their beautiful eggs…and about how wonderfully efficient they are at processing leftover food (and other farm compostables, like pumpkins). Yes, I know I've talked about this before, but after ranting about waste and expense last week, I had to share the satisfaction I got out of watching the hens efficiently turn our jack-o-lantern into fertilizer.
But the ladies would not cooperate for a good picture. When I got in the pen with them (to avoid shooting through the deer fencing), of course they all rushed away from the pumpkin and towards me. I crouched down to frame the shot and Perky jumped on my leg for a visit, while Martha and Opti started pecking at my boots. Very distracting. In the end, the best shots I got were of tail feathers. Granted those chicken butts are cute (and soft, too). But they're still butts.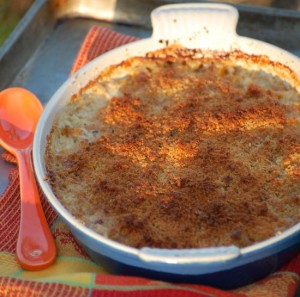 Oh, well. I finally realized that Thanksgiving is a breath away, and that it might be nicer if I paid attention to our country's biggest cooking holiday for this blog instead of some chicken whim of mine. So I marched into the kitchen and made a new version of one of my favorite gratins from Fast, Fresh & Green—this one with a big enough yield to warrant a place on the Thanksgiving table. It turned out so well that Roy and I both snacked our way through the afternoon on it.  It features my favorite fall harvest combo—butternut squash, leeks, and corn—and, oh yes, a bit of cream and Parmigiano, plus thyme and just a hint of lemon.
Next week, I'll offer up a green veg recipe for the Thanksgiving table—if I don't get distracted by a baby goat or a stray dog or something.
Thanksgiving Gratin of Butternut Squash, Corn & Leeks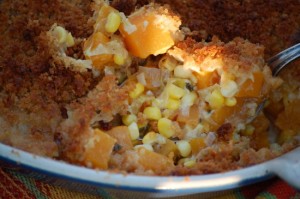 Since Thanksgiving is a crazy cooking day, here are some make-ahead tips for this recipe: Dice, chop, and otherwise prep all the ingredients ahead. (And buy already-peeled butternut.) Then go ahead and sauté your leeks, garlic, and corn, too. (If you're working hours ahead, refrigerate.) You can grease the gratin dish ahead as well. Then all you'll have to do is combine and assemble before cooking.
_________________________
2 tablespoons plus 1 teaspoon unsalted butter
1 1/2 cups fresh breadcrumbs
2 tablespoons extra-virgin olive oil
kosher salt
2 cups thinly sliced leeks (white and light green part only, about 2 large), rinsed well but not dried
2 teaspoons minced fresh garlic
1 1/4 cups corn kernels (from about 3 ears)
1/2 cup plus 2 tablespoons heavy cream
1/2 cup plus 2 tablespoons low-sodium chicken broth
½ teaspoon freshly grated lemon zest
freshly ground black pepper
2 teaspoon finely chopped fresh thyme leaves
1 1/4 pounds peeled, seeded butternut squash, cut into ½-inch dice (about 4 cups)
1/2 cup finely grated Parmigiano-Reggiano
__________________________________
Heat the oven to 400 degrees F. Rub a 2-quart shallow gratin dish with 1 teaspoon of the butter.
In a small bowl, combine the breadcrumbs, 1 tablespoon of the olive oil, 1/4 teaspoon salt and mix well.
In a medium (10-inch) heavy nonstick skillet, melt the remaining 2 tablespoons of the butter with the remaining tablespoon of olive oil over medium-low heat. Add the leeks (with any water still clinging to them) and 1/4 teaspoon salt; cover, and cook, stirring occasionally, until softened and translucent, about 5 minutes. Uncover and continue to cook, stirring frequently, until the leeks are shrunken and lightly browned in places, 10 to 12 minutes more. (The pan will dry out.) Add the minced garlic and stir until softened and fragrant, about 30 seconds.
Add the corn kernels, 1/4 teaspoon salt, and a few grinds of fresh pepper. Cook, stirring, until the corn has lost its raw look, is glistening, and is slightly shrunken, about two minutes. Take the pan off the heat and let the mixture cool for five to ten minutes.
Combine the heavy cream and the chicken broth in a liquid measure. Add the lemon zest, a scant 1/2 teaspoon salt, and a few grinds of pepper. Stir to mix well.
Add the corn-leek mixture and the herbs to the diced squash and toss well to combine. Transfer the mixture to the gratin dish and arrange as evenly as possible. Sprinkle the Parmigiano on the vegetables. Stir the cream mixture one more time and pour and drizzle it over everything. Be sure to scrape out any seasonings left in the liquid measure. Sprinkle the breadcrumbs evenly over all.
Bake until the crumb topping is deep golden and the squash is tender when pierced with a fork, 42 to 45 minutes. The juices should have bubbled below the surface of the vegetables, leaving browned bits in a line around the edge of the pan.
Serves 6 to 8 as a Thanksgiving side dish