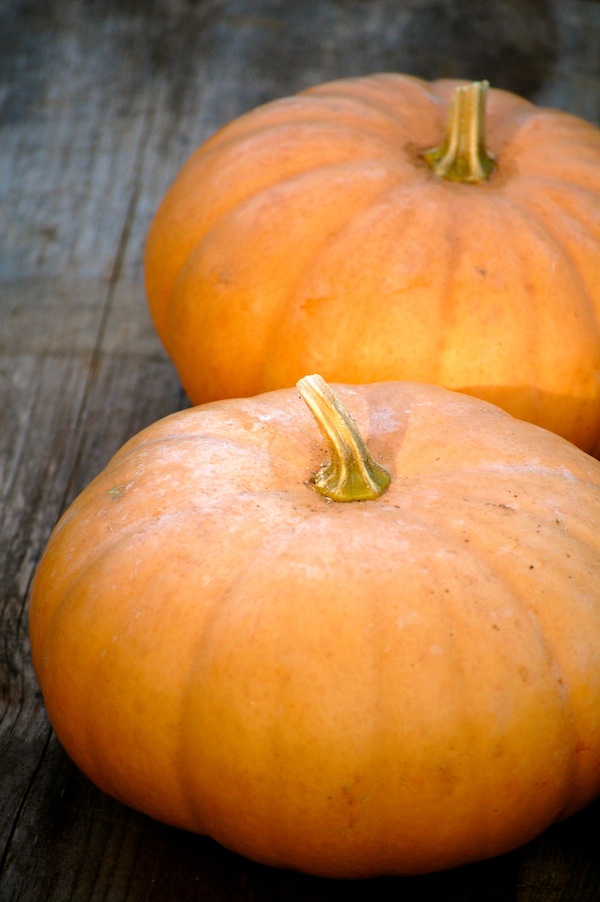 Totally out of character, I decided to stuff and roast a pumpkin. Totally in character, I decided to do this because someone gave me a very pretty pumpkin, one that seemed at first glance like it would be a more efficient holder-of-stuffing than a sugar pumpkin. Not that there's anything wrong with sugar pumpkins. But, look,  these Long Island Cheese pumpkins (above) are pretty suave looking, don't you think? Okay, maybe suave is a bad word, but elegant, graceful, or charming would do. Charming in a Cinderella-coach kind of way. In fact, there is something called a Cinderella pumpkin that looks quite similar to a Long Island Cheese pumpkin, only it's bigger and redder.
The Long Island Cheese pumpkin came from Simon Athearn, farmer at Morning Glory Farm here on the Vineyard. Roy ran into him on a run to Morning Glory to pick up some regular field pumpkins we were buying wholesale for our farm stand. Simon is a good cook himself. (And among other things, a talented grower of Long Island Cheese pumpkins, as Morning Glory Farm has many of them this year. Take note, Islanders—go get yourself one!) He handed the pumpkin to Roy and suggested I make something with it. He mentioned he'd been filling his with a mix of potatoes and sausage. And he said that the squash itself was delicious.
When the pumpkin arrived at home, I was intrigued, because I actually tried to grow a few of these last year (no luck) and anything that has "cheese" in the name is okay with me. (The name comes from the fact that the pumpkin resembles a wheel of cheese, not from its flavor.) So I thought for once I'd put aside the little thing I have about stuffed vegetables.
I poked around and found a recipe by Dorie Greenspan, a cook and food writer I greatly admire. (She actually taught me a course on recipe writing at culinary school many years ago.) The recipe, called Pumpkin Stuffed with Everything Good, is from her book, Around My French Table. (But you can find it here on Epicurious.). The "everything good" part does not refer to a kitchen sink list of stuff, but a lovely combination of bread, gruyere cheese, thyme, a bit of bacon (I used sausage), garlic, some herbs, and heavy cream. Now that is my kind of stuffing, I thought.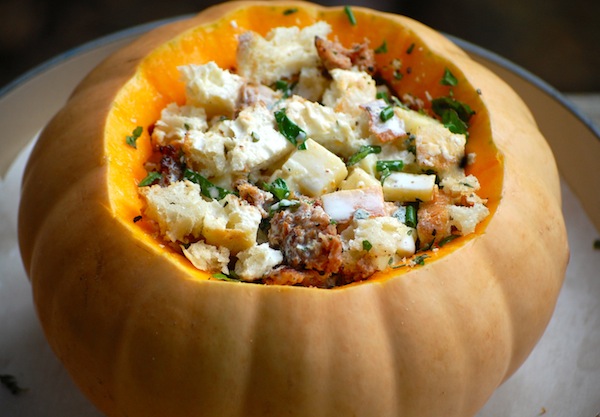 Ultimately, a recipe for stuffing and cooking a pumpkin can only really be a set of guidelines, but I have to say, Dorie's "guidelines" (her tips, her timing, and the proportions of ingredients) worked beautifully—of course! Our 4-pound pumpkin was tender and the stuffing puffed in about an hour and 45 minutes. We took the cap off at that point to brown the top of the stuffing a bit.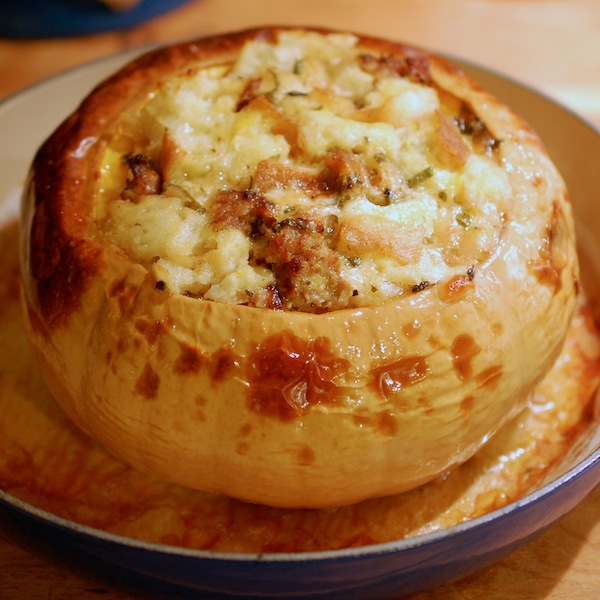 We let the pumpkin rest out of the oven for 10 minutes or so.  (Unfortunately, it was now too dark to shoot a nice photo in natural light, so this scary indoor one will have to do.) Then we scooped out the stuffing, which had a lovely ethereal, almost soufflé-ish texture, along with the tender bright-orange squash flesh. The stuffing was delicious, infused with the flavors of the thyme, sausage, garlic, and gruyere. And the squash, like its color, was bright tasting—almost a bit citrusy, I thought. Very nice, and not at all stringy. (It turns out that Long Island Cheese pumpkins are of the Cucurbit moschata species, along with butternut squash and other squash that tend to have less stringy flesh. It is also an heirloom that once was grown widely for pie-making, and is now making a come back in popularity.)  Altogether, the stuffing with the squash made a really nice "one-pot" (one-pumpkin?) supper, with leftovers.
Now I am curious about what the Long Island Cheese pumpkin flesh would taste like roasted and caramelized. (You'd have to cut the pumpkin into wedges or slices to do that.) I think it would be great with a bit of goat cheese, cilantro, and a drizzle of maple-lime butter.
So maybe that's why we're now in possession of a few more of these lookers. Tomorrow I am off to give a Fresh From the Farm book talk at Old Sturbridge Village. Maybe I'll take one of the pumpkins with me for show and tell!. And while I'm driving, I'll dream up something else to do with the rest! Though I would definitely make Dorie's recipe again. Maybe even with a sugar pumpkin.