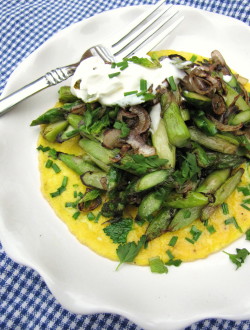 While I wait (and wait) for our local asparagus, it occurs to me that everyone else is not waiting. The grocery stores are full of asparagus (from elsewhere, wherever that is) and it is hard to walk down the produce aisles without snatching up a bunch. I understand, really I do, and that is probably why my two blogs on asparagus from last year are getting hit up a lot these days. So okay, I can't be my stubborn self and wait another month to offer up more asparagus recipes. Especially because there are about a gazillion different ways to cook asparagus—almost all of them pretty darn quick—so I can come back to this provocative vegetable again. Soon.
While I love quick-braising and sautéing asparagus, I think the method that may be the absolute speediest may offer up some of the best flavor, too. It's stir-frying. Two to three minutes, and you've got a beguiling roasty-toasty flavor and a nice crisp-tender texture. A few keys here: Slice the asparagus thinly on the bias for the best browning; don't use a lot of fat; keep the heat cranked up. (I love the bowl shape of my non-stick stir-fry pan, but you can substitute with a nonstick skillet—just stir more frequently.) I like to include a bit of garlic, some sliced scallions or shallots (as in the recipe below), or a combo of ginger and garlic in an asparagus stir-fry—but not much more. I don't make a finishing pan sauce for it, in order to let that pure flavor shine through. (I do, however, sometimes like a cool, creamy garnish for this dish—crème frâiche is lovely.)
One of my favorite destinations for stir-fried asparagus is a little flat egg "pancake" (really just an unscrambled scrambled egg), which I dress up with fresh herbs to look pretty. (Yes, eggs—no surprise.) I tumble the asparagus and shallots out of the pan and onto the pancake, garnish the whole thing with a dollop of crème frâiche and a few more herbs, and I have a lovely spring lunch in less than 10 minutes (less than 5 minutes of cooking). But you can also double the asparagus recipe below and serve it as a quick side dish for dinner, too.
A Quick Note about Printable Recipes: I have finally figured out a way to provide you with printable recipes, through Google Documents. (Just click on the printable recipe link below the recipe title.) I set this up with last week's fennel blog and will try to do this going forward until I can afford a website update and find a better way. (This should, I hope, at least make my Mom happy!) Of course you can still print the blog posts with the recipes imbedded in them, but it's not a very usable format (and expends excess paper, too). The printable recipes are simply Word documents.
Stir-Fried Asparagus & Shallots on Fresh Herb Egg Pancake for One

For this stir-fry, be sure to slice the asparagus sharply on the diagonal. It not only looks pretty, but the asparagus will also cook more evenly and the interior of the stalks will brown better. Crème frâiche is available in small tubs now in most groceries. Check both the cheese and dairy sections. If you can't find it (or don't want to bother with another trip to the grocery), you could try a little sour cream loosened with a bit of milk or a bit of thick yogurt or even fresh goat cheese. I absolutely love what fresh mint does here in both the pancake and as a garnish, but I usually combine it with chives and/or parsley, which hold their bright green color better. I call for cooking the veggies first and then the egg, but if you're even a moderately good multi-tasker you can cook them both at the same time.
For the veggies:
2 teaspoons extra-virgin olive oil
1 cup thinly sliced asparagus (cut on the diagonal, 3/8- to 1/2-inch thick and 2 inches long), from about 1/2 medium bunch (or 1/2 pound) asparagus, trimmed
1/4 cup (scant) thinly sliced shallot (about 1/2 medium to large shallot)
1/8 teaspoon kosher salt
For the egg pancake:
1 large egg
1 teaspoon half-n-half or heavy cream
big pinch kosher salt
freshly ground pepper
1 teaspoon unsalted butter
1 scant tablespoon combo fresh baby mint leaves (or thinly sliced mint) and small parsley leaves and/or sliced chives (plus a sprinkling more for garnish)
2 teaspoons crème frâiche for garnishing
Make the veggies: In a large nonstick stir-fry pan, heat the oil over medium-high heat. When the oil is hot (it will loosen up and shimmer), add the asparagus, the shallots, and the 1/8 teaspoon salt, and turn the heat to high. Cook, stirring occasionally for the first minute, and then more frequently, until most of the asparagus are browned around the edges and the shallots are softened and browned, 2 to 3 minutes. (Pay attention here—this goes fast.) Remove the pan from the heat and transfer the veggies to a plate while you make the egg.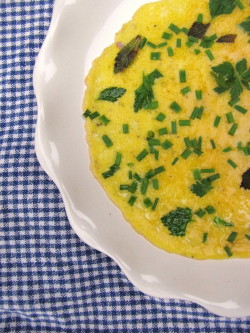 Make the egg: In a small bowl, whisk together the egg, half 'n half or cream, a little salt, and a grind or two of fresh pepper. In a small nonstick skillet, heat the butter over medium-low heat. When the butter has melted, swirl it around in the pan to cover the bottom. Pour the egg mixture into the pan and do not stir. Sprinkle or arrange the herb leaves or cut herbs over the top of the egg. Let the egg cook until it has set, about 3 to 4 minutes. The egg will set from the outside edges in. When the center of the egg looks just barely set, remove the egg from the pan and slide it on a small pretty salad plate, keeping the herb side up. (The bottom will be golden, the top should be still slightly soft.)
Pile the asparagus and shallot mixture on top of the egg; garnish with the crème fraiche and extra herbs. Eat right away.
Serves 1