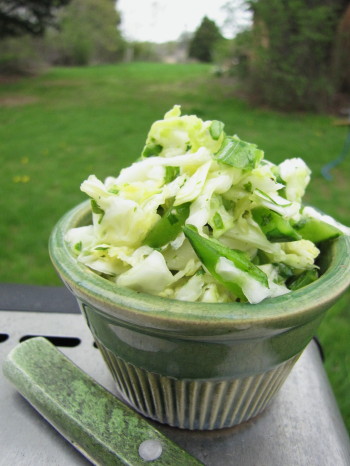 Peas, alas, are not a spring vegetable, despite what legions of food writers would have you believe. It is wonderful to think of things like spring pea risotto and minted pea soup for Mother's Day, but unless you are lucky enough to live in a really temperate climate, you'll be waiting for fresh peas until late June with the rest of us.
I feel bad being a Scrooge about this. Actually a super-Scrooge, as, these days, I can't really even get behind those so-called fresh peas (usually already shelled) that arrive in the grocery stores before they do in my garden. I'd rather eat frozen peas. (And I do.) The reason is that shell peas–or English peas–lose that just-picked sweetness rather quickly and wind up tasting bland and starchy when they travel many miles to get to you.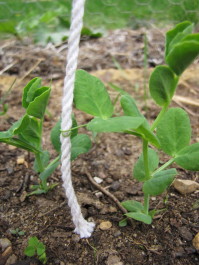 So right now I have to content myself with staring at the squat little pea seedlings in my garden, imagining what they'll bring me. I'm very proud of them, actually. Yesterday I noticed that they've started unfurling their little tendrils and have obligingly begun to grab on to the curtain of strings I hung for them. Such good peas.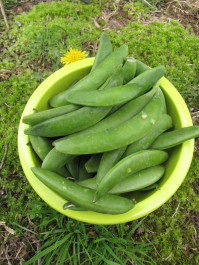 The other way I'm getting my pea fix right now is with sugar snap peas. I'm seeing a lot of nice ones at the grocery store. Yes, these come from far away, too, but at least they hold on to their flavor—and texture—better than shell peas. Sugar snaps are probably the number one quickest veggie on the planet to cook—or just eat. Because, of course, you can munch on them raw (like Cocoa Bunny, in photos below), toss them in a hot pan for a super-quick sauté, or slice them to use in salads and slaws (like the one below).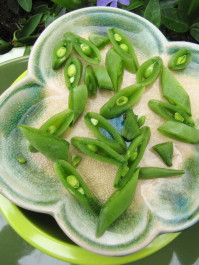 I get a kick out of slicing sugar snaps on the diagonal, exposing the cute little cross-section of peas inside. (I know, I'm easily amused). But these pretty little slivers are useful, too—they add sweetness and crunch, but not too much bulk, to a fresh slaw. Since I happened to have some Savoy cabbage, a few limes, and a bunch of cilantro in the fridge today, I knew I could make my favorite slaw and embellish it with sugar snaps. This recipe (I did a version of it in Fast, Fresh & Green) honestly takes no more than 10 minutes to make, and then reaches its perfect state of crunchy/wilty balance after another 10 minutes or so (though it can hold a bit longer than that). It's versatile, too. Today I wanted a slightly creamy feel (something to do with the grey skies), so I stirred in a dollop of Mermaid Farm yogurt at the end.
I ate a whole bowlful of this slaw standing up at the kitchen counter, but if you were moved to make some this weekend, you might want to serve it with grilled butterflied leg of lamb, grilled chicken, or even grilled veggie or fish tacos.
Quick Savoy Slaw with Sugar Snaps, Lime & Cilantro
For a printable recipe, click here.
The amounts of lime juice, sugar, and cilantro are flexible here—taste after a few minutes and adjust seasonings if you like. I sometimes add sliced scallions or chives here, too. Savoy cabbage is the crinkly green one.
_______________________________________
8 ounces very thinly sliced cored Savoy Cabbage (about 3 1/2 cups)
4 to 5 ounces sugar snap peas, trimmed and sliced on the diagonal (about 1 1/3 cups)
3 tablespoons chopped fresh cilantro
3 tablespoons freshly squeezed lime juice
2 to 3 teaspoons sugar
1/2 teaspoon kosher salt
1 to 2 tablespoons full-fat plain yogurt (optional)
________________________________________
Combine the cabbage, snap peas, cilantro, lime juice, sugar, and salt in a medium bowl. Toss thoroughly with tongs or two spoons. Let sit for ten minutes, tossing occasionally. Taste and adjust seasonings if you like. Let sit another ten minutes for a softer slaw. Fold in the yogurt if desired.
Serves 4
________________________________________
Cocoa wasn't so sure about the sugar snap pea…but curiosity prevailed