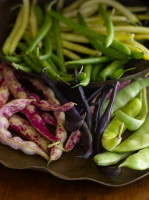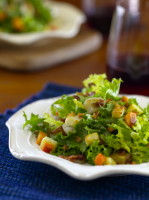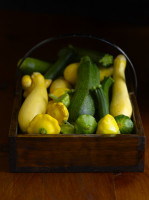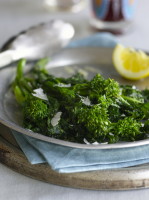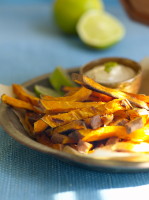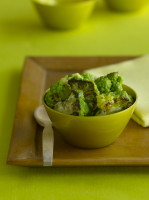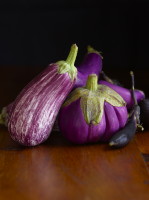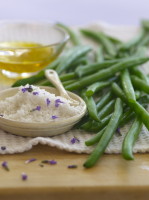 Theoretically, I am a jaded editor and writer. I've been in the publishing business a long time. (I got my first job at Seventeen magazine when I was 21 years old.) So you'd think that writing a book would be no big deal to me, right? Wrong.
The day I held the first copy of Fast, Fresh & Green in my hands, I nearly cried I was so thrilled. It was beautiful and charming and there was that silly voice of mine all over the place, coaxing people into the kitchen to have fun. Somehow, my publisher, Chronicle Books, managed to let Susie be Susie, all the while infusing the book with their uniquely fresh design sensibility, making it feel so relevant, so very 2010, so luminous. A more grateful first-time author you couldn't find.
That was back in January, when I got two copies of the book in the mail, straight from the printer. Because of the weird ways of publishing, I don't actually have any more copies yet. My author copies will be shipped when the book "officially" leaves the warehouse to head for bookstores this Wednesday, April 28.
But (and like I said, this is weird stuff), the book started shipping from Amazon early last week, and Friday afternoon, the book reached #1 in the Vegetable category (and even hovered under 500 in the total books ranking for a few hours!). Now everyone knows that the Amazon rankings don't really mean anything, but does that stop me from being proud? And does it mean I'm not excited about the new 5-star reviews that are up there from folks saying they've already found a place for Fast, Fresh & Green on their cookbook shelf of "favorites?" Of course not—I'm human. And heck, you only have a first book once, so why not totally give in to the thrill.
The book is also out early in Anthropologie stores all over the country and in Canada. This really tickles me, as I bought many of the props for the photos in the book from Anthropologie, just because I love their sensibility. It also tickles me because friends and family members have been spotting the book in their local Anthropologie and emailing photos of the displays to me. Which leads me to this: You don't just write—or publish—a book in a vacuum. Your friends, your family, your professional colleagues—they offer so much support and encouragement as you go along that the book really becomes theirs, too.  They're just as proud as you are, so they should share in the excitement. That's why I feel like it's important to spread the good news around when it comes along, whether I do that by Facebook, on Twitter, on sixburnersue.com, or with a simple email.
To be honest, this good news doesn't just "come along." Promoting a book is actually more work, and involves more people, than the actual writing of a book, and I have an incredible team at Chronicle Books, my friends at Fine Cooking magazine and finecooking.com, the good people at Edible Communities, and an enthusiastic group of independent booksellers on my home turf of Martha's Vineyard to thank profusely. (Bunch of Grapes bookstore in Vineyard Haven is kindly staging an author event for me on Friday, May 7, to officially "launch" Fast, Fresh & Green on the Island. Wherever you live, be sure to patronize your local independent bookstore!).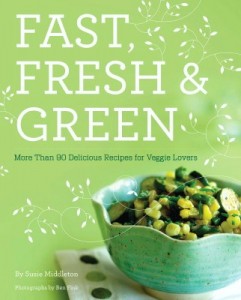 In honor of official publication week, I thought I'd post a few of the incredible photos in the book and one of my favorite recipes. The photos (above) were taken over a four-day period in my home by fabulous photographer Ben Fink. Food stylist Michelli Knauer prepared and styled the food for the camera with the help of Safaya Tork. I planned and propped each shot, bought the ingredients, and worked with Ben and Michelli during the shoot to get the best results possible. And of course all of the food for the camera was shot exactly as the recipe was written (no fakery), and none of those recipes would be as good as they are without the efforts of my terrific cross-tester, Jessica Bard.
Publishing a book is a lot of work (and not the ticket to riches as many folks believe), but it is a thrill, plain and simple. Especially the first one—though I hope to find out what it feels like to be a second-time author, too!
___________________________________
Sweet Potato "Mini-Fries" with Limey Dipping Sauce
These oven fries are addictive, even though they don't get as crisp as deep-fried sweet potatoes. I cut them into little sticks and sometimes serve them straight off the sheet pan (with more salt) to guests gathering in the kitchen. They always disappear quickly. The easy little limey dipping sauce is also great with grilled fish, crabcakes, and steamed asparagus.
___________________________________________
1 pound unpeeled sweet potatoes (about 2 small)
4 tablespoons extra-virgin olive oil
1 teaspoon kosher salt, more for seasoning
Spiced Salt (recipe follows)
Limey Dipping Sauce (recipe follows)
___________________________________________
Preheat the oven to 475 degrees F. Line a large (18- x 13- x 1-inch) heavy-duty rimmed sheet pan with a piece of parchment paper. Cut the sweet potatoes crosswise on a slight diagonal into 3/8-inch-thick slices. (If the sweet potato is very narrow at one end, you can cut slices at a very sharp angle at that end.) Cut each slice (along the longest side) into sticks between ¼- and 3/8-inch wide. (They will only be a couple inches long.) Put all the sticks in a mixing bowl and combine thoroughly with the olive oil and the 1 teaspoon salt. Spread the sweet potatoes out in one layer on the baking sheet, making sure to scrape all the oil and salt from the bowl onto them.
Roast for 20 minutes. Using a spatula, flip the sticks over and continue cooking, flipping once or twice more, until the fries are nicely browned (some in spots, some all over), about another 10 minutes. Sprinkle some of the Spiced Salt or more kosher salt (be generous and do not skip this step!) on the fries, toss well, and serve with the dipping sauce.
Serves 3 to 4
Limey Dipping Sauce
_____________________________________
1/3 cup mayonnaise
1/2 teaspoon freshly grated lime zest
1 tablespoon fresh lime juice
½ teaspoon finely minced garlic
a pinch of kosher salt
_____________________________________
In a small bowl, combine the mayonnaise, the lime zest, the lime juice, the garlic and a pinch of salt. Whisk well to combine. Let sit for 10 to 15 minutes to let the flavors blend.
Spiced Salt
This keeps in a tightly sealed container for several weeks.
________________________________
1 teaspoon kosher salt
1/2 teaspoon sugar
1/4 teaspoon ground cinnamon
1/4 teaspoon ground cumin
1/4 teaspoon ground coriander
1/4 teaspoon paprika
_________________________________
In a small bowl, stir together all of the spices.