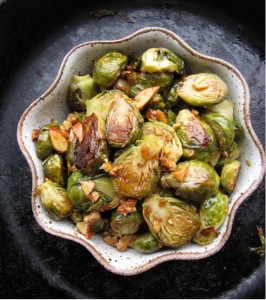 By now, you've probably drunk the koolaid and are indoctrinated into the magical powers of roasted brussels sprouts. This  ordinarily whiffy and less-than-taste-bud-pleasing vegetable gets a new life from the alchemy of the oven. The roasted result is nutty-delicious, the texture of the leaves fluttery-flaky-crispy, and the possibilities for seasoning endless. And shoot, cooking them is so damn easy. Maybe too easy–sometimes it's tempting to forget that there are pitfalls to roasting brussels sprouts. Number one: They can dry out. To avoid this, cut your sprouts in half (not in quarters), and roast them cut-side down. This allows the bottoms (or cut-sides) to get caramelized, but also keeps moisture from escaping. Normally, I like to spread veggies out when roasting, but a little coziness is okay when roasting sprouts. All that togetherness means they steam a bit while roasting.  I even use a pyrex baking pan sometimes, instead of my usual roasting favorite–the heavy-duty sheet pan.
Lastly, don't forget the flavor boosts. You can add onions or shallots or hearty herbs to the roasting pan, but lately I'm liking the option of adding flavor after the sprouts are cooked. I make a brown butter and spike it with lemon or lime and maple or honey….some fresh herbs, and definitely nuts. Nuts. Nuts. Nuts. No flavor pairs as well with roasted brussels sprouts as toasted nuts–especially hazelnuts and pecans. (If you don't like nuts, no worries, though. Spiked brown butter is just fine.) Brown butter is easy to make; you simply melt butter until the milk solids begin to brown. Keep an eye on things though, as the brown butter will quickly darken and will eventually burn if ignored.
For this recipe, choose smaller sprouts, and beware those monstrous mini-cabbages masquerading as sprouts in the grocery store (not sure where they come from). The smaller ones will cook more evenly throughout.
Roasted Brussels Sprouts with Nutty Lemon-Maple Brown Butter
Serves 2 to 3
——————————————————————————–
2 tablespoons unsalted butter
10 ounces small Brussels sprouts, cut in half
1 tablespoon extra-virgin olive oil
½ teaspoon kosher salt
2 tablespoons coarsely chopped pecans, walnuts, or hazelnuts
1 tablespoon maple syrup
1/2 teaspoon lemon juice
——————————————————————————–
Heat the oven to 400°F. Melt 1 tablespoon of the butter in the microwave or in a small pan on the stovetop. Toss the Brussels sprouts with the melted butter, the olive oil, and the kosher salt, and spread them in one layer, cut-side down, in a heavy-duty baking pan or casserole dish (Pyrex is fine).
Roast the sprouts until they are deeply browned on the bottom and tender when poked with a paring knife, about 25 minutes.
Meanwhile, heat the remaining tablespoon of butter with the chopped nuts in a small saucepan over medium heat. Stir and watch carefully until the nuts and the butter turn a light golden brown. Remove from the heat, pour in the maple syrup and lemon juice (the syrup will immediately boil and reduce), and scrape out into a heat-proof dish (to prevent further cooking). The mixture will be syrupy.
Pour and scrape the nut-butter-syrup over the roasted sprouts, toss well, and serve warm.