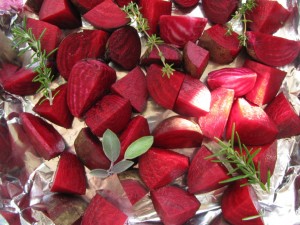 I work at home. Translation: I love a distraction. The kitchen? Definitely the number one destination for diversion.  Even on days when recipe developing is not on my to-do list, I like to wander in to my favorite room and concoct a little something every few hours. Something quick, something that might work for our dinner later.  Even better, something that might last for a few days.
Roasted baby beets (so ruby-red pretty) are the ultimate in quick-to-make,  slow-to-cook vegetable condiments.  By vegetable condiments (no, I haven't lost my mind) I mean stuff like caramelized onions and roasted tomatoes—things that are so great to have in the fridge for tossing in salads, onto pizzas, into tacos—that sort of thing. Okay, so maybe roasted beet wedges are not quite as versatile as roasted tomatoes, but they do juicy-up a salad and give you a great excuse to warm up goat cheese or to toast pecans (just add arugula and lemon vinaigrette). Plus, maybe you've got excess CSA-beet syndrome like me. Remarkably, mine (wrapped in a damp cloth and stored in a zip-top bag) have kept for months in the veg drawer of my fridge.
But today, icy-blue cold as it is outside, it just seemed like a good opportunity to turn on the oven. I knew I wouldn't feel too guilty spending the 10 minutes it takes to quarter a pound of baby beets (no peeling necessary–that skin is perfectly edible when roasted), toss them with a little olive oil and salt, throw in a few herb sprigs, and wrap them up in a tidy little aluminum foil packet.  Inside the foil, they steam-roast (getting both tender and caramelized), and you don't need to do much more than pop one in your mouth after they come out of the oven.
There is one extra flavor step you can take. This morning, I let mine cool and then dunked them in a marinade-ish dressing of orange and lemon juices, a little vinegar and maple syrup, and a bit of chopped fresh mint. They'll loll around in that dressing for days, soaking up flavor in a bowl in the fridge, making themselves coyly available to the nearest taker.
Walk-Away Beets
 Serves 4
1 pound baby beets, washed but not peeled, ends trimmed, halved or quartered to all be about equal-sized wedges
2 tablespoons extra-virgin olive oil
½ teaspoon kosher salt
6 tiny sprigs of thyme, short branches of rosemary, or little clusters of sage
For the marinade:
2 teaspoons fresh lemon juice
2 teaspoons fresh orange juice
¼ teaspoon white balsamic vinegar
¼ teaspoon maple syrup or honey
kosher salt
2 teaspoons roughly chopped mint, cilantro, basil, parsley or a combination
Heat the oven to 375 degrees. Line a small roasting pan with aluminum foil, and measure out two other large pieces and arrange them in a "+" inside the pan. Toss the beet wedges, the olive oil, the salt, and the herb sprigs together in a mixing bowl. Arrange the contents of the mixing bowl in the center of the intersection of the two pieces of foil, and fold the foil up to form a tighly wrapped package.
Roast the beets for 1 ½ hours. Carefully avoiding the steam, lift the foil away to peek at the beets and to skewer one or two with the tip of a paring knife. If the knife slides in easily (and the bottoms of the beets are wrinkled and brown), they're done. If not (and they often need more time), reseal the foil package and continue cooking for 20 to 30 minutes more until tender.
Let the beets cool a bit, toss all the marinade ingredients together, combine the marinade and beets, and stow in fridge for future snacks. Or add to your dinner salad of arugula, mache, or mixed greens with toasted nuts.