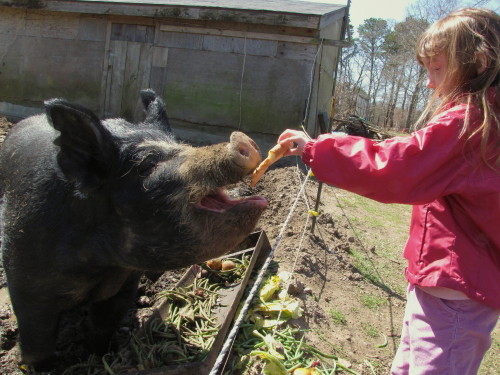 One of the very coolest things about the vegetable garden we will tend this summer is that it lies squarely between a hog pen and a goat yard. All summer long we'll be in the good company of Olive the Berkshire pig, who is (cross your fingers), hopefully pregnant, so we'll be joined by some little black piglets, too. Soon, Thunder the boar will also be back at Native Earth. He's been on loan to another local farm for the last three months.
The goats, who are the very cute mini-goats known as pygmies, will probably move around a bit, as they have a job to do—clearing brush. But they'll be close enough for us to say hi to every day. And these gals are expecting, too, thanks to a new billy goat who's joined them.
Besides the goats and pigs, there are sheep and hens and guinea fowl and ducks and geese and I- don't- know-what-else at the farm. I am beside myself with excitement.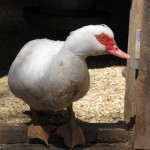 Anyone who knows me well will tell you that I get kind of goofy about pigs and goats, and pretty much every other kind of farm animal. I'm just crazy about them. Fortunately, Roy and his daughter Libby (with Olive, above) share this passion of mine. We dropped by the farm today, ostensibly to add some kitchen scraps to the compost pile. But secretly we'd brought along a few slices of last night's pizza (plain cheese) to offer to Olive, even though we understand she's getting plenty to eat right now. Hopefully we won't get in trouble. We just thought it'd be nice to make friends early on. It seemed to work. Olive smiled. So did Libby.
On our way home from Native Earth, we stopped in at Whiting Farm to see the newborn lambs. The Whitings' sheep are a handsome breed known as Cheviots, and even the babies have distinctively upright ears. Allen Whiting let Libby help him bottle-feed a lamb who's not getting quite enough milk from Mom. Libby asked if he had named the lambs, and he explained that he usually doesn't, as most of these lambs will become meat. Libby understood that, just as she did when we mentioned the piglets would be raised for meat. "Bacon?" she asked. Yes, really, really good bacon.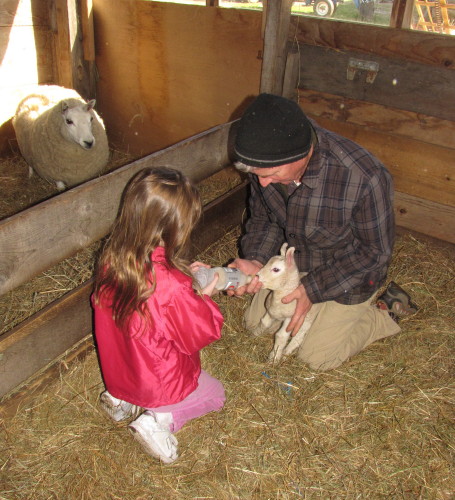 Between our vegetable garden and being around the farm,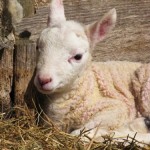 Libby's going to learn a lot about where her food comes from this summer. (Jamie Oliver would be proud!) We've picked out some vegetables—like baby carrots and mini-pumpkins—just for her, and she's hoping we'll get a hen or two for her to help take care of. (She loves fresh eggs, too.) I can't help but feel grateful for this: The chance for her to learn and be challenged—while we all spend time together outdoors—is just one more bonus to our vegetable garden project.