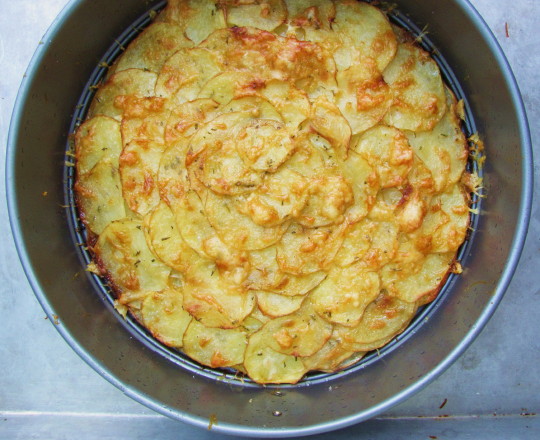 It's not very forward-thinking to pronounce something your all-time-favorite-such-and-such recipe. What happens if a more delicious recipe comes along down the road and you change your mind? It's a little like the boy who cries wolf. You can go around saying, "No, really, this one is my favorite," but after a while, no one will believe you.
It's very possible that I once bestowed this "favorite recipe" honor on another potato recipe of mine, one for a crispy roast smashed potato I developed for Fine Cooking magazine years ago, and that resides over at finecooking.com with many wonderful user reviews. And I have to say, the recipe for braised fingerlings I posted here a few months ago is pretty darn delicious.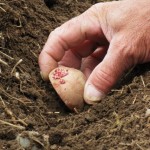 But yesterday, when I planted potatoes for the first time in my life, it was this recipe for a potato and cheese "galette" that I was dreaming of making later in the summer when we harvest our first Red Gold potatoes (photo below). So I'm going to risk my rep and call this galette my favorite potato recipe. (It  has something to do with the crispy factor.)  Just don't blame me when I get all excited about a new potato salad or roasted garlic mashed potatoes or crispy slow-sautéed potatoes in some future blog. I can't help myself.
One of the things I love best about the galette is the easy method. A galette is a layered potato dish, very similar to what the French call Potatoes Anna, except that instead of having to flip it in a pan on the stovetop (something I'm notoriously bad at), you get to bake it in a tart pan or cheesecake pan (anything with a removable rim).  All you do is arrange thinly sliced potatoes in slightly overlapping circles, sprinkle on a bit of cheese, and repeat. Bake until tender inside, crispy outside. Cut into wedges to serve.  You get the idea.
Better still, the galette is incredibly versatile. I like to use it as a sort of a bed for sliced roast chicken or grilled steak. A small wedge also nestles nicely next to a salad or can be served with a bowl of soup. It's even good at room temperature as a snack. After a galette cools, I cut the whole thing into wedges, even if I'm not serving it all right away, as the wedges can be kept in the fridge for a day or two and easily reheated, one at a time if you like.
Potato Galette with Fresh Rosemary & Two Cheeses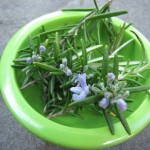 Be sure to use good Parmigiano and gruyere cheese in this recipe. With so few ingredients, the quality (and flavor) of the cheese makes a different. You can substitute fresh thyme for the rosemary if you like. Stick with yellow-fleshed potatoes for this recipe; red skinned-potatoes and Idahos do not work as well in this kind of dish. You don't need to peel the potatoes.

_______________________________________________
3 tablespoons plus ½ teaspoon extra-virgin olive oil
1 ½ pounds Yukon Gold potatoes (about 4 medium)
1 ½ teaspoons chopped fresh rosemary
¾ cup grated Gruyere cheese
1/3 cup finely grated Parmigiano Reggiano
kosher salt
_______________________________________________
Heat the oven to 375°  and arrange one rack in the middle of the oven.  Rub a 9- inch tart pan or a 9 ½-inch cheesecake pan with ½ teaspoon of the olive oil. (Make sure the pan has a removable bottom.)
Put the potatoes on your cutting board and trim a small slice off the bottom of each to stabilize it. Trim off and discard the very ends of the potatoes. Then cut the potatoes crosswise into very thin slices. Use a sharp, thin-bladed (but strong) knife—a Santoku knife works great for cutting thin potato slices. Slice as thinly as you can, but don't worry in the least if the slices are inconsistent; the galette will still cook evenly as long as you don't include any really thick slices. If you have a mandolin, you can certainly use it, but you don't need to.
Put the potato slices, the chopped rosemary, and the remaining 3 tablespoons of olive oil into a mixing bowl and toss thoroughly to coat.
Cover the bottom of the pan with a layer of potato slices, starting by making a ring of slightly overlapping slices all the way around the outside edge, and then working inward, laying down more rings of slightly overlapping slices until the bottom is covered. Sprinkle the potatoes with a tiny bit of kosher salt (about 1/8 teaspoon) and then sprinkle about 1/3 of the gruyere and 1/3 of the Parmigiano over all. Arrange another layer of potatoes over that, season again with salt, sprinkle with 1/3 of each cheese again, and finish with a top layer of potatoes and cheese.
Bake the galette until the top is golden brown and a fork easily pierces the layers of potato, about 45 to 50 minutes. Let the galette cool for 10 to 15 minutes in the pan. Run a thin knife around the edge to unstick any cheese and remove the cheesecake ring or the tart ring, leaving the galette on the bottom of the pan. Use a thin spatula to gently release the galette from the pan bottom, and transfer the galette to a cutting board. Cut into 6 or 8 pie-shaped pieces. Serve warm.
Serves 6 to 8