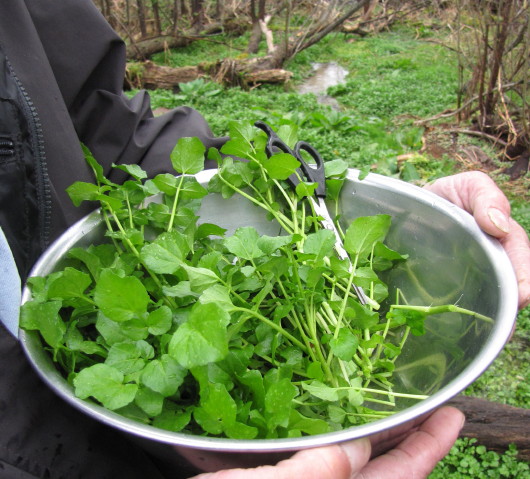 Sneaking around is so much fun. Like heisting those leeks a few weeks ago, we had the best time on Friday clandestinely gathering wild watercress from a fresh-water stream deep in the woods. Scissors in hand, we scurried down a path of pine needles, all the while looking over our shoulders, hoping no one would see us through the mist and fog and tangled brush. Soon we could hear the gentle burbling of the stream, and then the green mirage appeared–a carpet of a million leprechaun-green petals, so shiny and inviting you'd almost want to walk across it. But unless you're wearing waders, it's best to snip wild watercress by draping yourself over a fallen tree branch. Which is exactly what we did. Snacking as we snipped,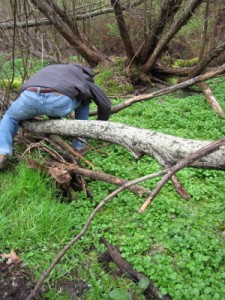 we filled up a big bowlful of the freshest, zippiest taste of spring you could ever hope for.
Gathering wild watercress is a time-honored Spring tradition on the Vineyard. But don't ask an old-timer where his favorite patch is, like I did when I was just a new "wash-ashore." He looked at me, only half-smiling, and said, "If I tell you, I'll have to kill you."  Like stands of wild blueberry bushes and sandy beach-plum covered dunes, the location of a good watercress patch is a highly guarded secret. And I think I finally understand why. Unlike the summer berry  hunt, where you'll definitely lose out if you don't get there first, it's not that there isn't enough watercress to go around. As long as you snip sprigs (and don't pull up roots), this wild green will flourish.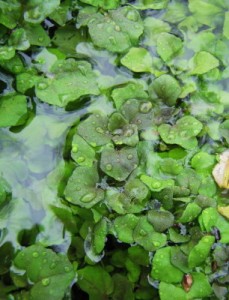 No, I think the appeal of watercress picking is the ritual–the walk through the peaceful woods that are just starting to green-up, the crouching by the edge of a cool stream. It's so calming and rejuvenating after a long winter that you'd hate to disturb the experience by sharing it with hoards of people all at once. Funny thing is, on our way back to the car, we saw a lone watercress sprig dropped by the side of the road. Someone had been to "our" spot before us, but had kindly given us our space.
I can't say that foraging for your own greens doesn't somehow make them tastier and more exciting. So I won't blame you if you are now saying, "Why should I bother with watercress if I'm just foraging for it at the grocery store? Because I think watercress is a highly underappreciated green, pushed out of the limelight by the likes of arugula and mizuna, when in fact it has all of their zip and less of their bite. And it is truly simple to prepare. I love it raw in salads–alone or with other greens–and wilted in a sauté pan, always with plenty of garlic. (Below are two favorite "recipe-lets" for you to try.) I also love to toss watercress in with steamed mussels, I love it with a juicy hamburger, and I love it in a very simple Asian soup of chicken broth, scallions, ginger, and garlic. And, oh yeah, it's really good for you too. This relative of the nasturtium has traditionally been used as an herbal remedy for hot flashes, headaches, canker sores, and even gout. And it's a good source of Vitamin C, Vitamin A, phosphorous, iron and calcium. Touché, arugula!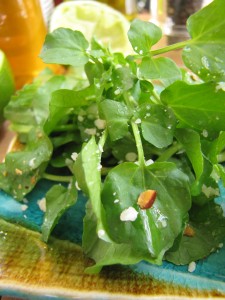 Simple Watercress Salad with Lime-Honey Dressing & Toasted Almonds: Combine 3 tablespoons extra-virgin olive oil, 1 tablespoon plus 1 teaspoon freshly squeezed lime juice, 1 teaspoon honey, a hefty pinch of salt, and a few grinds of fresh pepper in a small bowl. Whisk the dressing together until creamy. Toast whole almonds in a 375°  oven until deeply browned; cool and chop coarsely. Coarsely grate a few tablespoons of Parmigianno Regianno cheese.
For each portion of salad, wash and dry 2 good handfuls of watercress, trimming away any thick lower stems first. If you have mint around, pick out a few small leaves or finely slice a few bigger ones. Put the watercress (and the mint if you're using) in a bowl, season it with a big pinch of sea salt, and toss it with just enough of the dressing to coat. Add a generous amount of the chopped almonds and the grated Parmigianno and toss again. Arrange each portion on a salad plate and garnish with more almonds and cheese if desired.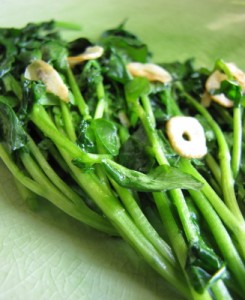 Wilted Watercress with Garlic Chips: In a small nonstick skillet, heat 2 teaspoons extra-virgin olive oil over medium-low heat. Add 1 large garlic clove, very thinly sliced crosswise, and saute until the garlic is just golden. Add 2 cups (packed) of trimmed watercress and a good pinch of kosher salt. Sauté until the watercress has just wilted, 1 to 2 minutes. Serves 2.
This post has also been published at Oneforthetable