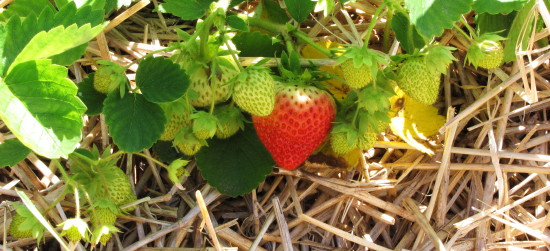 One of my favorite parts about the CSA I belonged to last year was the weekly strawberry picking in June. This year, with my own market garden, I knew I couldn't join the CSA, but I was resting easy thinking the strawberry patch would be open to the public like it was last year.
Never assume anything.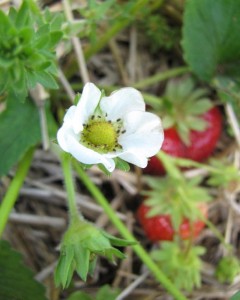 Naturally, due to weather conditions causing blossom drop, the strawberry crop wasn't large enough to share with non-CSAers. Big bummer, as there aren't any other pick-your-own strawberry patches on Martha's Vineyard.  Years ago I lived on Aquidneck Island (home to Newport, Rhode Island) and every June we'd head over to Quonset View Farms, high up in the middle of the island where the cold fog off the ocean just kisses the plants and fades away in time for daily sun baths. The soil must be pretty special there, too, as I swear I've never tasted strawberries so sweet and juicy. At Quonset View, it was hard to get out of the field without eating most of your berries.
Ever since then, I haven't really been able to eat much in the way of commercial strawberries, which tend to be hard and white in the middle and short on flavor. I wait 11 months for the real deal. It's kind of torturous, but pretty blissful when the local berries ripen. I try to pick enough to freeze some for later months, too, but they never last very long.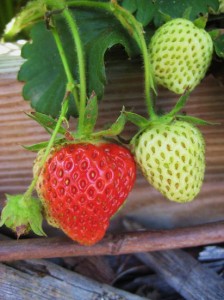 My longing was made even worse this year by the fact that Rebecca has been selling strawberry plants at the farm stand where my garden is. Every day that I pass by these beauties, another berry ripens on one of the plants, red and juicy and drooping seductively on its green stem, just begging to be eaten.
I finally broke down and bought a couple of the plants (and plunked them in the garden), mostly because my 7-year-old gardening (and cooking) companion Libby insisted. I tried to explain that strawberries are perennial and also that just a couple plants wouldn't yield much, but she wouldn't hear of it. So we have been ritually sharing each single berry on these two plants as they ripen.
I also finally got myself in the car and went down-Island to visit two farms that I thought might be selling their strawberries. It wouldn't be quite the same as picking my own, but time was running out. I struck gold at both Norton Farm and Morning Glory Farm, and I finally had enough strawberries to do what I've been waiting a year for—to make ice cream.
Last year, the June-July issue of Fine Cooking magazine arrived just before strawberry-picking time, and it had in it the most amazing article on creating your own custom-flavored ice cream.  The recipe came from pastry wizard David Lebovitz, and the step by step "create your own" approach is a regular Fine Cooking feature. I thought the format was a brilliant choice for an ice cream recipe, because it allows you to flavor your custard with whatever infusions, add-ins, and/or mix-ins you like to make practically anything—from Hazelnut Chocolate Chunk and Double Ginger to Irish Coffee or Rocky Road.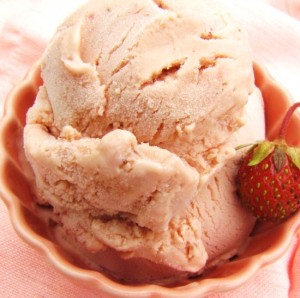 For my first go-round, I knew I wanted something fruity. I have strong memories of home made fresh Delaware white peach ice cream. My father used to make it in a big old fashioned ice-cream maker on the front porch of our beach cottage in August when I was a little girl. Profoundly comforting. I knew peaches weren't in season yet (and sadly, not nearly so good up here), but that strawberry patch was beckoning. So to test out the recipe, I chose pureed strawberries and vanilla extract for my flavor add-ins.
Wow. The ice cream was to die-for, rich and silky from the egg yolks and cream, and packed with true strawberry flavor. I fell in love with it. And I've waited a whole year to make it again.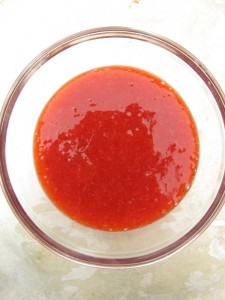 Late last week, I got out my little hand-cranked Donvier ice-cream freezer and made sure the cannister was chilling in the freezer. I made the strawberry puree on Thursday (photo at left), and the custard Friday morning. I chilled both and waited for my friend Libby to arrive. Friday night, after a chicken kabob barbeque (with a salad of all our own salad greens and radishes, of course), we sat down to play Sorry and to freeze the custard, each one of us taking a turn at the crank as we went around the game board. When it was about the texture of soft-serve, we couldn't wait any longer and spooned it into sugar cones. For a moment there wasn't a sound but for a little slurping and crunching. And then, from Libby, "When can we make more?"
Here's the recipe, adapted and collapsed from the "make your own" format. If strawberry ice cream isn't your thing, or you simply want to try other flavor combos,  visit the cool interactive feature on Fine Cooking's website.
Strawberry-Vanilla Ice Cream
Adapted from Fine Cooking magazine article by David Lebovitz; for more ice cream recipes, visit finecooking.com.
1 pound ripe strawberries, washed and hulled
1 1/4 cups granulated sugar
2 cups heavy cream
5 large egg yolks
1 cup whole milk
table salt
1 teaspoon vanilla extract
Make the strawberry puree: In a blender, puree the strawberries until completely smooth. Strain the berry puree through a fine-mesh sieve into a bowl or glass measure. (Press on the solids to be sure to extract all of the juice.) Stir in 1/2 cup of the granulated sugar. Refrigerate the puree until ready to use. (Can be done 24 hours ahead.)
Prepare an ice bath: Fill a large bowl with several inches of ice water (half ice, half water). Set a smaller metal bowl (such as a stainless steel mixing bowl, at least a 6-cup capacity), in the ice water. Pour 1 cup of the heavy cream into the inner bowl. (This will help the custard cool more quickly when you pour it in later). Set a fine-mesh strainer on top.
Make the custard: Whisk the egg yolks in a medium bowl and set aside. In a medium saucepan, mix the remaining 1 cup of the cream with the milk, the remaining ¾ cup sugar, and a pinch of salt. Heat the mixture over medium-high heat, stirring occasionally, until the sugar dissolves and tiny bubbles begin to form around the edge of the pan, 3 to 4 minutes. In a steady stream, pour half of the warm cream mixture into the egg yolks, whisking constantly to prevent the eggs from curdling. (This is called "tempering" – a good step when making any kind of custard. Be sure to pay close attention during this.)
Pour the egg mixture back into the saucepan and cook over low heat (or medium low if your stove is electric!), stirring constantly and scraping the bottom with a heatproof cooking spoon or spatula until the custard thickens slightly and measures 175°F to 180°F on an instant-read thermometer, anywhere from 4 to 10 minutes. (The custard will be a bit more viscous and thick enough to coat the back of a wooden spoon, holding a line drawn through it with a finger.) Don't let the sauce overheat or boil or it will curdle.
Immediately strain the custard into the cold cream in the ice bath.
Cool the custard: Stir the custard frequently over the ice bath until an instant-read thermometer measures 70°F. Add the vanilla extract and stir. Add all of the strawberry puree and mix well. (This is one of the totally fun parts—watching the pink and cream swirls come together!).
Chill and freeze the custard: Chill the strawberry-vanilla custard mixture in the refrigerator for at least 4 hours (or overnight—in fact, it holds for two days.) Freeze the ice cream in your ice cream maker according to the manufacturer's instructions.
Note: This recipe yields about 1 quart. My small ice cream maker only makes one pint at a time. If you're in that boat, simply keep the remaining custard chilled and use it in the next day or two.