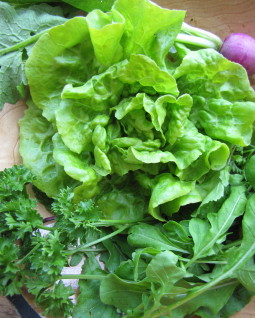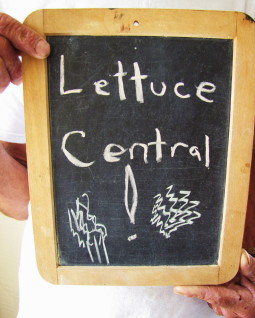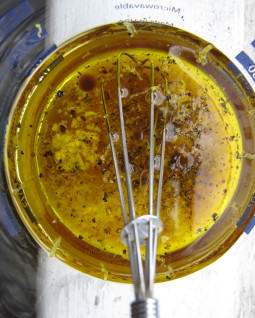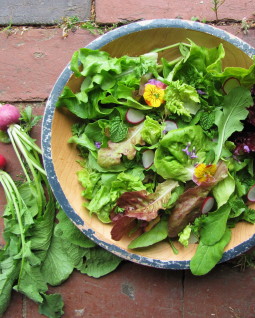 As if it weren't bad enough to live with 400 seedlings in our tiny apartment all winter, now we have a LPU (lettuce processing unit) in the kitchen. This is not an official piece of equipment, but rather a collection of big stainless steel bowls, salad spinners, dish towels, and assorted plastic bags, trays, and coolers that I use to wash, dry and pack the lettuce and greens we're harvesting from the garden in order to sell them at the farm stand.
There comes a point every evening and every morning when pretty much every surface is covered with lettuce or greens of some sort. I don't yet have my system worked out perfectly, so my partner, Roy, is finding this chaos all very amusing. Only yesterday did I realize he'd written "Lettuce Central" on our blackboard next to the kitchen door a few days ago. I'd been so distracted, I hadn't even seen it.
It's all pretty swell though, as I am totally enchanted with the lettuces and greens, and with our success in growing them, despite their wobbly start as spindly seedlings in the apartment. And the best perk is the killer salads we are having every night for dinner.
But you don't have to grow your own lettuce to make a really good green salad—just keep things simple. Stick with mostly greens (forget the big hulking cherry tomatoes and chunks of raw bell pepper—they're distracting), and try a combination of tender lettuces and a little bit less of something assertive (I love Bibb lettuce with a bit of arugula or mizuna). You can even toss in a few baby herb leaves or finely sliced fresh herbs like mint, parsley or basil for a tiny surprise hit of flavor.
Take the extra time to buy individual heads of lettuce and bunches of greens—they're much fresher and tastier than bagged lettuce. Wash them well, and be sure to spin them dry as dressing won't cling to wet leaves. Lastly, make your own tasty house vinaigrette. Bottled salad dressings are full of things you don't want to be consuming. Plus they taste, well, bottled.
A vinaigrette in its simplest form is 3 parts oil to 1 part acid (vinegar, or a combination of vinegar and citrus juice). With a pinch of salt or a dab of mustard to emulsify the two, you can make a vinaigrette in seconds. Or add an extra flavor or two—fresh pepper, minced garlic, lemon zest, chopped herbs—and you've got a custom dressing with only a few more minutes of work. Make a decent-sized batch, and you'll have homemade vinaigrette in the fridge for a couple weeks of dinner salads.
Here's a recipe for our favorite house vinaigrette.
Lemon-Sherry Vinaigrette for Summer Salads
_______________________________
7 tablespoons extra-virgin olive oil
2 tablespoons sherry vinegar
½ teaspoon freshly grated lemon zest
½ teaspoon fresh lemon juice
½ teaspoon honey
½ teaspoon Dijon mustard
¼ teaspoon minced fresh garlic
several grinds of fresh pepper
½ to 1 teaspoon thinly sliced fresh mint (optional)
________________________________
Combine all the ingredients in a bowl or glass measure and whisk until emulsified. Or combine in a glass jar with a lid and shake the jar until the ingredients are emulsified. Store covered in the fridge for two weeks.
Yields about 2/3 cup