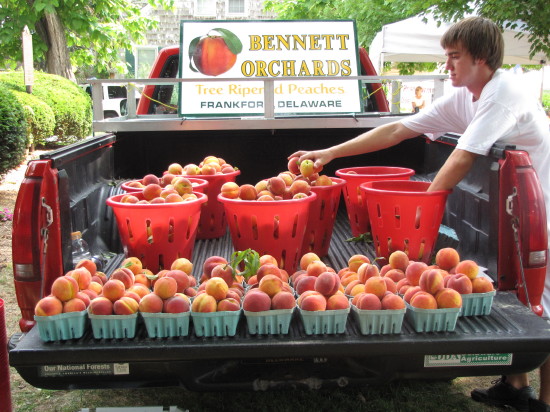 Traveling is not my forte. I always pack too much, eat bad fast food that I don't want, and wind up becoming cranky and homesick.  I like to think this is because I was born under the sign of Cancer (with Cancer-rising, too—the double whammy). This accounts for both my extreme homebodiness and my crabbiness when hungry (and when my edible options are less than desirable). Every Zodiac sign has a body part associated with it. For Cancers, it's the stomach.
In fact, if it weren't for things like farmers' markets, sweet shops (freshly made ice cream or artisan chocolates, preferably), and coffee joints, you would not want to travel with me. But if a town can supply me with these three things, I'm good.
I'd have to say, on the farmers market/sweet shop/coffee joint scale, it would be hard to rank as high as a town like Portland, Oregon, where I visited this spring. I slurped deep dark hot chocolate at Cacao (kind of a chocolate bar that sells chocolate bars—as well as chocolate drinks), squirreled away fresh hazelnuts, buckwheat honey, and aged cheddar from the knock-your-socks off Saturday farmers' market, and treated myself to a cup of my favorite Major Dickason's Blend at Peet's every morning. Portland has a reverence for coffee, for farming, for cooking, and for hand-crafted artisan foods like no other town I've seen.
So it is hardly fair to talk about Lewes, Delaware, in the same breath. As food towns go, little Lewes is not going to burn a hole in your Zagat Guide. But I'm afraid it would be on Page One of the Susie Guide. It's a sentimental thing, for sure. My Dad's family has been living (and eating) in this coastal town for 300 years, and it's there that I learned to pick crabs, eat corn on the cob with my new adult teeth, make homemade peach ice cream and Beach Plum jelly with my Dad, and dig clams with my cousins. My best food memories are all right there. Or at least they were last weekend when we traveled down to celebrate my Dad's 80th birthday.
On Saturday, when I walked down Second St. past St. Peter's Church where all my relatives are buried in the cemetery, past the old Victorian house my great-grandmother lived in, and onto Ship Carpenter Street and the grassy grounds of the Lewes Historical Society, I got goose bumps. Here was the farmers' market in full swing. It's a young market—only 5 years old—but it has caught on strong, and now it attracts growers and food artisans from all over the Delmarva peninsula. I looked around, and it seemed like a whole group of unknown friends had made a secret effort to keep all my childhood food memories alive.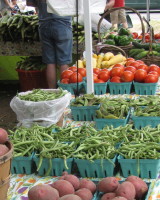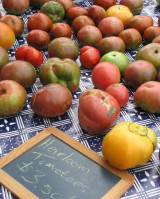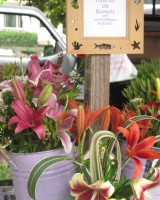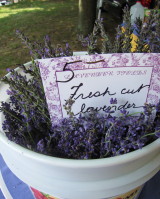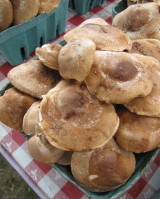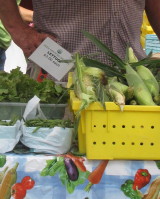 Right there was the white sweet corn—the very sweetest, juiciest corn you will ever find anywhere (it's the Delaware soil, they say). I embarrassed myself by asking if this variety was Silver Queen. "No, we haven't grown that one in years," the (young) kid told me. "This one's called Argent." "Argent as in A-r-g-e-n-t?" I said. "Something like that," he replied. (That night, I discovered that Argent, however you spell it, is even better than Silver Queen—or at least my memory of it.)
Stuffing a dozen ears into my bag, I lurched over to the big truck under the maple tree that was loaded up with red bushels of peaches. Peaches! Oh Boy! Real, tree-ripened, fragrant, soft Delaware peaches. Not my favorite white variety (they'll be ripe next week, the nice folks from Bennett Orchards told me), but a very fabulous yellow variety called Red Haven. Bennett Orchards (in Frankford, Delaware, less than 30 miles from Lewes), I learned, grows 19 different varieties of peaches from July through early September, and I am already sad that I will not get to sample the other 18 varieties this summer. (I took my little stash home and sliced the first one up raw and drizzled it with what is arguably Lewes' true claim to culinary fame—ultra rich, buttery yellow Lewes Dairy heavy cream.) This is the way my grandmother Honey served peaches. Peeled & sliced. With Lewes cream. Period. Nothing better.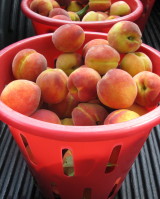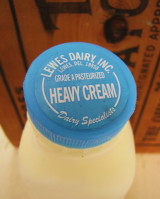 By the time we waded out of the farmers' market (it was 90+ degrees and 75% humidity, so we were literally wading), we also had a wedge of Talbot Reserve cheese from Chapel's Country Creamery in Easton, Maryland, a jar of local honey, and, among other tidbits, a bumper sticker ("No Farms, No Food").
I figured the farmers' market would be the highlight of the day, but I didn't know what my Dad and sister had in store for us that night: a ride out to Hopkins Creamery for ice cream. (I'd never been.) On the drive out through the cornfield-lined back roads of Lewes, Dad and Ellie kept talking about the smell of cow poo and the best ice cream ever in the same breath.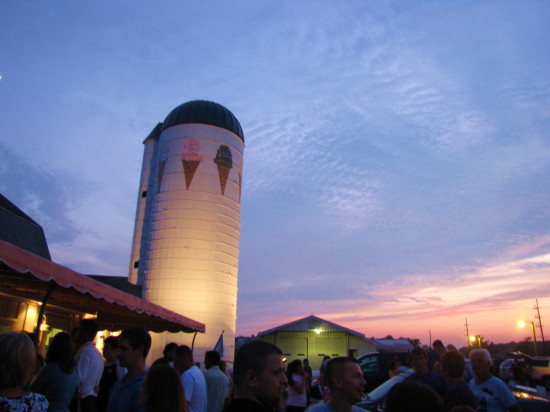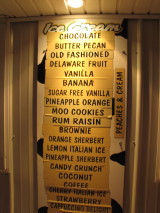 Sure enough, as twilight faded, we saw a huge silo looming ahead, silhouetted in the blue-grey sky, its painted decoration of ice cream cones barely discernible. We trolled around for a parking spot and eyed the long lines of folks outside the creamery—which is right next to the huge dairy barn full of cows. We didn't have to get out of the car to breathe in the familiar odor of cow manure.  Judging by the long lines, this seems to be an experience most folks appreciate—knowing exactly the source of their ice cream. But it kept my mom at home in air-conditioned, odor-free comfort. Too bad, as she missed the best ice cream I've ever had. After our turn in a long line, I followed suit with Dad and Ellie and chose Cappuccino Delight, a coffee ice cream with bits of toffee in it. (Roy had his favorite—vanilla.) The rich, buttery, full-fat ice cream was heavenly, even better licked off a crunchy sugar cone while watching a new calf lounge in the hay of the open dairy barn.
What a great trip—sweet corn, peaches, cream, cheese, ice cream. Oh yeah, we did roast a lot of tomatoes and cook green beans, too. It wasn't a total vacation from (green) vegetables. And I didn't get a stomach ache; not even once.

Lewes on Dwellable