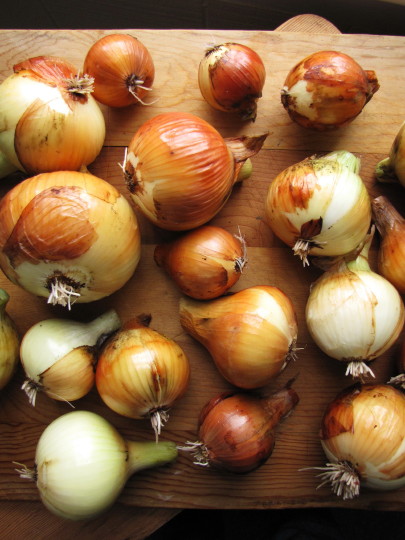 Since I have a sweet tooth, turning vegetables into candy is a favorite pastime (see roasted beets and roasted tomatoes). Last week, after the grand sopping we got (more on the way from Hurricane Earl), we pulled up most of our onions in the garden, as they don't like wet feet and looked like they were sort of gurgling in the muck.  I know you are supposed to grow onions in order to keep them in long storage all winter. But that may not be happening around here. I couldn't stand watching all those beautiful onions drying out in the kitchen. I wanted to slice them and dice them and sauté them and roast them and and and…well, you know, I couldn't wait. Friday I stole three nice plump onions off the rack and sliced them up. And made caramelized onions. There, I had my way.
Caramelized onions are something unto themselves. With their amazing flavor and almost jammy, condiment-y texture, they go well in, on, and around just about anything. Eggs, crostini, pasta, steaks, salads. The other night I threw some in with chopped tomatoes for a quick-simmered pan sauce for chicken thighs. Last night we put some on pizza. They keep in the fridge for at least a week (if you don't eat them all), so every morning I mix a little with some fresh corn kernels and fresh thyme and add that to my scrambled eggs.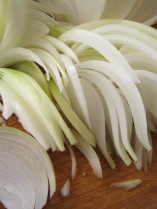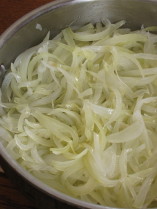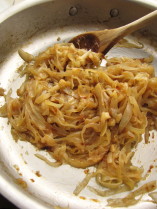 And, ta da!, I just happen to have a good recipe for caramelized onions up my sleeve. It's one I developed for Fast, Fresh & Green but ultimately cut when we had too much content. While I love this classic preparation, I don't really think of caramelized onions as a side dish so much as a dinner-booster, so it made sense to take it out of a book of side dishes.
My recipe takes the classic, slow-cooked, slowly browned onions a small step further by adding a bit of balsamic, honey and thyme at the end. (You could leave them out but I think they give everything a lift.) There is some technique to caramelizing onions. First off, they won't cook evenly unless you "sweat" them first in a covered pan until they are translucent (middle photo above). Then, and only then, can you procede to browning the onions. The next big tip I learned from my old chef boss Lenny Greene: When onions start sticking to a hot pan (and leaving behind all those delicious brown nubbins), pull the pan off the heat and the onions will immediately begin releasing moisture, which will allow you to "wash" all those delicious brown bits back into the onions. You can do this frequently while caramelizing the onions, and every time you wash the browned bits back into the onions, they will get more golden. Lastly, I like to caramelize my onions over moderately low heat so that they cook most evenly. But if you're in a hurry, you can bump up the heat a bit (after "sweating") and speed the cooking along. Happy caramelizing!
Caramelized Onions Agrodolce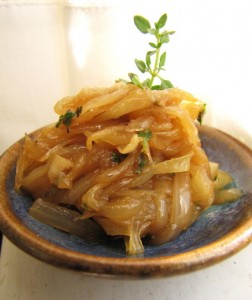 __________________________________
2 pounds yellow onions
3 tablespoons extra virgin olive oil
1 teaspoon kosher salt, more for seasoning
1 teaspoon balsamic vinegar
1 teaspoon honey
2 teaspoons coarsely chopped fresh thyme leaves
________________________________
Slice the ends off of the onions, cut them in half lengthwise, and peel them.  Put each half, cut-side down, on a cutting board. Slice each onion half lengthwise in ¼-inch wide slices in a "radial" fashion by angling your knife in towards the core as you slice from one side to the other (as if you were slicing along longitudinal lines towards the axis of the earth). When you get half-way through, lay the rest of the onion over on its side for easier slicing and continue to slice towards the core. Discard any very thin or small pieces of onion. Slice the remaining halves in the same way. (See radial-cut onions in photo in text, above right.)
In a 10-inch straight-sided skillet, heat the olive oil over medium-low heat. Add all the onions and 1 teaspoon kosher salt.  Stir well, cover, and cook, stirring only every few minutes and putting the lid back on quickly, until all the onions are limp, translucent, and just beginning to stick to the pan, 12 to 14 minutes.
Uncover and cook, stirring more and more frequently, until most of the onions are the color of a caramel candy (some will be deeper amber), about 30 minutes. (Turn heat to medium if onions are browning too slowly for you.) The onions will stick to the pan frequently and will leave browned bits on the bottom of the pan. You will need to "wash" those browned bits back into the onions by doing two things. First, use a wooden spoon to scrape the brown bits up. Secondly, when there is a lot of browning in one place in the pan, pull the pan off the heat and let the onions sit for a few seconds. They will release moisture which will help unstick the browned bits; you can then sweep the onions back and forth across the browned bits to reincorporate them.
Mix the balsamic vinegar with two teaspoons water. Turn the heat to low, add the balsamic mixture, stir, and remove the pan from the heat. Continue stirring to incorporate all of the browning in the pan and to evaporate the liquids. Add the honey and thyme, and stir well again. Taste and season with a little more salt if needed. Let the onions sit a minute or two longer and stir again to incorporate any remaining browned bits in the pan. Let cool and transfer to a storage bowl if not using right away. They will keep in the fridge for a week.
Yields 1.5 cups