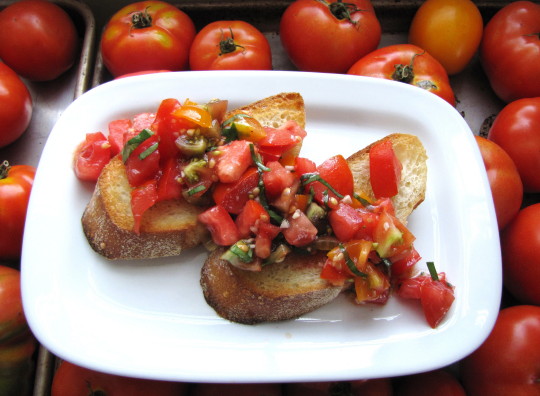 It blew like crazy last night. The garden is pretty disheveled—flattened in fact. The pole bean trellis (with all of its Jack-and-the-Beanstalk vines) is face down in the zinnias. The cosmos are hugging the ground like a dog that's been chastised. And the little zucchinis on the new plants are bare and naked, exposed to the world after their protective leaves and stems snapped off like flimsy toothpicks.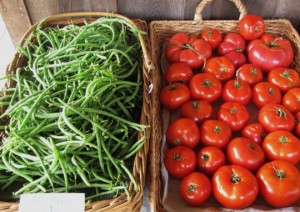 No matter; we will clean it all up this weekend. In the mean time, with the rain still coming down (and traffic at the farm stand sluggish), harvesting seemed like a silly idea today. We'll have to go back later in the afternoon and get the beans; they grow too big if left for more than a day, and we have about 4 pounds coming in every day. (Bean picking is hard on the back and time-consuming, too, but if you just go with it, it can be Zen-like.)
Fortunately we brought a ton more tomatoes in yesterday, as Mr. Rat is still on the loose. I was relieved to read on Facebook (yeah, what a source!) that real farmers are also bringing their tomatoes inside at first blush. Bad summer for pests, they say. Whew, this makes a start-up grower like me feel not so silly about the number (now in the hundreds) of under-ripe and semi-ripe tomatoes in our apartment.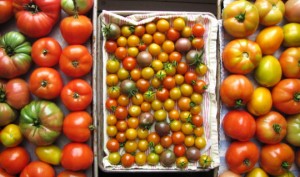 However, the under-ripe tomatoes don't scare me nearly as much as the ripe ones, as I don't think there's any way we will sell them all at the farm stand. (A good rainstorm like this comes along—and yesterday being Monday, too—and we only sell 2 pounds of tomatoes in a day, out of the 12 we put out on the stand!) I've given some to friends, and roasted a bunch this weekend, but deadlines (and life!) prevent me from spending time marketing them elsewhere. I've already told Roy that we'll be eating green beans and tomatoes every night now for the next millennium, but I'm trying to make lunch out of this stuff, too.
So yesterday I had my V-8 moment—Oh, Bruschetta! I remembered how good and easy bruschetta is to make with ripe summer tomatoes, and I had a nice rustic loaf of bread on hand. So voila—here's what came of it. Easy, easy. Tasty, tasty.
Summer Tomato Bruschetta

______________________________________
2 to 2 ½ cups diced, cored ripe summer tomatoes (3 to 4 medium tomatoes; no need to skin or seed, just chop)
1 clove garlic, peeled and minced
10 to 12 medium-large leaves sweet basil, finely sliced or chopped
2 tablespoons extra-virgin olive oil, plus more for bread
few drops balsamic vinegar
few drops honey
kosher salt
4 to 6 slices rustic bread (each slice about 1-inch thick; I like a baguette cut on a sharp diagonal)
______________________________________
In a small mixing bowl, combine the tomatoes, the garlic, the basil, the 2 tablespoons olive oil, the balsamic vinegar, the honey, and about ¼ teaspoon kosher salt. Stir well to combine and let sit for 5 to 10 minutes, stirring occasionally.
Rub or drizzle the bread slices with a little more olive oil and toast them in a toaster oven or brown them under the broiler. Arrange the slices on two plates, sprinkle them with a tiny bit of salt, and spoon the tomato mixture over them. Let sit for a few minutes so that the bread soaks up a bit of the juices.
Serve for lunch or as a first course to dinner. You could also add some chopped grilled or sautéed shrimp to the tomato mix, and call this dinner.
Serves 2