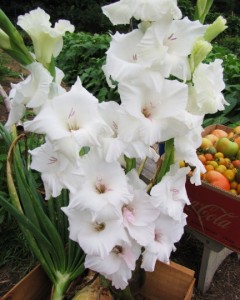 This morning I got stung by a bee—twice. It was my fault—I was trying to harvest squash blossoms, and the bees weren't  finished with their business inside them. One bee got so mad at me that he followed me all the way to the compost pile. And somehow, one got inside my pants. Yeah, ouch.
But I'm not in a bad mood—I'm as happy as can be. It's impossible not be filled with excitement around here. Martha's Vineyard in August—especially the third week in August—will make your head spin. Fireworks, the Fair, the President. Yesterday the President's motorcade whizzed by our front door. The family stays just a quarter-mile up the road from us, so this will be a familiar site.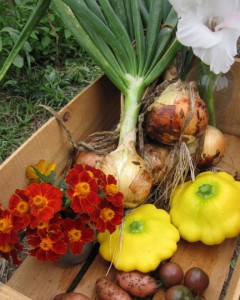 But the most exciting thing of all for us yesterday wasn't the President—it was the blue and red ribbons we won at the Fair.  This past weekend, we carefully filled out the entry form after looking at what we had in our garden, and decided to enter in two flower categories and five vegetables. Since we grow our vegetables and flowers to sell at a farm stand, we had to enter as commercial growers.
Wednesday morning, we picked our Fair entries after harvesting for the farm stand, took our goodies home and cleaned them up, and delivered them to the Ag Hall. We got a ticket for each entry and sat down at a picnic table to label everything. Next to us was a young family putting the finishing touches on all the artwork they were entering.  Kids and adults alike work all year long on Fair entries, and you see the coolest stuff on delivery day. My favorite was a giant piece of driftwood covered entirely with seashells and other shore treasures—so great.  Of course, I've never entered something in a Fair before, so I was pretty darn excited. Not nearly as excited as Roy, though, who was so proud of the gladiolas he grew.  He'd chosen three beautiful white stems that already were capturing oohs and ahs from friends we ran into, and he really wanted to win a ribbon.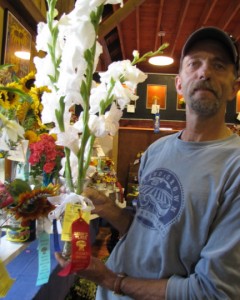 So last night, when we made our way past the Rock Climbing Wall, the Diamond Dragon Ride, the Cotton Candy and Fried Chicken trailers, and the Flintstones Game to push through the doors of the Ag Hall, I was worried Roy might be disappointed. No need for that—he rushed ahead and seconds later reappeared with a smile on this face. His glads got a red ribbon for second place, and he couldn't have been happier.  I really didn't have expectations on our other stuff, so when Roy kept finding things and coming back to tell me "the onions got a blue ribbon!" "the fingerlings got first place!" I was amazed.  We got six ribbons out of the seven categories we entered! How could that be, I thought?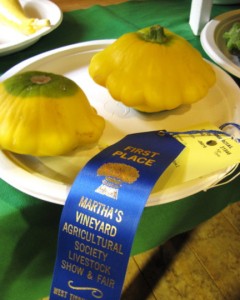 Well, I looked around and it seemed to me there weren't a whole lot of commercial entries this year (many more home entries), and that we sort of won by default in some cases. No matter, I thought, this is still a thrill. But someone told me this morning that the judges don't award a ribbon if they don't think there's something worthy in a category; so that means our stuff was at least pretty decent! So for now, I'll let myself feel good about this—after all, some of those darn vegetables started as seedlings in our apartment almost six months ago, and there was a lot of love and hard work that got them to the Fair!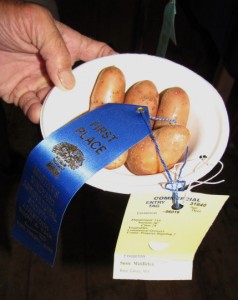 I celebrated with cotton candy (pink, of course)—Roy with a sausage and peppers grinder. We played a game or two (Roy had to win me a stuffed animal, of course). The moon was glowing in a clear ink-blue sky, and the night was as fine as could be—cool and dry. We strolled through the barn to see the draft horses, prize chickens, and magnificent oxen—and then headed back to the car. After all, we still had work to do—closing the farm stand for the night.