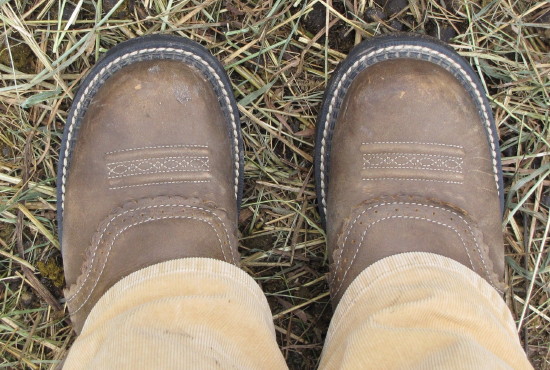 I moved to Martha's Vineyard three years ago for a Simpler Life, and I got it. Granted I wasn't any Paris Hilton, but I did have a lot of pointy-toed high-heeled shoes and frilly skirts. These days, I am most comfortable (and most often) stomping around in my muck boots and my blue jeans. For me, these boots have come to symbolize the freedom and peace I feel on the Island.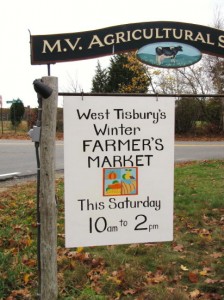 This past Saturday was a great example of what I love about my new life. We woke up, pulled on our boots, and trotted over to the Ag Hall (the big barn-like structure where the Fair and lots of other cool local events are held) to check out the indoor Winter Farmers' Market. (We live right across the street from the Ag Hall now.) The indoor market, only in its second year, has already worked itself into the fabric of the year-round community, and it's a great place to go to see friends, get a cup of coffee and stand around the fireplace, maybe buy a bar of Island-made goat soap or a quart of Island-made yogurt or even a piece of Island-made chocolate. And there are veggies like nobody's business, since our warm Island fall extends the growing season right through to December. I restrained myself and walked out with only one bunch of beautiful turnips. (On a typical Saturday morning in my old life, I'd be in the car racing up and down Route 1 or I95, trying to cram in errands I couldn't do during the week.)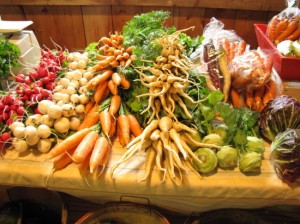 So I was going to blog about the market and the turnips this week, but then, since there was an even cooler event that happened Saturday night (at the Ag Hall again, of course), I thought for a moment I might write about that! Our local nonprofit, Island Grown Initiative, held a pig- and chicken-roast fundraiser called "Local Meat is Good to Eat—But There's More to Life than Chicken." The group, which has been very successful in introducing a mobile poultry processing unit to the island (and increasing the number of chickens raised here), has received a state grant to do a feasibility study for a potential USDA four-legged humane slaughter facility on the Vineyard. The fundraiser was planned as a way to bolster the grant money. The food was amazing, but the community spirit even more affecting. IGI had expected 150 to 200 people—and 400 members of the community showed up! (And $12,000 was raised.) I felt really proud and grateful to be part of that community. But truthfully, showing up at a delicious pig roast for a good cause might fit well with my idea of a simpler life, but what these folks are doing for the farming (and entire community) on this Island is anything but simple. But that's the way life goes; the good stuff only comes with hard work and a fair dose of complication.
So ultimately, after procrastinating on writing this blog, I decided not just to focus on the market or the fundraiser. Because life, no matter where you live and how you approach it, is never all that simple. This is very much on my mind right now for two reasons.
First, a month or so ago, I was asked to write a new book—quickly. The publishers of Fast, Fresh & Green, Chronicle Books, were so happy with this first book of mine that they figured why not publish a follow-up book (sort of a sequel—though I keep thinking that I hope this one is better than Jaws 2!) in the Spring of 2012. So I gave them a proposal for Fresh & Green for Dinner, a collection of vegetable-driven main dishes, and lo and behold, I got a February 15 (2011!) deadline. Yikes. This of course, is both great and scary at the same time. And anything but simple. I am now pushing myself at a pace that I don't really like—working day and night to get recipes written, developed (which means several tests on my part), cross-tested, and edited. (Grilled pizza, anyone?) I'm feeling just a little bit like I did in my old life—speedy (though that could be from all the coffee I drink). But that's okay. Because I'm grateful that I have a job (crazy as it is) that lets me live where I want to—in this beautiful place.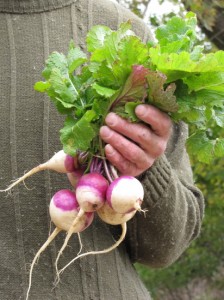 Secondly, there's another not-so-simple reality to being a cookbook author: Publicity. And when you get an opportunity to appear on a national TV show—especially one that's hosted by a fabulous cook—you don't say no. So on the morning of Wednesday, November 24—the day before Thanksgiving—I'll be standing next to Martha Stewart, telling her (like she doesn't already know!) and a live studio audience, about quick-roasting vegetables. It's a prime spot for a cookbook author, since Thanksgiving is the number one cooking holiday, and I'm excited that I'll be able to talk about something that really is easy to pull off on Thanksgiving. (Quick-roasted vegetables can pop in the oven after the turkey comes out and cook in the amount of time the turkey needs to rest.) I'll be cooking the popular Vanilla and Cardamom Glazed Acorn Squash Rings, and yes, turnips! (Roasted Turnips & Pears with Rosemary-Honey Drizzle), as well as Roasted Brussels Sprouts with Orange Butter Sauce, all from Fast, Fresh & Green. (You can get the first two recipes online here, from a recent article in Martha's Vineyard magazine.) If you want to watch, I'll be on the 3rd and 4th segments (the show starts at 10 a.m. on the Hallmark Channel and I believe repeats at 1 p.m. Oops–no I'm wrong about that. It repeats at 2 pm that day. The 1 pm show is a repeat of the day before!). Roy and I will be taking Libby down to New York for the night, and the two of them will get to be a part of the live audience (and maybe visit backstage, too!). Somebody is pretty excited, let me tell you…
In the past, I dreaded TV appearances. But I'm in a different spot now and am really anticipating this with joy, not in small part because I know my friends and family will share in the excitement. But also, the producers of The Martha Stewart Show are real pros, and I feel lucky to be on a quality program that values home cooking. So while it wasn't in my plans to get on the ferry, drive down I95, and put on my public face (no pointy-toe shoes, though) the day before Thanksgiving, I'm there. It was, afterall, a simple decision.