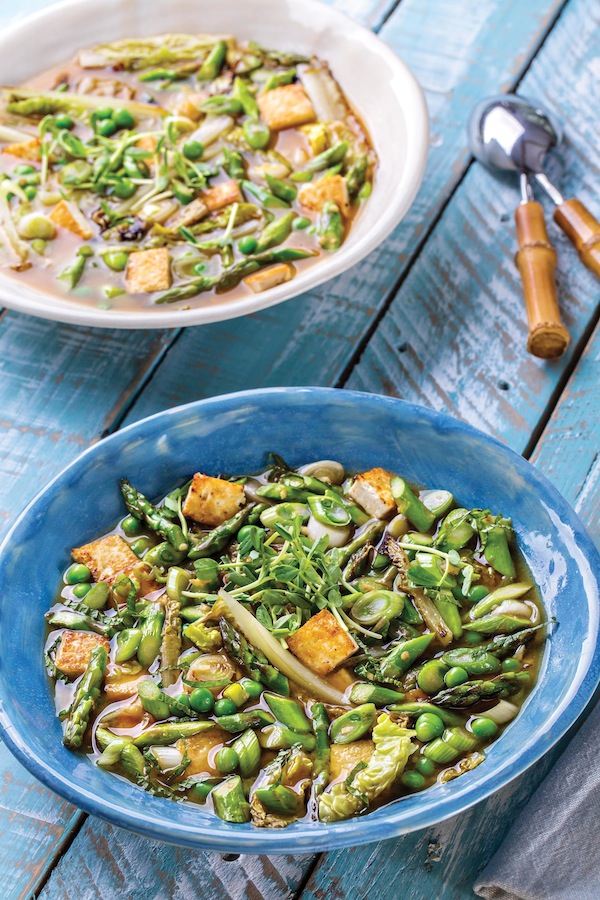 When I tiptoed over the mostly-vegetable line into the all-vegetarian world, I finally got friendly with miso. So when I wrote Simple Green Suppers, I took advantage of miso's deep flavors in several different ways. Probably my favorite recipe is a simple Lemon Miso Butter (great on sautéed vegetables or in grain dishes), but I also use miso in a delicious Crystallized Ginger-Miso Dressing (on an asparagus and grapefruit salad, and more), and in soups and broths, including the wonderful Spring Miso Broth with Stir-Fried Asparagus, Romaine, Scallions, Tofu, and Mint recipe pictured above.
If you're not friendly with miso yet, here's a little background: Miso is a nutritious fermented bean paste, and making it is an ancient Japanese craft. Usually, fermentation begins with soybeans, salt, and koji (a fermenting fungus); sometimes grains or legumes like barley, rice, or chickpeas are added. The miso is aged for varying lengths of time; generally older misos will have more umami flavor and the saltiness will have mellowed somewhat.
The color of miso will tell you something, too. Generally, the lighter colored misos are the mildest (and most versatile). I use white (sometimes labeled yellow) shiro miso most often, especially for dressings and sauces (top right in photo below). But I also like the darker misos—in broths and soups especially. Great miso is now made in the U.S. In fact, my favorite miso is made right here in Massachusetts, by the South River Miso Company in Conway. I especially like their one-year azuki bean miso (bottom right below) and their three-year barley miso (middle bowl, below), but all of their varieties are delicious and worth seeking out.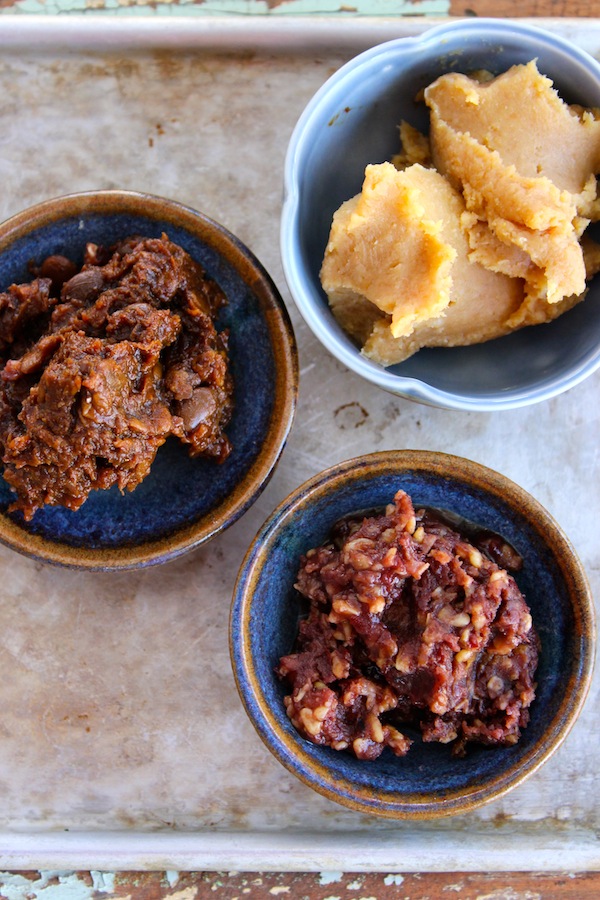 However, you don't have to go out of your way to find miso. Most major supermarkets and all natural food stores carry at least a small variety of misos. All misos have an alluring sweet-salty-funky flavor that's hard to beat for flavor-boosting.
It's fun to try out a range of misos; just know that you may need to use a little less of a darker miso or add a little more water (or other ingredients) to taste. A good starting point for soup is one tablespoon per cup of water. If you like, you can strain your broth if using a chunky artisan miso. Keep in mind that all miso pastes destined for soups should be dissolved in hot water, but never boiled. Boiling can destroy flavor and nutrients.
So now, time for you to get friendly with miso, too—though maybe you already are! Either way, I think you'll enjoy these two recipes. (And you'll have to get a copy of Simple Green Suppers for the soup recipe above. I know, what a tease. But just a friendly reminder if you haven't pre-ordered the book–well, you could certainly do it now.)
Lemon-Miso Butter
Make this handy flavor-booster ahead; cover and keep in the fridge for up to a week. In Simple Green Suppers, I use this butter in a recipe for Stir-Fried Black Rice with Baby Bok Choy and Asparagus, and in a recipe for Parsnips and Creminis with Wheat Berries. But you can use it on any stir-fried or sautéed veggies or with rice; be sure to add the butter to the recipe while the veggies or grains are still hot. Double this recipe if you like. (If you need to soften butter quickly to make this, cut it into a few pieces and microwave for a few seconds, but don't melt it.)
Makes ¼ cup
2 tablespoons unsalted butter, softened
2 tablespoons white (Shiro) miso
1 teaspoon freshly grated lemon zest
In a small bowl, combine the butter, the miso paste, and the lemon zest. Use a small silicone spatula or wooden spoon to mash together until well combined.
Recipe copyright Susie Middleton, from Simple Green Suppers: A Fresh Strategy for One-Dish Vegetarian Meals (Roost Books).
Crystallized Ginger-Miso Dressing
I have to admit this dressing is one of my favorite recipes. It features crystallized ginger with assists from lime, maple, and miso. I love it on an Asparagus, Grapefruit, and Sushi Rice recipe in Simple Green Suppers, but it is equally good with broccoli, green beans, cabbage, or lettuce. Double or triple if you like.
Yields about 1/3 cup
1 tablespoon rice vinegar
1 tablespoon plus 1 teaspoon fresh lime juice
1 tablespoon plus 1 teaspoon minced crystallized ginger
1 tablespoon maple syrup
1 tablespoon minced cilantro
1½ teaspoons white (Shiro) miso
In a small bowl, combine the rice vinegar, the lime juice, the crystallized ginger, the maple syrup, the cilantro, and the miso. Whisk well.
Recipe copyright Susie Middleton, from Simple Green Suppers: A Fresh Strategy for One-Dish Vegetarian Meals (Roost Books).
Top Photo by Randi Baird, Randi Baird Photography