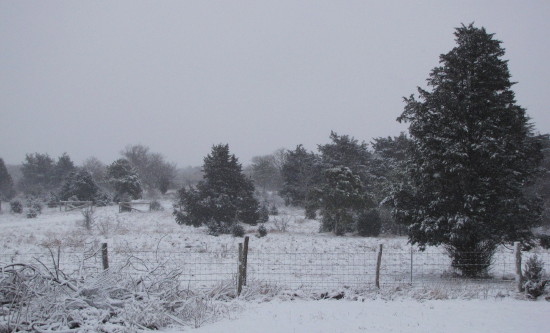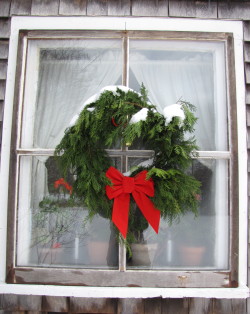 Even though I don't have to go to school any more (or even to an office, for that matter), I still get that giddy feeling when it snows. A snow day! Oh boy! A day off! "Uh, Susie," I then remind myself, "You don't get a day off. You're a freelancer." Oh, right. A freelancer with a book deadline in less than two months.  Well, that didn't stop me from venturing out into the fury on Monday to take pictures (that's our backyard, above, at about 3 p.m.) or on Tuesday in the flurries to take more pictures (front window, about 1p.m.).
Yes, I will do anything to procrastinate. But I did deliver 8 new recipes to my cross-tester (that's cross-tester, not cross-dresser) on Sunday night, and I've been cranking away on five more since then. So, you know, I have to take a break every once in a while. All of this is a lame way of explaining why there is no Christmas recipe going up on the blog tonight. The blog recipe that I had in mind (Christmas Carrots for a Crowd) did not quite make it into the kitchen line-up today between Orecchietti with Lemony Broccoflower and Roasted Tomato Galettes (recipes for the new book, which, of course, I can't publish here—nor would you want to eat them with your prime rib, anyway!).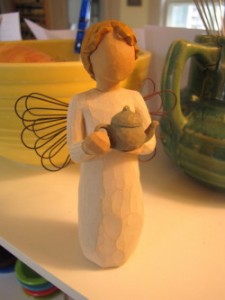 I had hoped my new kitchen angel (left), an early Christmas present to myself, might somehow make the days stretch longer for me, so I could fit more in. But no such magic today. At least we are past the solstice now, as here in the Far East, the sun sets at 4 and it's hard not to feel like the day is over when darkness comes—though that's normally the time I'm gearing up to do one last test for the day.
At any rate, I don't have many recipes on the site that are suitable for large crowds, but just in case you're dining with a small, intimate group, and just in case you haven't finalized your menu (I know, I'm late in the game here), the least I can do is suggest some favorite and appropriate holiday sides already posted on sixburnersue.com: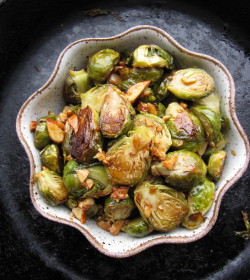 I think the most popular recipe on this site may be these Braised Fingerlings with Crispy Sage & Tender Garlic. So yummy and a classic update for serving with beef tenderloin. A Bed of Buttery Leeks and Spinach would be a great landing spot for a few slices of tenderloin, too. For prime rib? This Yukon Gold and Celery Root Gratin. Or the Potato Galette with Fresh Rosemary …and Roasted Cauliflower, too. For roast turkey? Caramelized Turnips, Potatoes & Carrots or the Mashed Yukon Gold Potatoes with Roasted Garlic. Ham? Slow-Sauteed Green Beans with Shallots & Bacon or a double recipe of Roasted Brussels Sprouts with Nutty Lemon-Maple Brown Butter. Salmon? Maybe this Baby Bok Choy recipe or a double recipe of Popeye's Garlic Spinach.
Whatever you decide to cook, I hope you have lots of kitchen angels to help. Merry Christmas from Sixburnersue and snowy Martha's Vineyard!