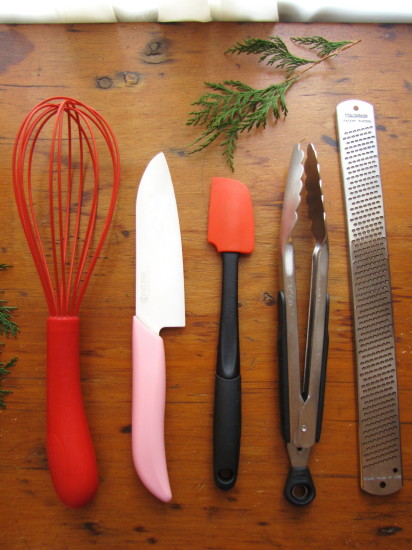 Today I made up an imaginary friend named Shorty. I was writing a head note for a recipe (one that involves short-grain brown rice) and was fresh out of clever things to say. This is what happens when you agree to write a book quickly—your creativity gets taxed mightily. So much so, in fact, that no new recipe blog is coming forth from me today.
Instead I decided to write (quickly) about the other thing that is very much on my mind—Christmas shopping. I have, in fact, barely done any yet, which is Not Good. I can't do much about that right this minute, but I thought maybe I could help you, since probably you have an equivalent of a book deadline hanging over you and are behind with your own efforts. Or maybe some wonderful friend or your husband or your mother wants to know what you want for Christmas.
Here are five ideas. They just happen to be some of my favorite kitchen tools. People often ask me about kitchen equipment. Sometimes the questions are real stumpers, like whether they should buy the newest combined microwave-convection-infrared-lightspeed-oven, whereupon I stare at them blankly since I haven't been in the market for a new stove in 10 years. But when it comes to simple kitchen tools, I can babble on (my specialty).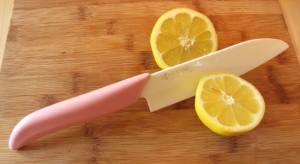 My very favorite thing is a pink-handled knife from Kyocera. Well, honestly, it's not the color of the handle that did it for me (yes, pink is my favorite color), though I do love the fact that every purchase of this knife sends $5 to the Susan G. Komen Breast Cancer Foundation. It's the ceramic blade—so darn sharp, and it has been that way every day that I've used it for the past five years (which is almost every day). The Santoku-shaped blade is only 5 1/2 inches long, so this isn't your big chopping knife; I think of it more as a utility knife. I use it for thin-slicing potatoes, cutting up broccoli florets, slivering garlic, halving Brussels sprouts, trimming green beans…lotsa things.
The tool I use most in the kitchen—maybe even more than my ceramic knife—is a pair of OXO tongs. Three pairs, actually (two 9-inchers, one 12-incher.) I think I first got attached to tongs when I worked in restaurant kitchens, where pot holders don't exist. (Come to think of it, neither do most common kitchen utensils.) You can use tongs to pull out hot oven racks and sheet trays, turn over delicate veggies or meats while sautéing, move anything around in a pan, or, of course, to handle anything on the grill. I particularly like the grip and the locking mechanism on the OXO Good Grips tongs.
I eat and cook with a lot of eggs, so I've messed around with many whisks. The silicone-coated balloon whisk from Le Creuset is the most efficient whisk I've ever used. I flick it around a few times and voila, my eggs are perfectly mixed. It's a little bottom-heavy so occasionally it does fall out of a bowl, but I love it (and its color) nonetheless.  I probably don't need to say anything about silicone spatulas other than, if you only have one or two—buy more! I have them in a rainbow of colors and sizes (I like a spoonula shaped one, too) from both OXO and Le Creuset. I still have my wooden spoons, but they spend more time looking good in an old ceramic baked-bean jar than my silicone spatulas, which hit the pans (especially nonstick ones) every day.
Lastly, I don't know what I ever did without a Microplane® zester for zesting lemons, limes, and oranges. I love to use zest as a flavor booster in pan sauces, rice dishes, salad dressings, flavored butters…and this tool just makes getting that feathery zest (minus the bitter pith) a breeze. Use it for finely grating Parmigiano, too. I like my funky original one so much that I haven't invested in one of the many newer ones with comfortable handles, but you could.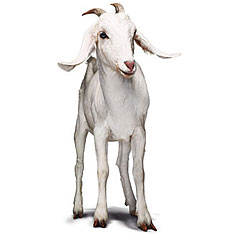 One last Christmas idea: Buy a goat! No, I haven't completely lost it—yet. I just happen to love this idea: Instead of (or in addition to) giving an actual material gift to one of your friends,  OXFAM America will let you "buy" (make a donation in a certain amount) a gift (in your friend's name) for a community in need. ($25 will buy a school lunch program for one child, $30 a vegetable garden for one family. The goat—a great source of milk, fertilizer and food in hardscrabble areas, is $50!) Your friend will get a Christmas card letting him or her know the donation has been made. I'm not saying you need to skip the kitchen goodies—just that one of these cards tucked next to the spatulas in a Christmas stocking might be in the true spirit of things.
Wherever your gift buying or gift giving leads you this holiday season, I hope you can keep that true spirit close by. Spend time with your friends—and not just the imaginary ones!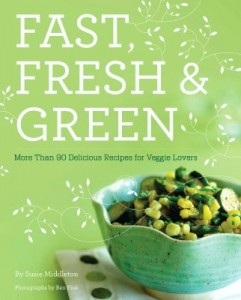 P.S.  Oops, I almost forgot. I know this is really not in the true spirit of Christmas (blatant self promotion—I don't think so), but remember that Fast, Fresh & Green makes a great Christmas present, too! Be sure to try and patronize your local bookstore this season if you can.