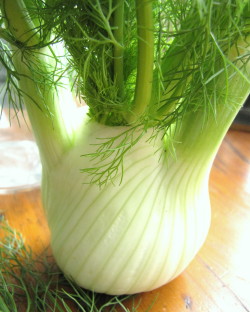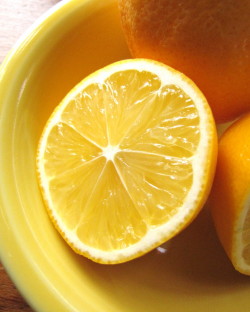 This long winter is making me cranky. It snowed yesterday, for God's sake! I want spring—the real spring—to arrive NOW. Fat chance. Here on the Island, it's a long way's off. The maritime climate (read: cold ocean air) keeps the trees from leafing out until it is practically summertime—spring slides by in a blur of lilacs and rhubarb.
It's not just light and warmth I'm longing for; it's something fresh and green and edible I want—something pulled from the ground with my own hands. Soon, soon, soon, I tell myself. It won't be long before we head to our secret watercress stream and come home with a wild salad.
But for now, I'm still stuck imagining springtime at the grocery store. It's not surprising, then, that I snapped up some frilly frondy bulbs of fennel yesterday. With all that greenery still attached, nice fennel bulbs look like they're fresh from the garden—you can squint and imagine they're still growing. A bag of Meyer lemons caught my eye, too. They weren't cheap, but I had to have them, simply because their color reminded me of a sun-drenched villa in Italy. (A hypothetical villa, I'd have to say, since I've never been to Italy!) Meyer lemons have a bracing, almost champagne-ish quality to them that's a lovely switch-up from the starker acidity of lemons. I wouldn't necessarily call them sweet, but they do have a complex flavor that hints of tangerines.
At home, I decided to brown-braise the fennel and finish with a little buttery pan sauce enhanced with the Meyer lemon juice. Since I'd already planned to grill-roast a pork loin for Roy, this was a perfect side dish—a riff on a recipe I did for Fast, Fresh & Green. While I love fennel raw—sliced paper thin for a salad—I find that braising it brings out a sweet flavor and tender texture that appeals to a lot of folks who think they don't like this veggie. Ironically, though, cooked fennel is no longer very fresh and spring-y looking; this homey kind of braise is actually great on a cold night—which, of course, we still have plenty of around here. Hope it's warmer wherever you are!
Brown-Braised Fennel with Meyer Lemon Pan Sauce
You'll have to forgive the long-winded description of trimming and cutting fennel here—I did my best to be clear, but a video would have helped! Just aim to get fennel wedges that are close to the same width so that they will cook evenly; don't worry if the wedges don't hold together—no big deal. Also, I'm sorry to say I call for 2 fennel bulbs here, but you will probably only use about 1 1/2. (One very large fennel would do it, but most of what you get in the grocery is medium-sized.) Save the remainder for salads. Feel free to use lemon juice here instead of Meyer lemon juice. I'd use a bit less or combine the lemon with a little orange juice to get a similar acidity.
______________________________________________
2 medium-large fennel bulbs (about 1 1/4 lb. each with stalks)
2 tablespoons unsalted butter (cut 1/2 tablespoon into two or three pieces and keep cold)
1 tablespoon extra-virgin olive oil
3/4 teaspoon kosher salt
1 cup low-sodium chicken broth
2 tablespoons fresh Meyer lemon juice (or 1 to 1 1/2 tablespoons regular lemon juice and or a combination of lemon and orange juice)
______________________________________________
Get out your pan. Make sure you have a 10-inch straight sided sauté pan and a lid for this. If you don't have a straight-sided sauté pan, a Dutch oven would be a better bet than a slope-sided skillet.
Trim and cut the fennel bulbs: First cut the stalks and fronds off each bulb. Roughly chop a few fronds to yield about two teaspoons (more or less is fine) and set that aside for garnish. Cut each bulb in half. With a sharp knife, notch out most of the core from each bulb half, leaving a bit of the core in to hold the eventual wedges together. You will only need three of the four halves—save the other to slice thinly into green salads. Put the remaining halves, cut side down, on the cutting board and cut each into 5 or 6 wedges about 3/4 to 1-inch thick. (Point the knife towards the center of the bulb as you make each cut—that way you will be sure to include a bit of the core.) You will probably only be able to fit 14 or 15 wedges in the sauté pan. To see what fits, arrange them in the dry pan off the heat.
Cook the fennel. In the 10-inch straight-sided sauté pan, heat 1 1/2 tablespoons of the butter and the olive oil over medium heat. When the butter has melted, arrange the fennel wedges in one layer in the pan and season with the 3/4 teaspoon salt. Cook, uncovered, without stirring, until the bottom sides are browned, about 8 to 10 minutes. Use tongs to check to see if the wedges are browned enough. You also might want to move your pan around on the burner to make sure the wedges brown evenly.
Carefully flip the wedges over with the tongs and cook for about 4 minutes on the other side. Pour the chicken broth in the pan and cover loosely with the lid, leaving just a bit of room for steam to escape. Make sure the chicken broth is simmering; raise the heat if necessary. Cook until the chicken broth has reduced to just a couple tablespoons (the wedges will be tender), about 10 to 12 minutes. Take the pan off the heat and carefully transfer the wedges to a serving plate.
Return the pan to the heat, add the lemon juice and quickly scrape up all the browned bits on the bottom of the pan (don't let the liquids over-reduce). Add the cold butter pieces and stir until melted and the sauce looks creamy. Remove the pan from the heat and stir and scrape the pan sauce over the fennel pieces. Sprinkle the chopped fennel fronds and a tiny bit more salt over and serve right away.
________________________________
Variation note: If you like, you can add a few very thin half-moon slices of Meyer lemon or lemon to the pan along with the fennel wedges while they're cooking. They get browned and soft and are perfectly edible.