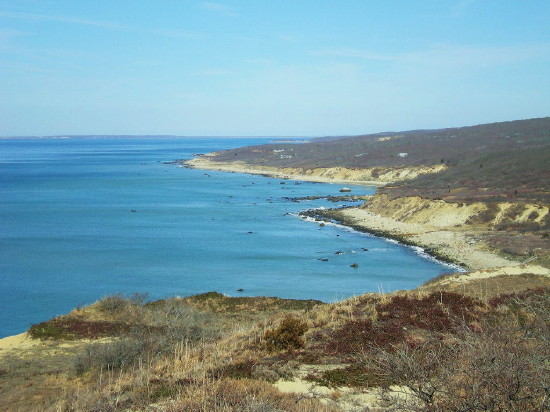 We ran away from home this weekend. Just a short trip to America, and now we're back on the Island. It seemed like the right time to go, what with the spring equinox and the super moon signaling the big change: Busy Season Up Ahead. The UPS guy deposited rolls of garden fencing on our back step last Wednesday; Roy lucked into a load of free lumber for the chicken coop on Thursday; our bulk order of potatoes arrives week after next, and the baby chicks won't be long after. Better get away now, we thought.
Sometimes, on a Winnie-the-Pooh-worthy blustery March day such as Friday was, the ferries don't make the six-mile run across Vineyard Sound (above) to the mainland. We lucked out, though, hopped the 9:30 boat, and headed right for the gas station once we landed in Falmouth. Had to fill up with $3.50 gas (rather than the $4.25 stuff out here) for our drive up to Portland, Maine. When the road lies before you, expectations run high. We were excited.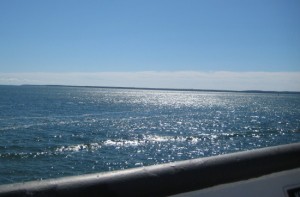 Oddly enough, though, by the time we were back at that same Falmouth gas station Sunday afternoon, we couldn't wait to board the ferry for the ride home.
It's not that we didn't have a good weekend. Portland, in its haunting old-world way—all cobblestones and fishing wharves and classic architecture—is both stunning to look at and stimulating to walk around. It's also an amazing food town: Saturday we sustained ourselves with treats from the Standard Baking Company—an assortment that included a vanilla bean-laced madeleine, a chewy dark brownie, a small asiago fougasse, a slice of ricotta pound cake, and one of their uber-flaky croissants—and with a visit to Rabelais Books, an incredible store for cooks that specializes in antiquarian and hard-to-find cookbooks (but that carries new cookbooks, too). Before Roy could drag me out of the store, I had gathered a small stack of purchases, all by British cooks, who I find so inspiring with their reverence for seasonal ingredients. Skye Gnygell's A Year in My Kitchen and Nigel Slater's The Kitchen Diaries were on the top of the stack.
Rabelais' proprietors, Samantha Hoyt Lindgren and Don Lindgren, were kind enough to hand us a list of (affordable) dinner suggestions, and we wound up eating the perfect meal that night—a collection of small plates at Pai Men Miyake, a Japanese noodle bar. Everything—ramen with pork belly, crisp-fried flounder with shiitake, seared gyoza—was delicious, but the surprise hit was a warm salad of fried Brussels sprouts with a fish sauce, mirin, and cilantro vinaigrette. Nutty, crispy, salty, tart—Roy called the sprouts "unbelievable." Who knew we'd find killer vegetables at a noodle place? I'm going to try to recreate them at home some time.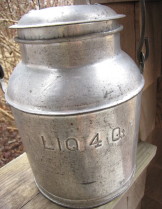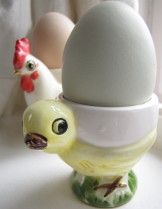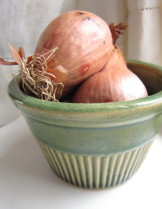 Probably the biggest kick we got was poking through the antique stores on a wiggly drive we took up Route 1A. Trolling for additions to our eclectic collections, we wound up with an old milk can, a couple new chicken-y egg cups, a small yellow ware bowl, and a 48-star American flag.
The car was full of goodies and we were full of good food as we straggled onto the 3:45 boat on Sunday. Car-weary, we shut off the Honda and walked up to the top deck for some air. Standing in the lee to avoid the wind, we watched Falmouth fade and the colors shift on the water as the ferry powered out into the Sound, leaving its roaring wake behind. Forty-five minutes later, rounding the corner into Vineyard Haven, we smiled and raced back to the car. Home.
Coming home, no matter how long you've been away and no matter where you live, usually elicits at least a small measure of emotion. But coming home to an Island—a place you cannot reach by car, a place no bridge connects to—feels somehow even more charged.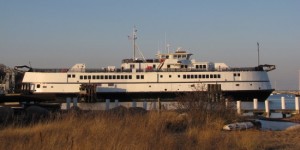 More like a ruby-slipper-clicking kind of emotion. For me at least. As many times as I've ridden that boat in the last 3+years, I never fail to have a deep surge of gratitude as the ferry docks. Gratitude, I guess, for this peaceful place in an increasingly noisy world. For me there's no place like my Island home.