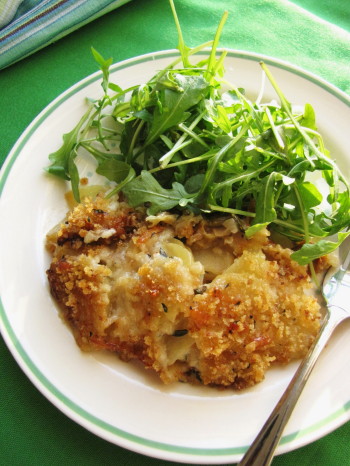 St. Patrick's Day, 2011, is sixburnersue.com's unofficial one-year anniversary. At least that's what I've decided. Actually, let's make it official. And next year, we'll have a proper celebration with two green cupcakes and two green candles. This year, we will have to make do with a yummy cabbage and potato gratin recipe.
I'm not sure of the exact day sixburnersue.com went live last year, but I know by St. Patty's Day I was blogging in real time. And strangely enough, the blog I wrote on sautéed cabbage for the green holiday turns out to be one of the most visited pages on this site. (Along with a post on ten things to do with celery root! Go figure. Posts on more glamorous veggies like fingerling potatoes and asparagus get a lot of hits, too, but I think there may be a shortage of good cooking info out there on less sexy veg.)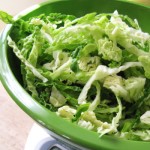 My favorite cabbage is the crinkly Savoy (beautiful dark green on the outside, pale on the inside), and yes, I love to sauté it to bring out its sweeter, nuttier side (see last year's blog.) Then I use it as a rustic tart filling, a pizza topping, a bed for meat, a stir-in for mashed potatoes, or as a bed for a savory gratin, like the potato and Gruyére one here. Of course my main motive for posting this recipe today is to give you an alternative to boiled cabbage (not my favorite). Actually, I'd be happy if you skipped the corned beef, too, and went with roast leg of lamb. But, yeah, you didn't ask for my opinion on that, did you?
Whatever you eat on Thursday, may the (good) luck of the Irish be with you. (We have more than a little of it here in our household. Just ask the man with the shamrock tattoo.) And if you're the praying kind, ask St. Patrick for a little luck to rub off on our friends in Japan.
St. Patrick's Day Potato, Cabbage, Onion, Apple & Gruyère Gratin
This delicious gratin is a pretty rich side dish, so a little goes a long way. Serve it with roast lamb, corned beef, or a big warm salad. It will take you about an hour to get it in the oven, and about an hour and a bit to cook, so plan your menu accordingly. When prepping, don't be tempted to under-brown the cabbage or the onions. To slice the potatoes thinly, cut them in half first, lay them cut side down, and slice across with a thin-bladed knife such as a Santoku. (You don't need to use a mandolin).  
__________________________________________
1 tablespoon unsalted butter, plus more for rubbing the baking dish
1 1/2 cups coarse fresh breadcrumbs
3 ounces Gruyère cheese, grated (1 1/4 cups packed)
3 tablespoons olive oil
1 tablespoon plus 1 teaspoon coarsely chopped fresh thyme leaves
kosher salt
2 small yellow onions (9 to 10 ounces total), thinly sliced (about 2 cups)
2 teaspoons minced fresh garlic
2 cups thinly sliced Savoy cabbage (about 7 ounces)
1 Jonagold, Pink Lady, or Golden Delicious apple, peeled, cored, quartered and thinly sliced crosswise
1 lb. Yukon Gold potatoes, peeled, halved and very thinly sliced
3/4 cup heavy cream
3/4 cup low-sodium chicken broth
_________________________________________
Heat the oven to 350 degrees F. Rub a 2-quart shallow gratin dish (or a 11 x 7 Pyrex baker) with a little butter.
In a small bowl, combine the breadcrumbs, 2 tablespoons of the grated Gruyère, 1 tablespoon of the olive oil, 1 teaspoon of the chopped thyme and a good pinch of salt. Set aside.
In a 10-inch heavy nonstick skillet, melt 1/2 Tbsp. of the butter with 1 Tbsp. of the olive oil over medium-low heat. Add the onions and 1/4 tsp. of salt, cover, and cook, stirring occasionally, until softened and translucent, 6 to 7 minutes. Uncover, raise the heat to medium, and continue to cook, stirring frequently, until the onions are lightly browned, 6 to 7 minutes more. Add 1 teaspoon of the minced garlic, stir for a few seconds, and remove the pan from the heat.  Transfer the onion-garlic mixture to the baking dish and spread it evenly in one layer. Sprinkle 1/2 teaspoon thyme leaves over the onions.
Return the skillet to medium-high heat and add the remaining 1/2 tablespoon of butter and 1 tablespoon olive oil. When the butter has melted, add the cabbage and a pinch of salt. Stir and let sit for a minute for browning to begin. Then cook, tossing frequently with tongs, until cabbage is limp and browned, 4 to 5 minutes. Add the remaining 1 tsp. garlic, stir well, and remove the pan from the heat. Transfer the cabbage mixture to the baking dish and spread in one layer. Sprinkle 1/2 teaspoon thyme leaves over the onions.
In a mixing bowl, combine the sliced potatoes, the sliced apples, the remaining Gruyère, the remaining thyme, the cream, the chicken broth, and 3/4 teaspoon salt. Gently mix with a silicone spatula and transfer to the baking dish, spreading the mixture evenly over the cabbage and onions. (Sometimes it's easier to transfer the solids first. Lift the potatoes and apples out of the liquids with your hands and spread them in the dish; then gently pour the liquids over all.) Make sure everything is evenly distributed and use your hands to press down gently on the potatoes and apples to let the liquids come up around them.
Cover the top of the gratin with the breadcrumb mixture. Bake until the potatoes are tender (check both the middle and sides of the dish with a paring knife) and the top is brown (there will be a brown line around the edge where the liquids have reduced), about 65 minutes. Let cool for several minutes before serving.
Serves 6 as a side dish