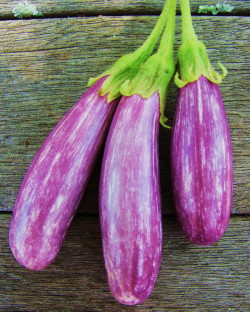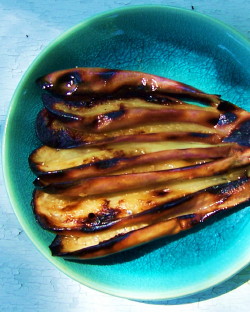 The car was packed to the gills—no lie. We rearranged the sleeping bags, two coolers, bags of beach towels and bathing suits, two beach chairs, and one hermit crab in a small cage to fit three blueberry bushes into the way back. Gifts from my Dad, the blueberries–in our minds–already had a home in our garden. No way were we leaving them in Delaware. We tucked Libby and her stuffed animals Croc and Humphrey into a small spot in the back seat, next to three flowering annuals we'd bought on the way down. And off we went, leaving Lewes early Monday morning for the long drive (and ferry ride) home to Martha's Vineyard. At least the outside temperature was a cool 88—16 degrees cooler, in fact, than on the drive down. (Yes, that's 104 degrees F.)
With a full car and nine hours of highway ahead of us, we had no business braking for farm stands. But we did. Pretty soon we were cramming bags of Silver Queen corn into any fissure we could find. The nice farm stand guy at one place talked us into a new variety of melon – something called Candy Orange, a cross between a honeydew and a cantalope. A couple quarts of fresh peaches, a box of blueberries, and a few other fruits later, the car began to smell. Not a bad smell, just a very fragrant, perfumey smell. Roy thought it was rather mango-ish. All I could think about was whether the fruit would make it back without rotting or bruising something terrible. What I like best about farm stand fruit is that most of it is picked ripe or nearly ripe. But that means long car travel is about the worst way to treat these fragile babies.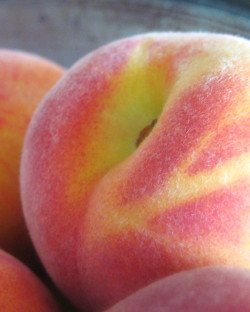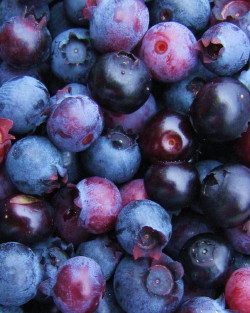 Most of the fruit survived (except one juicy peach that Libby and I shared in the car, random rest-stop napkins grabbed to catch the drips) as did the other goodies we nabbed at the farm stands. Silly me, I fell in love with something new – a box of little Fairy Tale eggplants – only to remember when I got home that I actually grew a few of these in my first garden on the island. (Photo at top left is evidence. Memory loss is worse than I thought, I guess!) I am a sucker for mini vegetables (like the little pattypan squash we grow and sell), so when I saw these I instantly thought we should grow them for our own farm stand next year. And maybe we will. In the meantime I had to figure out what to do with some of them today (a quart is a lot!). (Fortunately, many of the other goodies went straight away to the kind friends who looked after the chickens, the farm stand, and the garden while we were gone.)
From some other vague part of my brain came the memory of eggplant "fans." I thought this would be a cool and pretty idea for the little mini eggplants, and so I sliced away. I trimmed the tops of the fruits just enough so that they still hung together, and cut about four parallel lengthwise slices just a bit shy of the tips to make the "fans." I brushed each slice with olive oil, sprinkled with salt, and lit the grill. Ten minutes later I had lunch. Just three or four minutes on each side was enough to cook these eggplants through (I hate undercooked eggplant). The skin was tender, the flesh soft, and the flavor, well—clean and sweet. Not quite as deep and earthy as a big globe eggplant, but not the least bit bitter or seedy either. I wound up smearing some of my slices with a little extra Humboldt Fog goat cheese our farm-keeping houseguests left in the fridge for us. Wow—that was a killer pairing. But the grilled eggplant would be great lots of ways: dressed with salsa or a drizzle of chimichurri, in a salad with arugula, fresh mint and a lemony vinaigrette, or just on their own as a cute side, antipasto, or starter. Farm stand finds are fun, huh?
P.S. Culinary highlights from the weekend in Delaware included a Fast, Fresh & Green signing at the wonderful Historic Lewes Farmer's Market, my sister Eleanor's delicious baby back ribs, and a trip to Hopkins Farm Creamery for cow-fresh ice cream (complete with barnyard smells). We didn't get a chance to eat crabs, pick beach plums, or pan-fry some scrapple on this trip—next year!
P.P.S. My camera has met a sad fate, so I beg your patience while I research a new camera (and rob a bank to pay for it!).