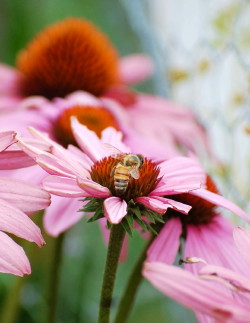 When I die, my obituary will be juicy I'm sure. There's that time my picture appeared in the National Enquirer (no kidding). And those television appearances on Romper Room and The Martha Stewart Show. And of course, my double life (just kidding—sort of).
And now I get to add Dream Girl to my resume. I got "sold" at an auction. Not into slavery or anything. Far from it. In truth I was part of a package deal offered at last year's Possible Dreams charity auction on the Vineyard. My dream partner was Dawn Braasch, owner of Bunch of Grapes bookstore in Vineyard Haven—and of a fabulous old sea captain's house that she has restored beautifully. Our package was dinner and a cooking class for six by Susie Middleton in the spacious and lovely kitchen of Dawn Braasch's home (with house tour).
The couples who offered the winning bid for us agreed on a dinner date when everyone could get together, and it turned out to be this past Saturday night.
Farm Girl has been a little cranky lately, having had very little time to spend in the garden, what with road trips, book galley and magazine deadlines, book signings (PR Girl is not my favorite hat to wear), and general summer-on-the-Vineyard craziness. And my natural inclination might have been to be suspicious of cooking dinner for complete strangers. But from my first email with Joann Frechette, my point-person on the guest list, I had a good feeling. This was going to be fun; I just knew it.
So I put on my Dream Girl hat, prepped in my tiny hot kitchen, zipped around the Island to get great ingredients (the best being two locally raised chickens from Jeff Munroe's The Good Farm), and arrived at Dawn's. (Actually, I should say, arrived at Dawn's with Roy, who helped restore Dawn's house and was enlisted to join in the fun.) Dawn's table setting (not to mention the cool icy pitchers of Pimm's Cup and whiskey sours she'd made for the guests) took my breath away.
When Joann and the other guests (Bob Nash, Sandy Miller, Don McKillop and Susan Davy) arrived, we chatted a bit—and then went right to work. And that's when I knew for sure what a great group they were. I did a quick demo of making free-form rustic summer fruit tarts from a great food-processor dough, and then each guest got a chance to roll, fill, shape, and top his or her own blueberry tart. Not only did everyone pull this off, but they did it in short order—and the tarts looked stunning.
For the rest of the dinner, we made the Caramelized Plum Tomatoes, the Corn Saute with Chile and Lime  (similar recipe here), and the Grilled Shiitake Mushrooms from Fast, Fresh & Green along with grilled bread, a nice green salad, and the chickens (butterflied and roasted and served with jus and lemon-rosemary drizzling oil). Dawn had chosen great red and white wines to go perfectly with everything. Of course as I sat down at the table, I had a litany of "oh, nos" dancing in my head as I realized my salad dressing didn't taste the way I wanted it to, the mushrooms and bread were both a little extra toasty…and all those kinds of thoughts that go through a cook's head. But in truth, the food, the wine, and the setting were just props for a fun and relaxed meeting of old and new friends. Our Dream winners couldn't have been lovelier people.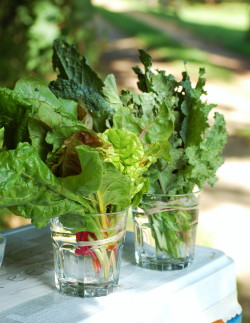 In fact, the story ends with an incredible gift. Susan Davy (who along with artist husband Don owns the Dragonfly Gallery in Oak Bluffs) emailed me Sunday morning with an offer. She'd heard me talk about needing a new camera (mine was stolen in New Jersey and I have been wringing my hands over the cost of buying a new one, especially since I know I have to take the opportunity to move up to a SLR camera—finally.) She explained that she had a Nikon D40 she hadn't been using since she'd bought a new camera, and that she would like to loan it to me to use for awhile. And that she'd talk me through operating it. Amazed, I thought about this offer all afternoon, and then, of course, said yes. And thank you. And, is this a Dream?
P.S. I haven't had much time to play with the new camera yet, but couldn't resist sharing a few photos (top and below) I took around the farmette, since I am so tickled that I actually get killer depth of field (that artful blurry background!) with the D40. (And I unfortunately don't have any photos from the Dream dinner to go with the blog.) Now I wish I just had a few weeks to do nothing but take pictures. Yeah, keep dreaming Susie.