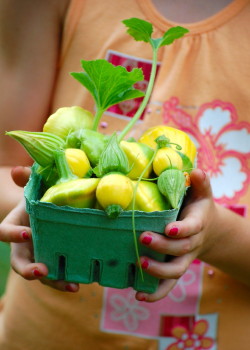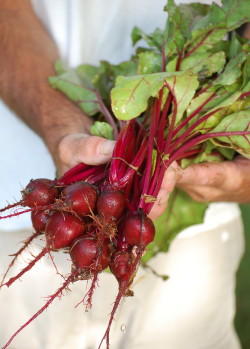 Darn it all, wouldn't you just know it—this is the time of year when there's so much going on at the farmette that I could write a blog every day. Except, ironically, there's no time to write—too busy!
So today I'll just have to give you a quick update on the goings on around here, because tomorrow I'm off to Boston to sign books at the Dewey Square Farmers' Market, and I spent this morning cramming in the last bit of proofreading I needed to do on the galley of Fresh & Green for Dinner in order to get it off to Fed Ex in time to reach San Francisco by tomorrow. (It's very exciting to see the design of the new book shaping up, even though publication is still many months away.)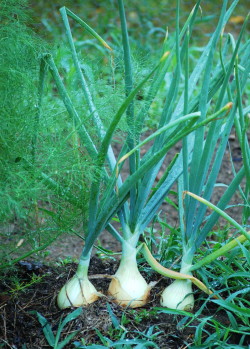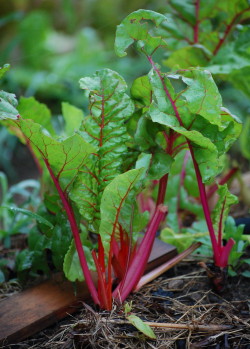 First, great news: My friend Katie Hutchison, who kindly took care of the farmette with her husband Chris Hufstader while we were in Delaware, secretly made a video of their farm-keeping experience here at Green Island Farm and posted it on her website. Katie, who is an accomplished architect, photographer, and writer, is admittedly new to gardening and occasionally posts about her "Idjit" garden plot in a Salem, Mass., community garden. As you can tell, Katie's not afraid to poke fun at herself, and her sense of humor is evident in the video—you've got to see it!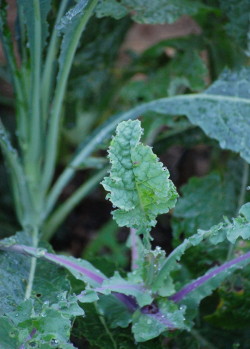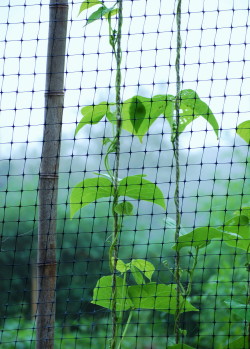 More good news: The garden is thriving (see photos) and so is the farm stand. In fact we're pretty much selling out of everything we can harvest every day, now that the August visitors have arrived on the Island. (Obama will be here soon!) It's killing me that we don't have more to sell (can't wait 'til next year), but I'm also getting an invaluable sense of what the market wants. We're dead on with our cherry tomatoes—all the varieties are producing well, we're harvesting several pounds a day, and folks love the colorful pints. I just wish the beefsteak tomatoes would speed up. They're big and fat—and very green. Our green beans are definitely getting folks to drive down the driveway, but again, it's frustrating that we don't have more of them (the beans, not the customers). It takes Roy and I (and sometimes a house guest!) at least a half-hour to pick them in the morning, and then we only wind up with a few pounds. But that's how it goes.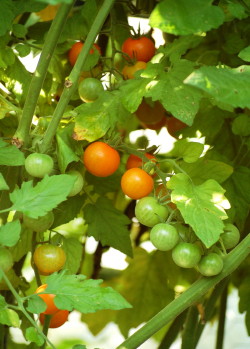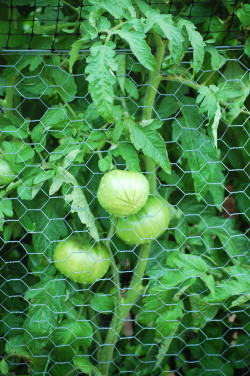 It's been fun to watch the farm stand traffic pick up, and I'm meeting all kinds of interesting people. One friendly couple from San Francisco (yes) has stopped by three times this week, and I had a nice conversation with two ladies from Southern Italy the other day. Sometimes an old friend who is visiting the Island will unexpectedly come down the driveway and surprise me (it happened this morning—hi Margo!).
And speaking of friends and visitors…August on the Vineyard means lots of both. And since the farmette is such a welcoming (and entertaining) place (most popular: the bunny and the rope swing), we seem to be a central gathering spot. Last week I almost cried when I stood in the backyard with two of my dear friends and former staff members from my Fine Cooking days, food writers Tony Rosenfeld and Sarah Jay. Tony was only on the Island for a day, but stopped to say hello and brought some Italian friends along with him. After touring the garden, the Italians convinced me that my arugula wasn't too spicy!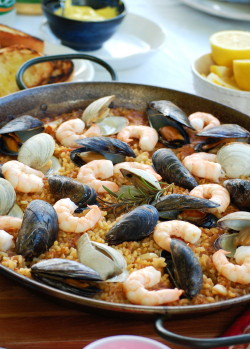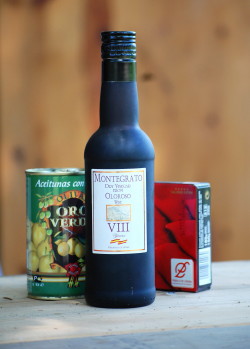 Fortunately Sarah and her two daughters were here for the better part of last week and we had lots of time to catch up—and to cook together. Sarah is an expert in Spanish cooking and runs a successful business importing paella pans and selling all kinds of Spanish goodies from her terrific website, paellapans.com. Not only did she bring me a wonderful bottle of sherry vinegar, as well as piquillo peppers, olives, and chorizo, but she made us a seafood paella while she was here. I'm a huge fan of Sarah's paella (recipes here), which she learned to cook while living with a family in Spain, but it was Roy's first really authentic paella. And he loved it.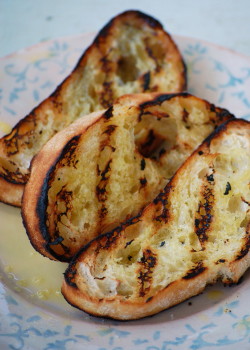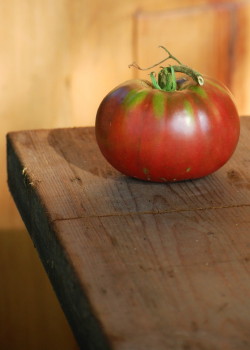 The day after Sarah left, I missed her. Right about lunch time, I started thinking about those Spanish ingredients she brought me. Hmmm. As it happens, I was also staring at a damaged Cherokee Purple (heirloom) tomato from the garden that needed to be carved up and eaten right away. (Ironically, this happens a lot – we have a garden full of lovely vegetables, but we wind up eating the overgrown beans, the holey greens, the deformed carrots, and the over-ripe tomatoes because the good stuff goes to the farm stand!) I've also been on a grilled bread kick, so I decided to make a grilled bread-tomato salad with olives, sherry vinegar, feta cheese (left over from a delicious salad Sarah made while she was here) and lots of fresh herbs. I guess it was an Italian-inspired salad with Spanish ingredients and a Greek twist! Whatever it was, it was delicious. So I'm passing the recipe on to you in honor of good friends and summer visitors and farm stand customers everywhere. It makes enough for two, but if you're like me and a juicy heirloom tomato falls into  your lap, you might not want to share it.
Spanish Grilled Bread, Tomato & Fresh Herb Salad
You can use any variety of juicy tomatoes in this salad—as long as they're juicy. (Did I mention juicy?) When you grill or toast the bread, don't overdo it—leave it a little chewy so that it will soak up the dressing and all those tomato juices. This recipe makes a generous lunch for one or a supper side dish for two, but you can easily double or triple it to serve a crowd. I like lots of basil and mint in this (I pick the tiniest leaves from my plants and throw them in whole), but parsley, chives, or a judicious amount of fresh oregano can go in the mix, too.
___________________________________________
1 tablespoon extra virgin olive oil
2 teaspoons good-quality sherry vinegar
3/4 pound (or a little more) juicy tomatoes (a combo of beefsteak and cherry is nice), cut into small chunks or quartered if small
2 ounces feta cheese, cut into small cubes
2 1-inch thick slices ciabatta or other narrow loaf artisan bread, brushed generously with olive oil, sprinkled with salt, and grilled or broiled until toasty, cut into small cubes
8 to 12 Spanish green olives, smashed and pitted
1/4 teaspoon minced fresh garlic
1/4 cup small whole herb leaves (basil and mint)
kosher salt
_____________________________________________
In a small bowl, combine the olive oil and sherry vinegar. Set aside.
In a medium mixing bowl, combine the tomatoes, feta, bread, olives, garlic and half of the whole herbs. Sprinkle with salt and pour over the olive oil-vinegar mixture. Toss and mix well. If desired, toss and let sit for 15 minutes to let the bread absorb the tomato juices (but it isn't necessary). Turn out into a pretty shallow serving bowl and garnish with the remaining herbs.
Serves 2