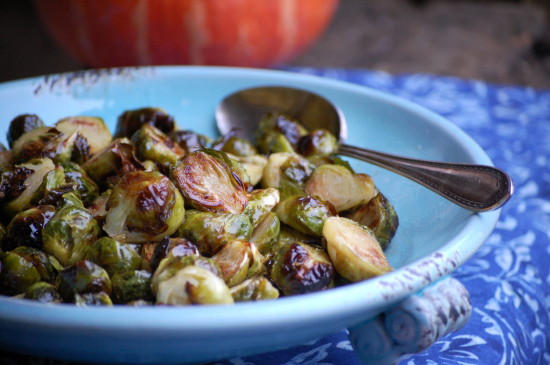 This time last year I was preparing to be on television the day before Thanksgiving. (The Martha Stewart Show—I cooked quick veggie sides from Fast, Fresh & Green.) A few years back I did a satellite media tour around this time to promote Fine Cooking's book How To Cook A Turkey. The year before that, I did a radio blitz for most of November and December to promote all the holiday tips and recipes on Fine Cooking's website (which, if you haven't looked lately, is by far the best place to go to plan your Thanksgiving menu. Check out the cool interactive Create Your Own Menu Maker. But I'm not biased or anything.) Well, you can imagine how relieved I am not to be PR-ing this holiday season. I did in fact just record some radio spots for Fine Cooking that will soon air on WGBH (I'll keep you posted); but they were a whole lot of fun to do—and they didn't require a new wardrobe or an anxiety attack.
So we are free and clear to have a simple and quiet Thanksgiving at the farmette (yippee!). I still have squash, rutabagas, onions, kale, arugula, herbs, and salad greens from the garden, plus green beans, corn, and roasted tomatoes that I froze, so we will be able to make most of the meal über-local. I will wander across the street to the West Tisbury Winter Farmers' Market on Saturday to see if I can get the rest of what I need.
Regardless of where you plan to get your goodies, most of you, I know, have this one thing on your mind: What kinds of dishes can I cook that are easy and delicious, that everyone likes, and that will serve a decent-sized crowd? To that end, I've gathered a list of ten of my own favorite side dish recipes that serve at least six people (below). Some of these recipes reside on sixburnersue.com, but several are ones I developed a few years back for an "updated classics" story on Thanksgiving sides for (you guessed it) Fine Cooking magazine. And I also threw in a "create your own" creamy veggie soup from another FC article I did years ago, in case yours is the kind of family that likes to start the meal with an elegant soup (or needs options for vegetarians).
But for the tenth recipe on the list, I couldn't resist posting my Roasted Brussels Sprouts with Orange Butter Sauce. This is a recipe I originally created for Fast, Fresh & Green but that I tweaked last year for the TV gig so that it would feed more people. I just remade it this morning and am happy to confirm that it is not only delicious, but possibly one of the fastest and easiest Thanksgiving side dishes ever to make.
Here's my list:
1. Green Beans with Crispy Pancetta, Mushrooms, and Shallots
2. Roasted Turnips with Maple and Cardamom
3. Pomegranate-Balsamic-Glazed Carrots
4. Bourbon Sweet Potato and Apple Casserole with a Pecan Crust
5. Creamy Baked Leeks with Garlic, Thyme, and Parmigiano
6. Mashed Yukon Gold Potatoes with Roasted Garlic
7. Thanksgiving Gratin of Butternut Squash, Corn & Leeks
8. Potato Galette with Fresh Rosemary & Two Cheeses
9. Creamy Vegetable Soup (Pick Your Own Veggie!)
10. Roasted Brussels Sprouts with Orange Butter Sauce (see below)
Roasted Brussels Sprouts with Orange Butter Sauce
I've roasted Brussels sprouts a few different ways, but you can't beat this method for volume (large rimmed sheet pans hold a lot), quickness (16 to 18 minutes in a 475° oven), and great results (by halving the sprouts and roasting them cut-side down, the tops and bottoms brown but the interiors steam). The flavorful butter sauce gives the nutty roasted sprouts just the right touch of tangy-sweet richness to make this completely holiday-worthy.
_________________________________________
2 lb. small Brussels sprouts, trimmed and halved lengthwise
1/4 cup extra-virgin olive oil
1 tsp. kosher salt
1 Tbsp. plus 1 tsp. balsamic vinegar
2 Tbsp. pure maple syrup
2 Tbsp. fresh orange juice
1 tsp. finely grated orange zest or lemon zest
4 Tbsp. cold unsalted butter, cut into 16 pieces and kept chilled
________________________________________________
Preheat the oven to 475˚F. Line two large heavy-duty rimmed sheet pans with parchment paper. In a mixing bowl, toss the Brussels sprouts with the 1/4 cup olive oil and 1 tsp. of the salt. Divide the sprouts between the two sheet pans and arrange them, cut-side down. Roast until brown and tender, 16 to 18 minutes. (The tops will be dark brown and crispy and the sprouts should feel tender when pierced with a paring knife.) Transfer the sprouts to a mixing bowl.
Combine the balsamic vinegar, maple syrup, orange juice, and orange zest in a small saucepan. Heat the mixture over medium heat just until it's hot (you will see a bit of steam), but not simmering. Remove the pan from the heat and add the cold butter, several pieces at a time, whisking constantly until the mixture is smooth and creamy. (Don't reheat the mixture or the butter will break and the sauce won't be creamy.) Pour the sauce over the sprouts and stir thoroughly but gently until most of the sauce has been absorbed. Transfer the sprouts and any remaining sauce to a serving platter and serve right away.
Serves  8