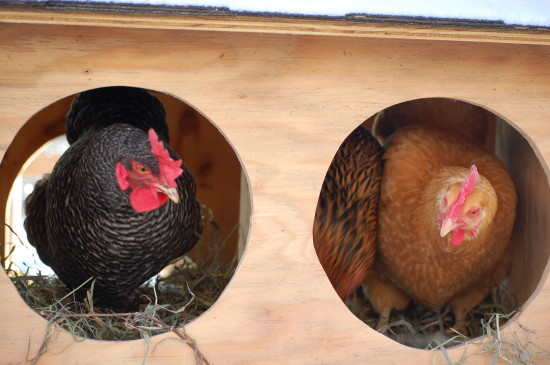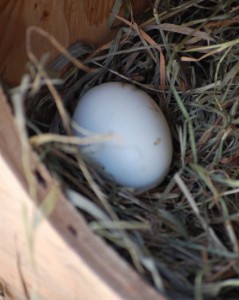 Anyone who works at home should have a chicken coop. Forget rummaging through the refrigerator, surfing Facebook, or even sneaking a spell on the couch to flip through catalogues (I never do that)—checking the hens' nesting boxes for eggs is the best procrastinating maneuver ever. I should know. I've been getting up from the computer about 12 times a day to go outside and look for eggs. I guess I have Nest-Box-Checking Disorder, because I can't help myself. Finding an egg in the hay—especially when it is still warm and I can hold it in my cold hands like a little hot water bottle—is like Christmas morning, over and over again. (Much better than Groundhog Day.)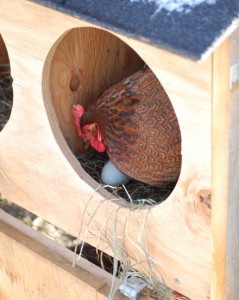 During the darkest days of winter, we were only getting a couple of eggs a day. Now that the days are growing longer (we'll have a whopping10 full hours of daylight on Feb. 11), the ladies are laying more. (Some gals were molting, too, so they were redirecting their energies towards changing their feathers rather than laying.) Sometimes when I go to check, there are three or four eggs lying together—almost always in the same box, as these girls have a strange preference for crowding. We keep a special bowl in the mudroom for collecting the day's eggs, so that anyone can add to it. (Roy often checks the boxes first-thing when he comes home from work, as he has Nest-Box-Checking Disorder, too. The hardest thing to do for both of us is to refrain from checking when Libby is here, because, after all, it's not a very nice thing for an adult to usurp this especially kid-friendly activity.) At the end of the day, we count up the eggs, ooh and ah over the different shapes and colors and speckles, and refrigerate them.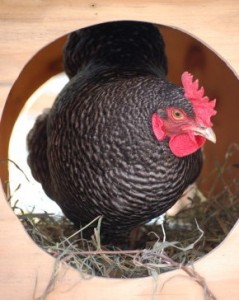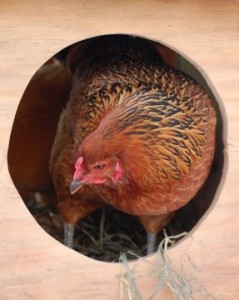 Even if there aren't any eggs in the boxes, I still get a kick out of visiting with the ladies. They make all kinds of clucking noises and rush from their outer pen to greet me, as they know I often have lettuce or hamburger buns or leftover roasted vegetables for them. It's a good life these gals lead; we just got them a special heated chicken-waterer so their water isn't frozen over in the morning. (Actually, the present was more for us, as walking back to the house to change the water every morning is a pain.)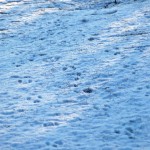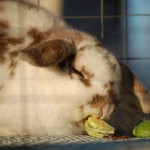 While I love checking on the ladies, I have elevated the art of procrastination to include all of the animals on the farmette. Cocoa Bunny literally runs circles around her cage if you bring her a green treat (like these Brussels sprouts), and Farmer is up for a good walk about a zillion times a day. Most mornings, and usually almost every evening around dusk, Farmer and I track the wild bunnies, which thrive here in a Watership Down kind of way. God knows how many there are—maybe thousands? There were so many tracks in the snow this morning that Farmer's nose was snow-encrusted with all that sniffing.
If all else fails, my last procrastination technique is to look out the window right next to my desk. If there aren't birds snacking at the birdfeeder Roy has kindly hung within my sight, then a group of six or eight wild turkeys is often strolling by, just a few feet away. They're good for a glance or two. But I don't think I'll ever get Bird-Watching Disorder. After all, looking out the window is not half as much fun as actually getting up from the computer and walking outside. And coming back in with something good to eat.