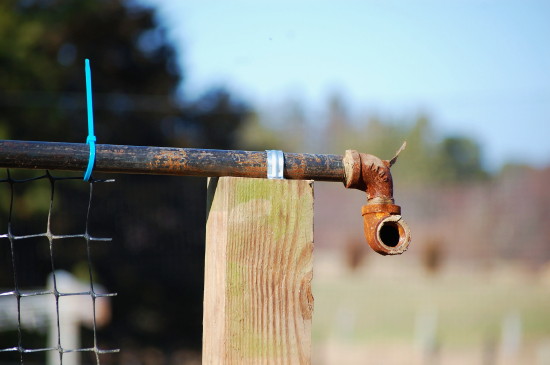 This is the time of year when I start making Roy really nice dinners. Actually, that's a lie. There isn't enough time in the day (despite, or maybe because of, Daylight Savings Time) to make really nice dinners. But still I try to be extra sweet. Because there is much building to do. And no little garden elf to do it. (Or cushy budget.) My carpentry skills are extremely limited (okay, you knew that), but I excel at creating situations that need immediate structural solutions.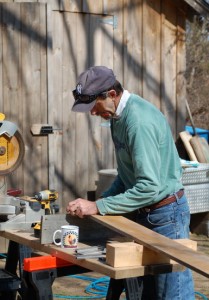 So as if there weren't enough on Roy's list (the new eggmobile for the 50 chicks we just ordered, the hoop house, the new garden enclosure, and, oh, a bigger farm stand), I keep coming up with more stuff. Mostly small things that he can do quickly, but still it means cramming it in after work or stopping a bigger project on the weekend to help me solve a dilemma.
Sunday, after waffling for days on this decision, I chose a bed to plant the peas in. Originally, I had planned to put the peas along a fence on one side of the garden, but the bed there has a cover crop of rye grass in it that hasn't decomposed enough. I've turned the rye over, but it takes three to four weeks to break down, and since rye inhibits germination, I'm wary of planting the peas there. I've been eyeballing a couple other beds, but the single enclosed raised bed we have (the one that Roy built for the carrots last year) was the easiest to get ready.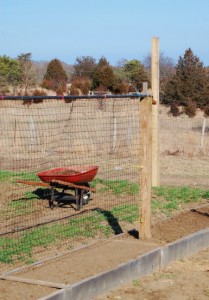 I trucked some of our lovely compost over in my jolly red wheelbarrow (oh how I wish we had acres more of this compost) and mixed and fluffed the bed until it was chocolate-cake perfect. Then I stared at it and began to envision some bamboo-and-twine contraption I was going to create for a trellis. I paced over to the lumber pile and back a few times, thought about whether I could attempt something that involved screws, and finally decided that the most expeditious thing to do was to go ask Roy to build me (us) a pea trellis.
He was cutting wood for a work table he's building to bend the hoops for the hoop house. But he stopped, came over, got the post-hole digger, dug three holes, sunk three 4 x 4s, found a super-long piece of pipe (above) for the top bar, cut two pieces of extra deer fencing we have, got some zip-ties to attach the mesh, and created a pea trellis in no time. Yeah. At least I had enough sense to ask.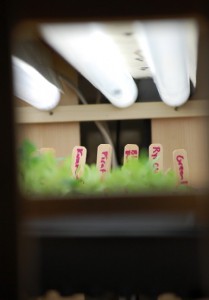 This year, with all we have going on, there is no time to waste. Stuff just has to get done.
To be fair, sometimes I get something really nice that I didn't even ask for. Like the deluxe seed starting shelving this year. This baby holds 16 flats and 4 sets of double lights. (And of course I already have it almost completely filled.) The shelves are adjustable, and Roy built the whole thing to sit on the mudroom counter (the removable bookshelf has temporarily gone upstairs). It works.
Mostly I've got greens going right now—lots and lots of lettuce, bok choy, chard, kale, tat soi, mizuna, plus a few new greens like Chinese broccoli and mibuna (more on that in another post). Soon it will be time to start the tomatoes and peppers and flowers…and, well, we might run out of room if I don't get those greens transitioned outside. But don't tell Roy. He just built this cute little work table for me, too.