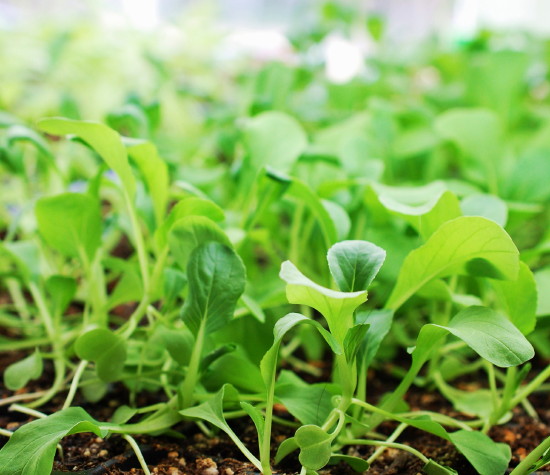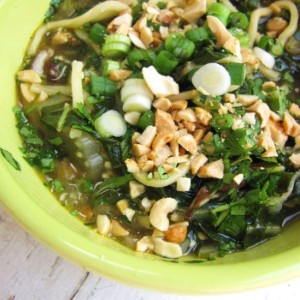 Promises, promises. A few weeks ago, I said I would give you a peek at some of the recipes in The Fresh & Green Table (coming in June—preorder now!). Last week I said I'd let you know what new greens we're growing this year. Time for me to keep my promises, don't you think? Especially since the green factor is blowing me away right now. The seedlings we started three weeks ago are so fresh looking that it's hard not to think about eating them right out of the flats! (The new light system has worked beautifully.) But some of those little guys—like the Rainbow Lacinato Kale and the Bright Lights Swiss chard—hold the uh, promise, of growing all summer and fall, with many many harvests along the way, so it wouldn't be too smart to cut their little lives short just now.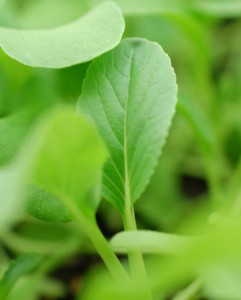 In honor of all these greens—especially the dozens of little baby bok choys we've started—I thought I'd include a delicious and easy recipe from the soup chapter of The Fresh & Green Table that features bok choy. (Recipe at end of blog.) I call it "Spicy Noodle Hot Pot with Bok Choy, Shiitakes, Ginger, Lime & Peanuts," but it's really just a quick and tasty noodle soup that you could make tonight (with regular or baby bok choy). (I'm sorry I don't have access right now to the beautiful picture of this dish that appears in the book.) As it happens, this week three more recipes from The Fresh & Green Table were posted on the Internet, thanks to an article in the Spring issue of Martha's Vineyard Magazine, Home and Garden (by yours truly). The three over there are for main-dish salads—most appropriate for grilling season. But one of them happens to feature asparagus and another Asian green, Napa cabbage, and would be perfect to make right now if you live in an area of the country that is already seeing local asparagus.
On the subject of Asian greens, here are three new ones we are trying in the market garden this year, in addition to tat soi, mizuna, and bok choy. (Most of our greens seeds come from High Mowing Seeds and Fedco.)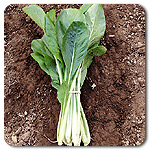 Komatsuna: This winter, I read about this intriguing Japanese green (also called spinach mustard) in The Seasons on Henry's Farm. Then I began seeing references to it in all kinds of places so decided I'd love to give it a try. Supposedly the leaves are glossy and do not really wilt when cooked. A turnip relative, the greens are best picked young and tender to be at their sweetest.
Te Yu Flowering Broccoli: Years ago, Chinese broccoli was on my radar when I lived in New York. But I never grew it. I'm excited to give it a try this spring before the hot weather comes. It is fairly stemmy with little florets, but should be very tasty.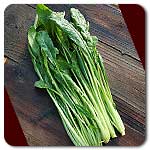 Mibuna: This delicate and very early green is quite similar to Mizuna except that the tips of the leaves are rounded rather than serrated. I'll plan to use this in salads as soon as I can.
I also got all excited about the new frilly varieties of mustard I saw last year, so I wound up starting seeds for three of those—Ruby Streaks, Golden Frill, and Pink Lettucy. I know, I know, what was I thinking? One would have been enough.
In the lettuce department, here are three new ones I'm excited about:
Pirat Butterhead: A beautiful heading lettuce with pale green inner leaves, lime green outer leaves, and red tips. Sometimes called Pirate lettuce (I don't know why, matey), this German heirloom is supposed to be very flavorful, so I can't wait to try it.
Revolution: I'm hoping this red frilly Lollo-Rosso style lettuce will grow a bit more vigorously than others I've tried in the past. It should be a stunning addition to our farm stand mix.
Kinemontpas Butterhead: This French heirloom supposedly grows into giant deep-green buttery heads if you can resist picking it before then. Yes, I have a knack for choosing the hard-to-pronounce varieties.
Antares Oakleaf: The Fedco catalogue calls this, "A shimmery pink and bronze oakleaf growing vigorously to magnificent size. The extra-frilled finely cut bright leaves are colorful and tender, not bitter even in early July."  Another one to look forward to!
I hate to tell you how many more greens we are growing other than those I've mentioned here. Despite doubling the size of the market garden, we are still going to be tight on space. Hmmm… maybe it would help if I promised not to take up too many beds with the greens. Promises, promises. We'll see!
(Enjoy the soup recipe and don't forget to pre-order The Fresh & Green Table. Your independent bookstore can order it from IndieBound so please patronize them if you can.)
Spicy Noodle Hot Pot with Bok Choy, Shiitakes, Ginger, Lime & Peanuts
For such a quick soup, this one is darn satisfying. Thanks to the bold flavors of ginger, lime, soy sauce, and cilantro—and the intriguing flavor of one of my favorite greens (bok choy)—the soup packs a punch without much fuss. I do take one extra little step of sautéing the shiitakes separately in a nonstick pan; otherwise they can stick before browning or cooking through. I also take a clue from Asian cooks and boil the soup noodles separately. (They can soak up a lot of liquid if added raw to the soup. This works out nicely, as it means you can distribute the noodles evenly among four soup bowls and then add the tasty broth, the greens, and the fun condiments. Heads of bok choy vary tremendously. You can use any size; just cut off a bit of the bottom, quarter lengthwise, and slice crosswise. Use plenty of the leafy tops, where there is lots of flavor. If you can't find fresh Chinese egg noodles (in the produce section of the grocery), substitute with another fresh egg pasta (such as Italian linguine or fettucine).
________________________________________________
kosher salt
6 oz. fresh Chinese egg noodles, torn into slightly shorter pieces
1/2 tsp. toasted sesame oil
1 Tbsp. soy sauce
1 Tbsp. freshly squeezed lime juice
1 tsp. packed brown sugar
2 Tbsp. plus 2 tsp. peanut or vegetable oil
3 1/2 oz. (1 package) shiitakes, stemmed and thinly sliced
2/3 cup thinly sliced shallots (about 3 oz. or 3 small shallots)
1 lb. bok choy (use both leaves and stalks), cored, quartered lengthwise, washed thoroughly, and sliced crosswise
1 Tbs. chopped fresh ginger
1 Tbs. chopped fresh garlic
1/2 tsp. Asian chili-garlic sauce (more to taste)
2 cups low-sodium chicken broth
3 to 4 Tbsp. chopped fresh cilantro
3 to 4 Tbsp. chopped roasted peanuts
2 Tbsp. finely sliced scallions
_______________________________________
Bring a large pot of salted water to a boil. Add the egg noodles and cook until tender, about 2 to 3 minutes. Drain in a colander, rinse briefly, and let dry a bit. Transfer to a bowl and toss with a big pinch of salt and the sesame oil.
In a small bowl, stir together the soy sauce, lime juice, and brown sugar. Set aside.
In a medium (10-inch) nonstick skillet, heat 2 tsp. of the oil over medium-low heat. Add the shiitakes and a pinch of salt and cook, stirring, until tender and just starting to brown, about 6 to 7 minutes. Remove from the heat and reserve.
In a 4- to 5-quart Dutch oven or other soup pot, heat the remaining 2 Tbsp. oil over medium-low heat. Add the shallots and a pinch of salt, and cook, stirring, just until the shallots are softened and many are browning, about 3 to 4 minutes. Add the bok choy and 1/2 tsp. salt, and stir until all the leaves are wilted, about 2 minutes. Add the garlic, ginger, and chili-garlic sauce and stir until fragrant, about 30 seconds. Add the cooked shiitakes, the chicken broth, and two cups of water to the pan. Bring to a boil, reduce to a simmer and cook for 5 minutes. Remove the pan from the heat and let sit for 5 minutes. Stir in the soy-lime mixture and 2 Tbsp. of the cilantro.
Distribute the noodles evenly among 4 deep soup bowls. Use tongs to arrange most of the greens over the noodles in each bowl, and then ladle the remaining broth and soup contents into each bowl, distributing evenly.Garnish each bowl of soup with more cilantro, the scallions, and the peanuts. Serve right away with both a fork and spoon.
Serves 4