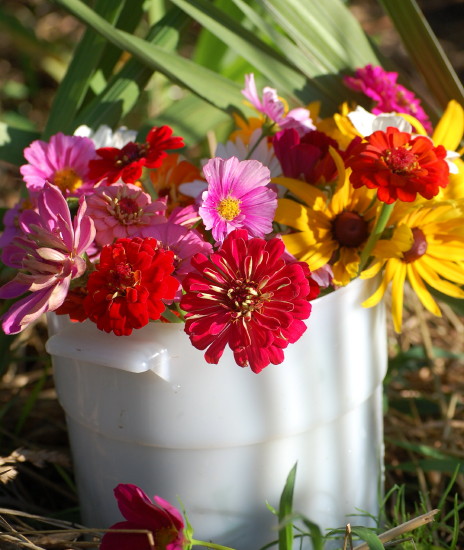 Just like that, July is winding down. And whoa, here comes August—the big month on the Vineyard. It's exciting and a little scary all at the same time. Celebrity sightings. (Bill Murray! Ted Danson! Meg Ryan!) Fireworks. The Fair. And a whole lot of traffic. Business is heating up at the farm stand, but we also get a lot of "drive-thrus" who barely brake to see if we have any tomatoes before they move on to the next farm stand.
100,000 people come to the Vineyard in August. (That's 80,000 more than live here year-round). There is every possible kind of event and activity to go to if you're on vacation and have that lovely thing called leisure time: Shakespeare, concerts, film screenings, regattas, farmers' markets, poetry readings, book signings, auctions, art shows, community sings, bonfires, yoga on the beach, flea markets, antique shows, wood-fired pizza night, wild-life walks, sea glass hunting, fishing, surfing, swimming, you name it. Even Roy and I took off our farm boots and gussied up for an art opening down at the Old Sculpin Gallery in Edgartown last Sunday. My friend Katie Hutchison's evocative photographs were on show, and this year I treated myself to buying one for my office. And today, I put the high heels on again—this time to sign books down at Bunch of Grapes bookstore in Vineyard Haven as part of Tisbury's Celebrate the Arts festival.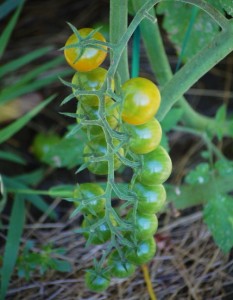 Back at the farm, it's a strange time. Anticipating the August crowds and the ripening tomatoes is a little nerve-wracking—will the two come together to make the farm stand profitable this year? It's hard not to think of August as an all-or-nothing-proposition, but in reality, we are still thinking ahead to September and October and planting more crops. September is a good month for the farm stand, and last year we stayed open all the way through November. So yesterday Roy planted two more rows of potatoes, and I tracked down my cranberry shell beans to plant for a fall harvest. With any luck, we'll get another bed of carrots sowed soon, too. And before you know it, those 50 baby chickens (now nearly pullet-sized, growing their combs) will be laying eggs. This fall, we'll finally have all those eggs everyone is always asking for.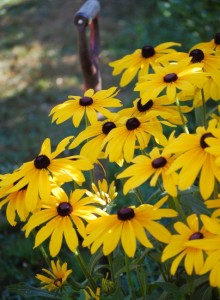 In the kitchen, I'm taking advantage of the first sweet corn from Morning Glory Farm and making lots of corn sautés with our lovely skinny green and yellow beans added in. We made Backyard Berry Ice Cream this week, and we made three kinds of pesto with our lush basil. We made a batch of deviled eggs with some of the pesto, and we brown-braised our Red Gold potatoes with garlic, a couple garden Serranos, and a few leaves of chard wilted in at the end. And I am just like everyone else on this island—chomping at the bit for a juicy ripe red tomato. There's one I've got my eye on in the garden. It might be ready tomorrow or the next day. But I think it's taking its own sweet time just so it can show up on August 1.