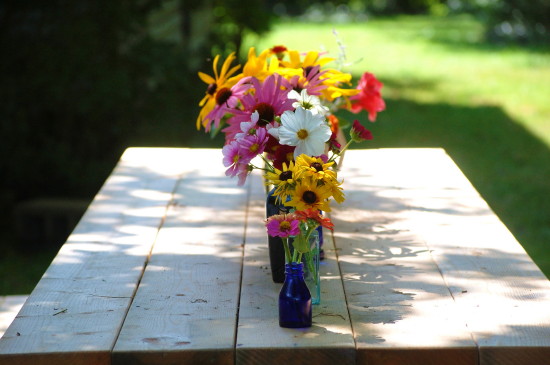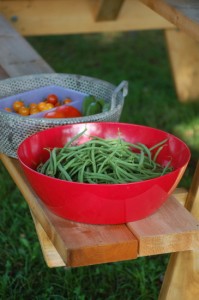 A few days before my birthday, a picnic table arrived in our yard, carted down the driveway in Roy's truck. Roy held out for as long as he could, swearing he was not going to pay money for a picnic table when he could build one for much less, or better yet, build us a really lovely outdoor dining table. I know he was disappointed not to have the time to do it this summer, but at least he didn't leave us without something to sit around for the birthday gathering.
We positioned the table under the shade of the giant maple, which just happens to be about halfway between the back door and the garden gate—the path we travel most often. We intended to move the table after the party, since it's in the way of the rope swing. But it seems to be settling in, letting us know it's happy where it is—and happy to do for us whatever we need. Oddly enough, it's as if the table was always meant to be here, as if the backyard beckoned it to come complete our outdoor living room. (The grill is right nearby, too.)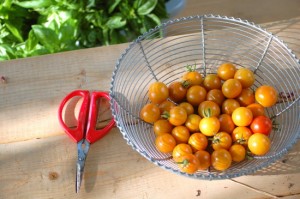 And now we use the darn picnic table for everything. In the morning, I line up the harvest baskets on the benches and set out the scale and the scissors and the little green pint boxes and the jars of water for the basil and flowers on the table. After we've gathered zucchini and cucumbers and cherry tomatoes and what not, we sort it all out on the table and price it for the farm stand. Later in the day, I'll perch at the end of one of the benches across from Roy, listening to him talk about his day at work while he sips his root beer.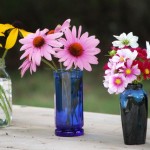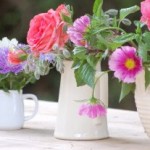 Yesterday I procrastinated (I have two big deadlines looming!) by picking all different kinds of flowers from the garden (including one of the fragrant America rose blossoms from the rose bush Roy got me for my birthday) and arranging them in a row of jars and vases down the center of the picnic table. So beautiful! I got such a kick out of this activity (I've always enjoyed setting tables and arranging little flower bouquets), especially since we don't have a big dining table inside, either. One of the quirks of our little old rustic farm house is no dining room—hence we eat on a tiny dropleaf table in the kitchen.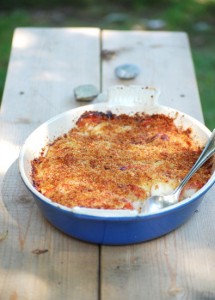 Of course, the best part about the picnic table is eating on it. There is something so relaxing about swinging your legs over the edge of a picnic bench (rather than pulling up a formal dining chair) that gets dinner off on the right foot. (Libby always requests dinner outside now). And since this is a big, long picnic table, there's also room to serve dishes family-style. In fact, we put a cutting board down at one end, and anything from the grill comes straight there to be sliced up. Platters of veggies and salads mingle with the jars of flowers and glasses of lemonade, and we can all serve ourselves what we like.
Farmer prefers dinner outside, too. His outdoor lede stretches just far enough so that he can sit right under the picnic table, happily waiting for something to drop. (He doesn't  have to wait long because he has Roy trained to slip him something every now and then.)
And if it seems like a treat to eat supper outside, it's even more fun to eat breakfast on the picnic table. That's my best friend Eliza and her husband Chip on the Sunday morning after my birthday in the photo here. With eggs from our hens, berries from our back yard, and a warm breeze through the trees, I'll take this any day over a fancy champagne brunch!