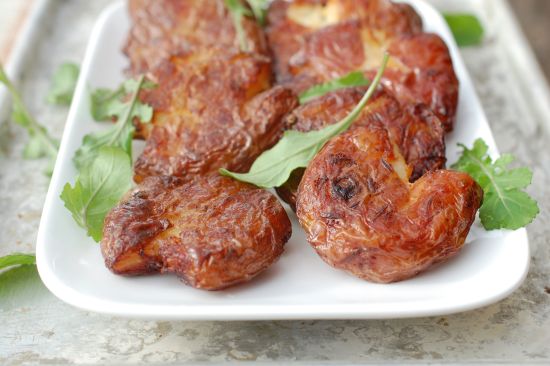 We left the pot-luck early with an empty platter. It wasn't the first time this had happened, but still I was surprised at the sheer snarfing speed of the crowd. The party was really just getting going when we had to dash off to take Libby to the boat, but somehow, between the freshly shucked oysters, the beer bottles twisting open, and the first bites of juicy roast pig, the crispy potatoes had evaporated. I'd never even taken the tinfoil off. But someone had, and a flashmob of snackers had downed 45 crispy potatoes in no time.
When we got in the car, Libby was grinning and wide-eyed, clearly ready to give me credit for this disappearing act. But I told her, "It's a dirty trick, you know, putting a platter of fried salty potato thingies in front of hungry people, people who've probably been raking leaves or rounding up sheep or wading in freezing waters for scallops all morning. They don't stand a chance against a crispy potato. Once you eat one, they're like potato chips or popcorn—you have to have more."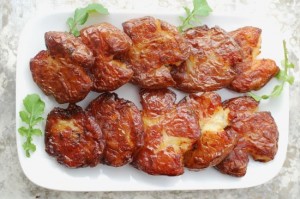 So, yeah, I did not invent potatoes+salt+oil, but I did noodle a fun variation on this theme some years ago for Fine Cooking magazine, and I noodled the idea a little further for The Fresh & Green Table, where I turned the crispy smashed potatoes into a warm salad with a bit of Asian slaw. And somewhere, some potluck along the way, I also discovered a bonus: These crispy smashed potatoes don't have to be served hot. They're just fine at room temperature, which makes them ideal for a buffet, or, say, something like Thanksgiving dinner, when keeping everything hot seems to be one of the biggest challenges. So after the potluck, I began to think I should hand over the recipe here at sixburnersue.com in time for turkey day.
Now I am really not suggesting that you replace the mashed potatoes with these smashed potatoes. (They are literally smashed—you boil little red potatoes until tender and then gently smush them down with the palm of your hand. Then you toss with lots of oil and salt and roast at very high heat. Because they've already been boiled, they wind up with a fluffy texture inside and a very crispy texture outside.) But if you have a big crowd and serve lots of different kinds of food, there's no reason not to make these, too, since they can be partially done ahead and popped in the oven when the turkey comes out to rest.
Or, heck, forget about Thanksgiving day and make them over the weekend or some other time during the holidays. They're pretty good with roast beef. Or just about anything else.
And if you need some other great side dish ideas for the holiday, see my top ten suggestions from last year or browse Fine Cooking's terrific collection of Thanksgiving menus and recipes.
Crispy Smashed Potato Patties
Recipe copyright Susie Middleton, adapted from The Fresh & Green Table, Chronicle Books, 2012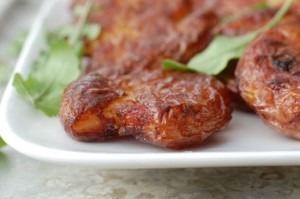 Baby red potatoes—about 1 1/2 to 1 3/4 ounces each—are my favorites here. You can use slightly bigger potatoes, but keep them all about the same size for the best results. I used to toss these with olive oil, but I found that some olive oil got an offer flavor from the very high heat. Now I use vegetable oil. Canola is fine, but lately I've been using Spectrum's high-heat safflower oil and that has a really clean taste.
___________________________________
16 baby red potatoes (consistently sized)
kosher salt
1/2 cup canola or safflower oil
__________________________________
Preheat the oven to 475°F. Line a heavy-duty rimmed baking sheet with aluminum foil and a piece of parchment paper on top. Arrange a double-layer of dish towels on a large cutting board or your kitchen counter. Put the potatoes (preferably in one layer) in a large Dutch oven and cover with at least 1 1/2 inches of water. Add 2 teaspoons kosher salt, cover loosely, bring the water to a boil, and reduce to a simmer. Uncover and cook until the potatoes are tender all the way through, but not falling apart, about 18 to 20 minutes. (Check with a paring knife.)
Using tongs or a slotted spoon, transfer each potato to the dish towels, arrange them a few inches apart, and let them cool for a few minutes. Using another folded dish towel, gently press down on each potato to flatten it into a patty about 1/2 inch thick (or up to 3/4-inch). The patties don't have to be perfectly even, and a few pieces of potato may break off (no matter—you can still roast them). Let the patties cool for a few minutes more, transfer them to the baking sheet, and let them cool for 10 to 15 minutes longer. (Or, at this point, you can hold the potatoes in the fridge for up to 24 hours, covered with plastic. Bring to room temp before roasting.)
Sprinkle 1/4 teaspoon kosher salt on the potatoes and pour the 1/2 cup oil over them. Carefully flip the potatoes over, and season this side with a scant 1/2 teaspoon kosher salt. Rub with some of the oil, making sure that the potatoes are well-coated with oil on all sides. Roast (turning once with a spatula—carefully—halfway through cooking) until they turn a deep orange brown (a little darker and crisper around the edges), about 28 to 30 minutes.