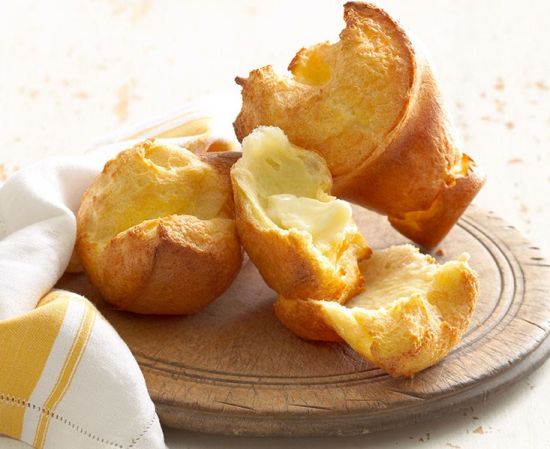 This Christmas especially I am wishing we could be with my Mom and Dad and sister in Delaware. But it is not to be, so I will have to make do, recreating the traditional Christmas morning breakfast we've cooked year after year. Popovers are the star, with scrambled eggs and scrapple on the side. Scrapple might be a bit hard to find in Massachusetts (!), but I will definitely be making my Dad's famous popovers. Only I'm not sure which pan I'm going to use.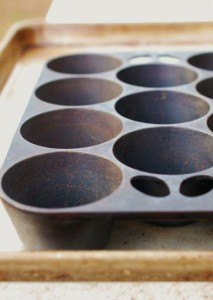 When I was a very little girl, my job was to stand on a stool, dip a paper towel into a can of Crisco, and grease the cast-iron muffin pan with the stuff. The Crisco kind of went by the wayside, but for some reason, that cast iron pan wound up with me, and has traveled around the Northeast for the last 25 years or so. I'm not sure how old the pan is (it's marked "Griswold, Erie PA," so I know for sure that it was made before 1957, when the Wagner company absorbed Griswold. But it is likely much older than that). But I think it is due a little more respect than I have given it lately.
The cast-iron pan got the cold shoulder when the groovy new deep-cup nonstick popover pans came along several years back. Even my Dad got one of those. And we all smiled smugly when our popovers popped as high as the weeds in August. These popovers are so light and airy that I featured a version of them in The Fresh & Green Table. And in their defense, these airy popovers are perfect for filling with a veggie ragout or dipping in a bowl of tomato soup.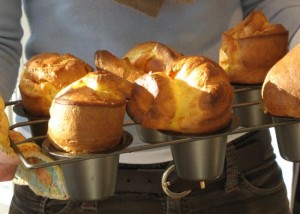 But more air means more crust—and less eggy-custardy filling. That custardy stuff happens to be my favorite part, especially when it is slathered with butter. And if your popover is supposed to be the star of the breakfast plate, well, it just makes sense to have more of the eggy stuff. At least that's what I decided yesterday after (literally) dusting off the old cast-iron pan and baking a test-run of popovers. (Deciding to do this the same week that I was developing both waffle and crêpe recipes might not have been the best idea. Taste-testing was fun at first but then I started to feel like I was going to explode!)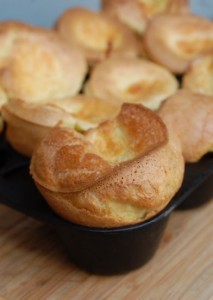 The cast-iron-pan popovers popped perfectly respectably (photo at right) but left a delightful amount of silky stretchy custardy filling to savor. Roy and Farmer both concurred that these were delicious and each had second and third helpings. (To be fair, these were Farmer's first popovers, so he was pretty excited to be in on the taste-testing. His tail thumped a lot and he gave us that crooked smile of his with one tooth hanging over his lip. And the look—you know that look. And he got another taste.)
The good news is that the batter recipe I included in The Fresh & Green Table works fine in either pan, with some adjustments for greasing the pan (included in the recipe below). My cast-iron pan has 11 cups, so I distributed the custard between them (though not very evenly so some were kind of squat.) The nonstick popover pans have only 6 cups, so they hold a lot more custard (hence the mega-poofing). But no matter what pan you use, you're safe to fill the cups up at least 3/4 full and even a bit more than that. If you think of it, take your eggs and milk out of the fridge before you go to bed Christmas Eve, so you'll have room-temperature ingredients in the morning. And if you're resurrecting an old cast-iron pan, you, uh, may need to buy a can of Crisco.
Popovers

I think popovers are best straight out of the oven, but they will keep for a day in a zip-top bag and can be reheated in a 350°oven, wrapped in foil, for 10 minutes.
_________________________
2 tablespoons unsalted butter, melted and slightly cooled, more softened butter for rubbing the pan and for serving
Vegetable shortening, such as Crisco (if using cast-iron pan)
4 large eggs, at room temperature
1 1/4 cups whole milk, at room temperature
1 1/4 cups (5.6 ounces) all-purpose flour
1/2 teaspoon table salt
_____________________
Heat the oven to 425°F. Arrange a rack in the center of the oven.
Grease the cups of a nonstick (6-cup) popover pan very generously with softened butter or the cups of a cast-iron pan generously with vegetable shortening.
Combine the milk, flour, and salt in a blender and blend thoroughly. Add the eggs to the blender and blend until smooth. Lastly, blend in the melted 2 tablespoons butter.
Pour the batter into the cups (they will be about 3/4 to 7/8 full), dividing it evenly. Put the pan in the oven and do not open the oven door for the entire baking time.
Bake for 20 minutes and then reduce the oven temperature to 325°F and continue baking (without opening the oven door) until the popovers are very puffed and a deep golden brown, about another 10 to 12 minutes for the cast-iron pan popovers and about 15 minutes for the popovers in the nonstick popover pans.
Serve right away with lots of butter or split and filled with roasted or braised veggies.
Photo at top by Annabelle Breakey from The Fresh & Green Table.