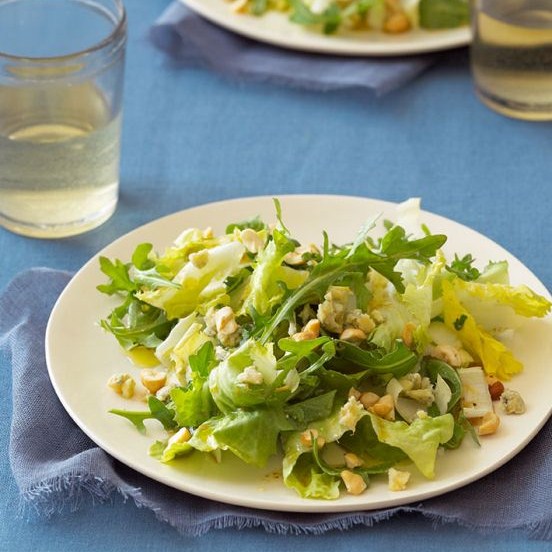 In the early morning, when I open the garden gate to get Cocoa Bunny a leafy snack (if I don't she attacks me when I refill her food bowl), the lettuce and kale and chard and mustard and arugula all have an eerie luminescence to them. They look frozen, but really there's some kind of antifreeze science going on—a higher sugar content in the cells that keeps the leaves from truly freezing. By mid-morning, they look well, normal, again. Normal if it were September, I'd say.
But it's December and it amazes me how many green leafy things are still thriving in the garden (see photos below). I only have a few things covered—spinach and some lettuce—but the rest are just hanging out in the elements and surviving. And not because of any magical horticultural genius on my part. So what if understanding the science is not my strong point? I'm happy to be able to make lovely winter-green salads for as long as the garden will let me. And when everything dies, I'm going to have to resort to buying something for Cocoa—unless Plan B works, and I wind up having a supply of greens in January.
I have four flats of gorgeous lettuce and bok choy seedlings growing in the cold frame. I've never had better looking seedlings, probably because we always have everything awkwardly crammed under indoor lights. The plan was to get these transplanted into the hoop house—under a double cover system that would effectively raise the temperature a few degrees. (The film on the hoop house being the first layer, another smaller hoop of film directly over the bed being another.) I've prepared the bed, but the problem is that the first layer of film is no longer on the hoop house. It got damaged in the Nor 'Easter (after surviving the hurricane) and repairing it is now on a mounting list of things for Roy to do.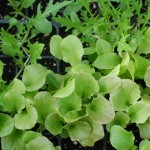 Certainly not worth spending more than a nanosecond worrying about that dilemma. Instead I want to offer you a fabulous winter salad recipe that you can use no matter where your greens come from. It's a recipe from The Fresh & Green Table that I reluctantly cut from the "favorites" list last week because it's a side salad, not a main event. But it is lovely nonetheless so I pass it along to you now. Refreshing, crisp, and bright, it pairs well with hearty dishes like gratins or ragouts, or it can star as a first or last course before or after the Christmas roast beef.
The salad features a trio of greens that I particularly like for their contrasting color and texture—endive, arugula, and frisee (or inner escarole leaves). For special salads like this, I prefer to make a custom mix of greens, rather than relying on store-bought mixes that often are past their prime or don't hold up well when dressed. A sherry maple vinaigrette, blue cheese, and toasted hazelnuts offer all the right sweet and salty notes to bring this salad together. Be sure to use a nice blue cheese like Roquefort or Stilton, and don't buy pre-crumbled blue cheese.
Winter Green and White Side Salad with Blue Cheese and Hazelnuts
Recipe copyright Susie Middleton. Photo at top by Annabelle Breakey. From The Fresh & Green Table (Chronicle Books, 2012.)
Any night you want to serve this salad, you can prepare the greens ahead; put them in a salad bowl, cover with a damp towel, and refrigerate. (Use leftover outer escarole leaves in soup.) And since the vinaigrette keeps for at least a week in the fridge, that's a make-ahead too; just be sure to bring it to room temp before dressing. You can also easily double the salad ingredients to serve a crowd, since there's plenty of extra vinaigrette here.
_____________________________
For the vinaigrette
7 tablespoons extra-virgin olive oil
2 tablespoons sherry vinegar
1 teaspoon orange juice
1 teaspoon maple syrup
1/2 teaspoon finely grated lemon zest
1/2 teaspoon Dijon mustard
Kosher salt
Freshly ground pepper
For the salad
3 ounces baby arugula leaves (about 6 cups, loosely packed)
3 ounces inner escarole leaves (white, yellow and palest green parts), torn into small pieces (about 4 cups), washed and very well dried
2 small endive (4 to 5 ounces each), cut crosswise into 3/4-inch wide pieces, core discarded (about 2 1/2 cups)
3 ounces Roquefort, Stilton, or other good-quality blue cheese, crumbled while still cold (about 1/2 cup)
1/2 cup very coarsely chopped hazelnuts, toasted
_____________________________
For the vinaigrette
Combine the olive oil, sherry vinegar, orange juice, maple syrup, lemon zest, Dijon mustard, about 1/8 teaspoon salt, and several grounds of fresh pepper in a glass jar or Pyrex liquid measuring cup. Whisk or shake well and taste.
For the salad
Put the arugula, escarole, and endive in a wide shallow bowl and toss with your hands to combine. Spoon 2 to 3 tablespoons of the vinaigrette over leaves and toss well. Taste and add just a bit more dressing if needed. Add the blue cheese to the salad and gently mix it with the greens (again using your hands) breaking the blue cheese up further to spread it throughout the greens. (A creamy blue will smear slightly—which is a good thing.) Mound the salad evenly onto four plates, and sprinkle the toasted hazelnuts over each portion. Serve right away.
Serves 4