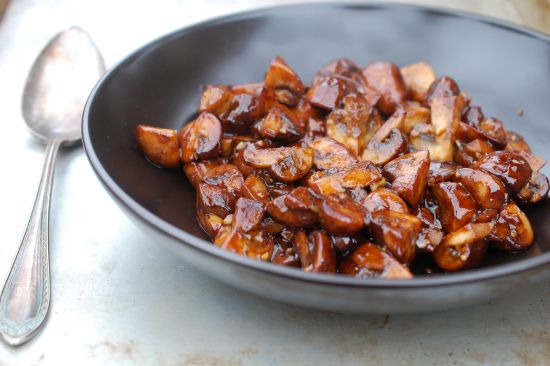 Except for an ill-fated attempt to grow mushrooms in a box last winter and the occasional mini-fungi that pop up in the garden mulch, we do not grow mushrooms here on the farm. I guess that's one of the reasons I've neglected writing much about this most meaty of vegetables.
But yesterday I was paging through Fast, Fresh & Green, looking for appropriate recipes for two classes I'll be teaching at Stonewall Kitchens in Maine in May, and I stumbled upon these Mahogany Mushrooms. Oh, I'd forgotten how much I love cooking mushrooms like this. Chunky, fast, hot, browned, glazed–yum. Wan, undercooked, undercolored mushrooms are not my thing. If you follow this technique, that fate will not befall you.
Just to check, I made a batch this morning and Farmer and I ate them for lunch with some scrambled eggs. He gave the mushrooms ten licks (his rating system—it has to do with how much he licks his chops after sampling a dish). We did have a little problem with a slightly smoky kitchen since the front door is taped up for the winter and of course there is no ventilation hood in our antiquated kitchen. So when Roy got home from roofing, he was kind of wondering what Farmer and I had been up to. But he wonders that most days.
Seriously, I think Mahogany Mushrooms are a perfect side dish or antipasto for this time of year and that's why I'm sharing them with you. Great with hamburgers or roast chicken or sautéed winter greens, or yes, eggs.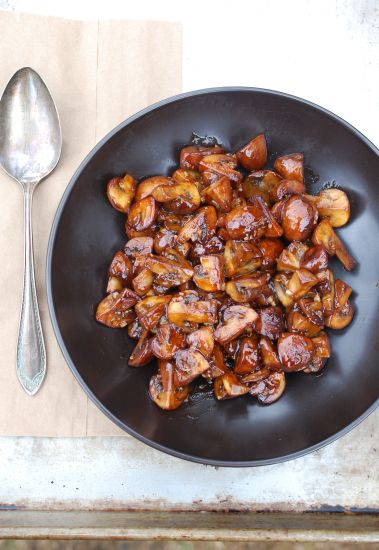 Mahogany Mushrooms
Sautéing over pretty high heat keeps these mushrooms juicy while getting them brown at the same time. A tangy glaze gives them a beautiful sheen, too.
____________________________
1 tablespoon soy sauce
1 tablespoon fresh lemon juice
2 teaspoons dark brown sugar
2 teaspoons ketchup
1/2 teaspoon Worcestershire sauce
2 tablespoons unsalted butter
2 tablespoons extra-virgin olive oil
1 pound Cremini (or baby bella) mushrooms, quartered if large, halved if small
3/4 teaspoon kosher salt
2 teaspoons minced fresh garlic
___________________________________
In a small bowl, whisk together the soy sauce, lemon juice, brown sugar, ketchup, Worcestershire sauce, and 1 tablespoon water and set the bowl near the stove. Put a shallow serving dish near the stove as well.
In a 10-inch straight-sided sauté pan, heat 1 tablespoon of the butter with the olive oil over medium-high heat. When the butter is melted, add the mushrooms and the salt and stir right away. Continue stirring just until the mushrooms have absorbed all the fat.
Let the mushrooms sit undisturbed and cook for 2 minutes, then stir once. Don't worry; the pan may look crowded and dry, but keep the heat up at medium high. Let sit and cook again, stirring infrequently (they will "squeak" when you stir them), until the mushrooms are shrunken, glistening, and some sides have developed a deep orange-brown color,  9 to 10 minutes (the bottom of the pan will be very brown).
Turn the heat to low and add the garlic and the remaining 1 tablespoon butter. Stir and cook until the butter is melted and the garlic is fragrant, about 30 seconds. Whisk the soy sauce mixture again and very carefully add it to the pan. You'll need to scrape out the brown sugar, but don't stand directly over the pan as there will be sputtering. Stir and cook just until the liquids thicken slightly and coat the mushrooms, another 15 to 20 seconds. Quickly transfer the mushrooms to a shallow serving dish, scraping all of the sauce out of the pan with a rubber spatula. Let sit for a few minutes and serve warm.
Serves 4