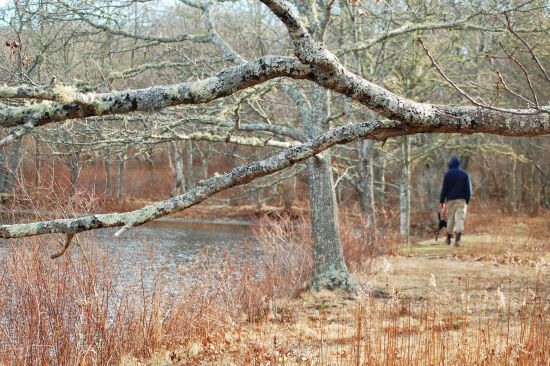 Yesterday morning I played hooky. Roy called from his jobsite and said, "Grab the dog and come take a walk with me." I hemmed and hawed, mentioned it was Monday morning, I had editing to do, I was right in the middle of something, etc., etc." He said, "Well, okay, but it sure is beautiful up here," and started to say goodbye. "Wait," I said. "I'll be there in ten minutes."
Roy's current "jobsite" is the Captain Flanders House, a sprawling 60-acre farm high up on a hill in Menemsha overlooking Bliss Pond and miles of fields and stone walls. If you have to repair a roof on a cold January day, this is the place to do it. On Monday, Roy was the only soul around—but for Farmer and I, who arrived bundled up, camera in tow, and ready to explore.
Intrepidly, Roy led us down towards the pond, over a lichened stone wall, across a stream, around a cattle gate, under some barbed wire and along a path beside the water. He stopped to point out otter poop. Yes, otter poop. Now, having spent the weekend helping Roy clean the chicken coops, I just might not have been too interested in this. Enough already with animal leavings (in this case, fish scales). But here was proof that otters were nearby. Perhaps very nearby. And I have never seen these mythical Martha's Vineyard river otters that supposedly traverse the ponds and streams all over the Island, in search of tasty snacks. At least mythical to me—plenty of other people, including Roy, have seen them, mostly in the wee hours of the morning.
Roy had stepped away from the path with Farmer when suddenly I heard a snortling noise. And then splashing. I turned around and across the pond I saw two little black heads bobbing up and down, then the shadowy hint of sleek bodies slipping across the water. "Otters! Otters! Roy, look!" I shouted.

We watched them. They watched us. They put on a show for us. Farmer was fascinated. I tried to take pictures but was a little too far way to get anything good (see above!). But watching them was delightful and exciting and silly and fun all at once. They swam away, a smattering of ducks lifted off from the pond, and we trekked back up the hill past the old farm buildings, our fingers beginning to feel the bite of a pre-snow chill.
Farmer and I agreed that it was a most excellent walk, one we certainly wouldn't have taken if Dad hadn't called on a whim. And we might never have seen an otter.
It's impossible not to feel present and unfettered on a winter walk. It's impossible not to feel humble and joyful when encountering wild things. And still I need to be reminded that I am free to take this cure whenever I like, every cold and clear and simple winter day of my Island life. No matter my state of mind, I can always benefit from stillness and clarity—and the peace of wild things, as Wendell Berry wrote in one of my favorite poems:
The Peace of Wild Things
When despair for the world grows in me
and I wake in the night at the least sound
in fear of what my life and my children's live may be,
I go and lie down where the wood drake
rests in his beauty on the water, and the great heron feeds.
I come into the peace of wild things
who do not tax their lives with forethought
of grief. I come into the presence of still water.
And I feel above me the day-blind stars
waiting with their light. For a time
I rest in the grace of the world, and am free.
—Wendell Berry