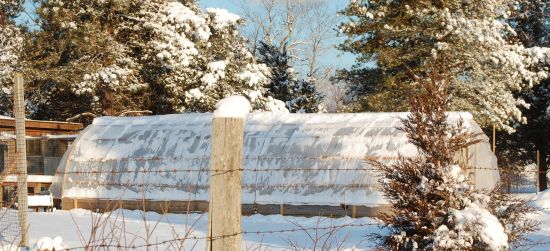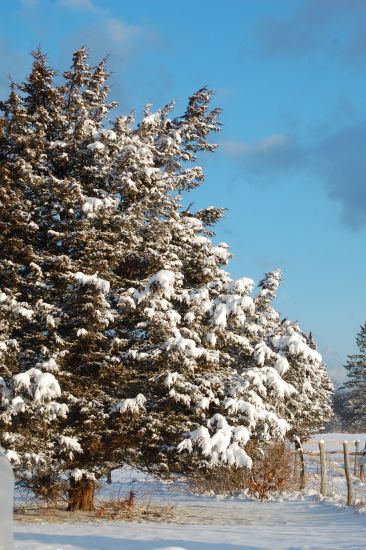 At this point I am willing to admit that living in a drafty, un-insulated old farmhouse loses a bit of its appeal in early February. While I have been busy telling my friends out in the rest of the world that winters on Martha's Vineyard are relatively mild and that we don't get much snow, it seems that the tables have turned. Most days now it's more like Duluth, where Roy spent some time as a toddler—swaddled in a snowsuit, 24-7. Here, we are swaddled in a succession of all-weather boots, a smorgasbord of hats and eternally wet gloves, and two heavy, fleece-lined canvas farm jackets. With Roy wielding the axe to crack the ice on the chicken water every morning, we are pretty scary looking. And that's just when we're outside! Inside the cold (yes, cold) house, our triple-fleece, double-thermal lounging attire makes us look like rejects from a bad L.L. Bean catalogue photo shoot.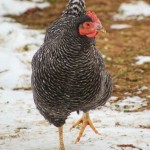 The snow is beautiful. And I longed for it in December. But now that I hear we are going to get a bazillion inches of it (not to mention scary wind) on Friday, I'm thinking, enough, already. This will require even more creative thinking on how to keep the chickens supplied with unfrozen water. And about how to keep our frequent farm stand customers supplied with eggs without making them shovel a path to the back door. Perhaps we could put the wild bunnies to work. Every morning after fresh snow, there's a virtual Etch-a-Sketch of rabbit tracks all around the yard, from coop to garden to barn to woods to fields and back. Drives Farmer crazy.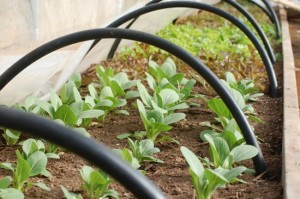 Also, we have to brush the snow off of the hoop house, lest it get too heavy, and, well, you can imagine what might happen. And that hoop house is my winter savior, so I'm very protective of it. I am so darned excited about what we've already got going in there, that I can barely stand it. My little baby bok choy and lettuce transplants are just cruising along. On sunny days, when the temperature inside the hoop house can get up to between 70 and 80, I can practically see the little green plants doing jumping jacks. On grey, drizzly, snowy, ice days, it takes most of the daylight hours just for the plants to unshrivel from the night's cold. They're under two layers of plastic, but still, cold is cold.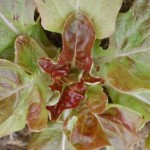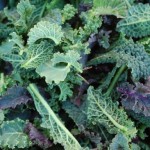 I'm longing to snatch some of those greens but I've held off to let them mature.  Fortunately there is still something green growing in the garden, under no cover at all. That would be miracle plant (and wonder food) kale, of course. A ridiculous plant, this kale. But a convenient one. Convenient because I've been messing around with kale salads lately. (I'll let you know when I really and truly warm up to raw kale salads—I'm not quite there yet, but I'm working on it.) And also because this wicked February cold seems to be giving me strange cruciferous cravings. I only to want to eat Brussels sprouts or cabbage or kale every night. And even for lunch.
In fact, today I knew exactly what I wanted to do with a beautiful head of Savoy cabbage I saw at the grocery: Make one of my crunchy, limey slaws—and add a few of those sweet baby kale leaves from the garden to it. I happened to have a ripe avocado on deck, too, so a new variation on my original recipe was born. Green, green, green. Really green. Strangely refreshing on a cold day. I think it's the antioxidants. Or maybe just the hopeful color. Or maybe it just tastes good. Whatever it was, I think I'd better go eat some more of it (and hope that it has magical powers) now that I've heard the latest forecast: Blizzard. Not just snow, but lots of it and lots of wind. Just what we love to hear on a farm. Stay tuned, and make some limey savoy and avocado slaw!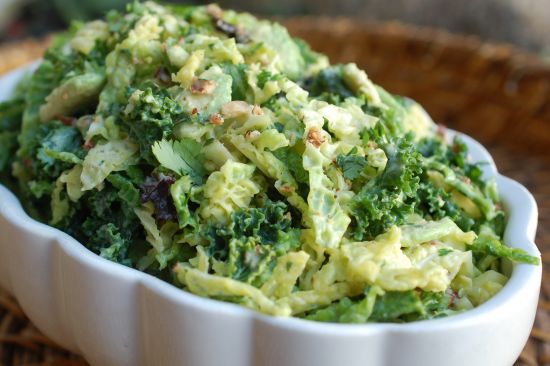 Savoy Slaw with Lime, Cilantro, Avocado & Toasted Pecans
Some groceries are now carrying baby kale leaves—snatch them up if you see them. If not, you can pluck tiny leaves from bigger bunches (even right off the stems of bigger curly kale) or very finely chop bigger leaves to add to this salady slaw. Or leave the kale out all together—or add more. Your choice!
_________________________________________
8 ounces very thinly sliced cored Savoy cabbage or regular green cabbage
1 ounce (about 1 cup) baby kale leaves or finely chopped or sliced large kale leaves (deribbed)
3 tablespoons plus 1 teaspoon fresh lime juice
1 tablespoon maple syrup, more to taste
1 teaspoon fresh lime zest
Kosher salt
1 firm-ripe avocado (2 if you like)
3 to 4 tablespoons roughly chopped fresh cilantro
3 to 4 tablespoons plain nonfat Greek yogurt
3 to 4 tablespoons finely chopped toasted pecans
_____________________________________
In a mixing bowl, toss together the cabbage, the kale leaves, the 3 tablespoons lime juice, the 1 tablespoon maple syrup, the lime zest and 3/4 teaspoon kosher salt. Let sit, tossing well with tongs every 5 to 10 minutes, for about 30 minutes.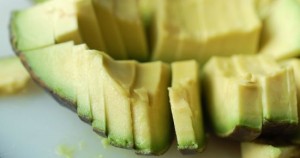 Peel and slice the avocado. Then cut the slices into smaller pieces. In a small bowl, toss the avocado gently with the remaining teaspoon of lime juice and a pinch of salt.
To the cabbage mixture, add 3 tablespoons of the cilantro, 3 tablespoons of the yogurt, and 3 tablespoons of the pecans. Toss well and taste. Add a teaspoon or two more of maple syrup to balance the tang a bit, if you like. Add up to a tablespoon more yogurt for a slightly creamier slaw, and add a pinch more salt, if needed. Mix well and transfer to a serving bowl. Garnish with more cilantro and pecans.