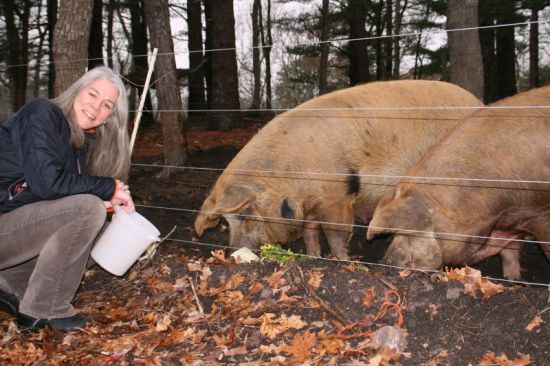 We talked to a man about a pig the other day. At the grocery store. Not in the pork section, but over by the front door, where the newspapers and flower bouquets are. It may seem an odd place to discuss livestock, but our town is small, there's only one grocery store, and in the winter, you know or recognize most everyone in there. Business happens between the curly kale and the navel oranges.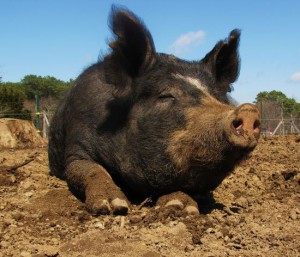 When we walked in, I veered right to look at O magazine, while Roy moved on down the produce aisle to talk to someone. I looked up and saw that it was the pig man. "We'll take four," I heard Roy say. Luckily, I put the magazine down in time to walk over and say, "He meant two." More is always better, if you ask Roy, but if we are going to raise piglets for the first time, then I say start with two, not four. We'll get them in the spring and it will take six to seven months to raise them to slaughter weight (250 pounds). They'll need a pen and shelter, not to mention food. A lot of food. And a lot of water. And then of course, we will need a big freezer, which we don't have. (One can only hope that our luck with free appliances continues.) These are Berkshire pigs (like the black sow above, right), known for very tasty bacon.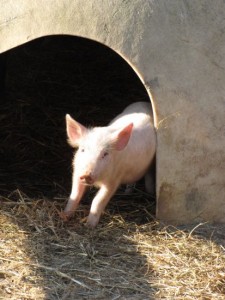 It is no secret that I am crazy about pigs. (That's me in the  top photo, five—yes, five—years ago in my first few months on the Vineyard. I was developing recipes for my first book and feeding leftovers to some friendly sows owned by my new friend Liz Packer. I subsequently went around taking photos of pigs all over the Island. My favorite is below.) So this is surely going to be interesting. Both Libby and I have suggested that maybe one of the piglets should be a female. You know, just in case we decide to keep a breeding sow. I'm really not sure who is crazier, me or Roy. It's kind of a dangerous combination. Will keep you posted.
In the meantime, just to gear myself up for all this, I'm going to make these delicious spareribs from Fine Cooking magazine for the Super Bowl. Or maybe these meatballs. Or this ragu. Yeah, I know, yikes.