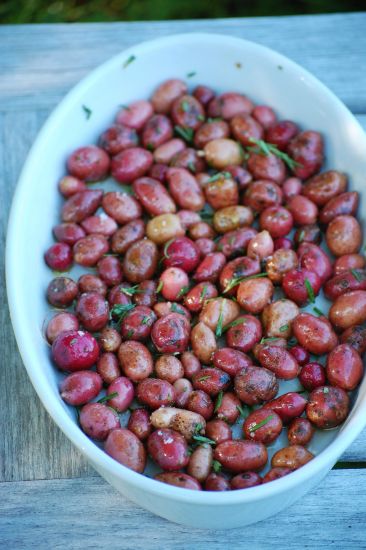 Really, it is too hot to write a blog. (No, my "office" in the old farm house is not air conditioned.) I thought I'd seen heat, what with growing up in Washington, D.C., and spending summers in North Carolina in un-airconditioned cabins. But I guess I'm old. And I guess farming is really one of the worst activities to do in a heat wave (or humidity wave, I should say). I keep trying to get up earlier and earlier to harvest, but it doesn't matter what time I get up—it's already hot. (Doing anything in the middle of the day is out of the question.)
Today, three tee-shirts and two (outdoor) showers later, I'm sitting at my desk, but really none the cooler.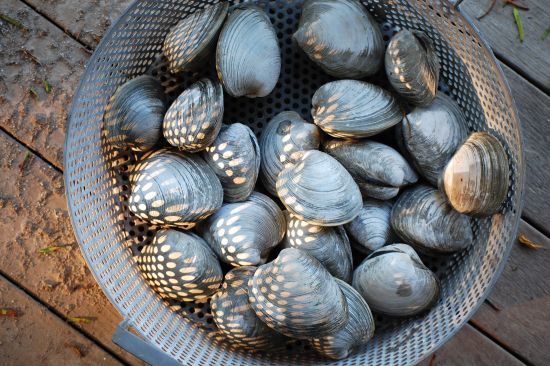 Earlier in the week, I was all blasé about this heat thing, and actually did some cooking. In fact, I turned on both the oven and the stove (several burners). I was all excited because our neighbor Ralph Savery brought us a bucket of quahogs. First I made a quick chowder with some of our fingerling potatoes, onions, and fresh thyme. Delicious. The next night I made spicy linguine with clams. There are still a few clams left, which Roy is threatening to turn into Clams Casino—if we ever turn the oven (or broiler) back on at this point.
Back in the old days (before-Susie, before-farming), Roy got to go fishing every once in a while. Even the two of us would occasionally harvest mussels or go crabbing. Not anymore. Luckily, friends take pity on us and bring us stuff. I am grateful.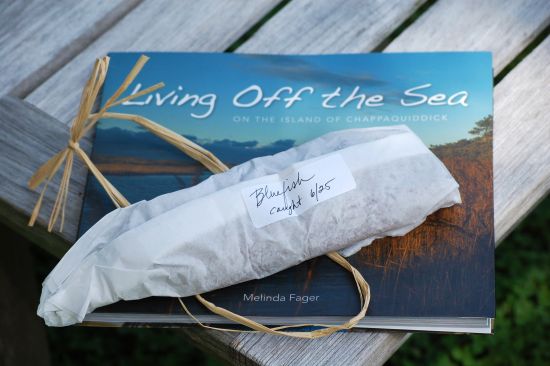 A few weeks ago, a new friend brought me a double-bonus: A very freshly filleted piece of blue fish caught that morning by her husband Jeff, and a copy of her new cookbook, Living off the Sea. Melinda Fager and her family spend summers on Chappaquiddick Island, and make their meals almost exclusively off what they catch and forage. Before I'd even met Melinda, I was asked to review the galleys of her book this past winter. I fell in love with the photos, the stories, and with the recipes—simple, fresh, and perfectly in tune with casual summer living. So if Roy doesn't get his hands on those last clams, I'm going to make her Stuffed Quahogs. (And I've got quite a few other recipes from Living off the Sea tagged—from Blueberry Bread to "Blue Dogs" to Victoria's Chappaquiddick Gumbo.)
In the spirit of making the most of what you've got, I've also been cooking a lot of our own fingerlings. Every time we pull a plant, we get a bunch of little tiny tubers in addition to the bigger potatoes that everyone loves. I think the tiny tubers are the cutest darn things, and I've tried packaging up and selling them in half-pints. But they don't move too fast, I think because many of our farm-stand shoppers are cooking for a crowd and don't think they'll stretch.
But I'm suspecting that folks also may be wondering what to do with them. Well, not only are they the quick dinner's best friend (boiled and dressed in less than 10 minutes, no peeling), but they make especially tasty roasted potatoes (before photo above). With that ratio of skin-to-flesh, they get all crunchy and poppy. Libby gives them a 10. We just toss them with olive oil, fresh rosemary, and a little MV Sea Salt, spread them in one layer, and roast at 400 degrees F for 25 to 30 minutes. (If you don't have teeny-tiny potatoes, try cutting red potatoes into small dice—they'll roast up nice and toasty, too.)
But don't try that tonight if you live on the East Coast in an un-airconditioned home. Turn on the grill or go to the beach and wait for the thunderstorms to blow us through a little cool air. And then, by all means, turn your ovens back on!