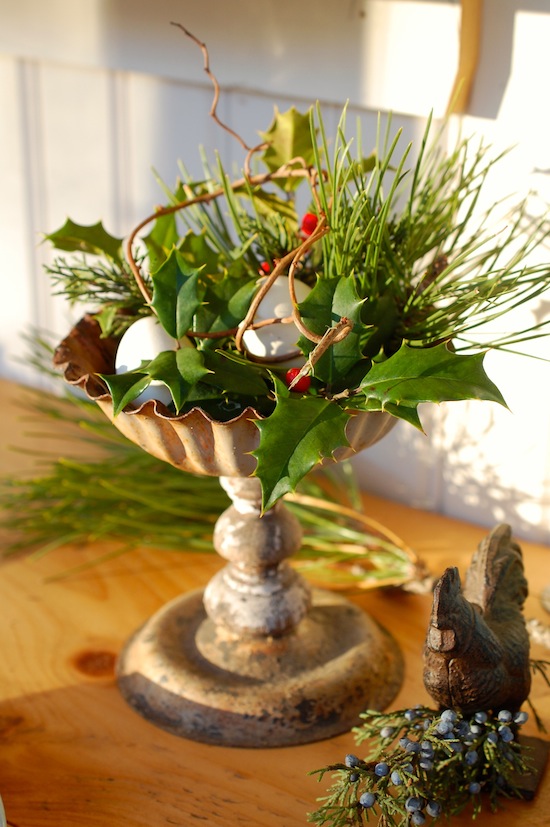 Artsy-craftsy I am not. That doesn't keep me from trying. For the better part of 30 years, I've indulged myself with ridiculous forays into the world of "natural" holiday decorating, usually concocting something that generally falls apart in a week, if not an hour. (For the record, my sister Eleanor, who will be reading this blog and laughing, did inherit the artsy gene. Growing up, we had a neighborhood contest, and she often won for the decorations she did for our house.)
Unfortunately, the bad news is that I have now stumbled into not only a wealth of backyard greenery (the farm is full of pines and even hollies with berries on them!), but I also have a little farm stand to spiff up. And a farm stand, as far as I'm concerned, might as well be a doll house. So cute, and it just screams out to be decorated.
So now I am dangerous.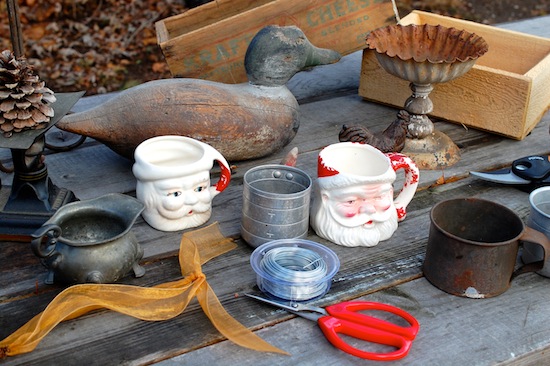 You will be happy to know that half-way through my personal decorating party I staged on Saturday, I gave up on the "swag" to drape around the cut-out window in the farm stand. Short of calling my sister or my friend Mary Wirtz (who will also be reading this and laughing), I had no choice. My limited patience with wiring branches together (that of course didn't stay together or hide the gaping holes) did me in.
But I did manage to take advantage of some cute props. Since Roy is a picker/junker extraordinaire (I think I've mentioned before that American Pickers is his favorite TV show!), and both of us love old metal stuff (and 50s Santa mugs), I had a few things I could simply fill up with snipped pine, holly, and juniper. (The chalice at the top of the blog is a Roy pick.)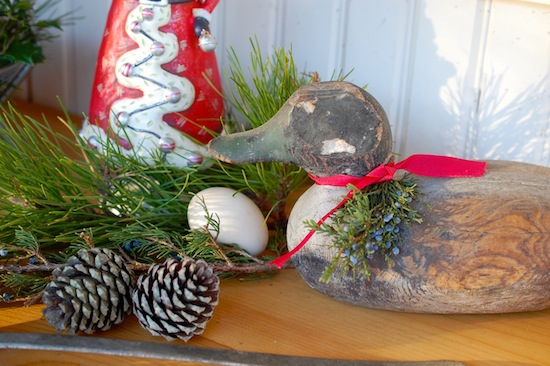 I tucked in a few blue eggs here and there, and, voilá, holiday decorations, farm-style.
Then I added a plate of clementines (and a plate of fudge–now gone; cookies coming) for our egg-buying customers who are still visiting the farm stand. And I was happy.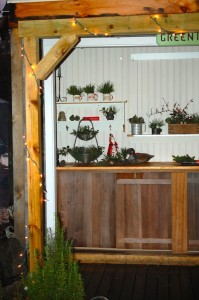 There was a clutch moment (actually before I started decorating) when a classic argument about colored vs. white lights threatened to derail the farm stand decorating project. But after I explained the whole greenery/antique junky stuff theme I had in mind, Roy agreed that white lights were best. I haven't been able to get a good photo at night, so you will have to make do with this grainy one.
Next up: Heading out back with Roy and Libby this weekend to cut down the Christmas tree. And Libby and I have collaborated on a surprise Birthday/Christmas present for Roy, which we're picking up this weekend. He claims not to want to know what it is, but I'm going to have to tell him soon. Hint: It waddles.