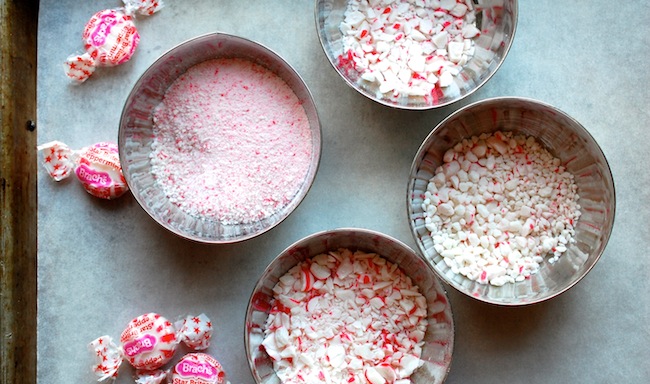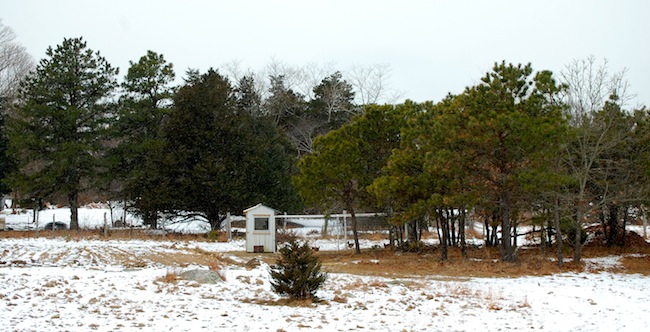 Mr. Big (as in Huge) red-tailed hawk helped himself to a hen yesterday. He has been circling for days, gliding from one pine-tree top to the next, always with an eye down, looking for his opening. The smart and fast hens head for their coops or hide under a canopy of tree branches when they hear his eerie screech or see him on the move. But there's always one….
Hawks are part of the winter landscape that I love so much, and I can't begrudge them the hunt. After all, the rabbits and voles and mice that hawks usually dine on have all gone into hiding. (The mice into our house of course—mice being a wee bit more resourceful than chickens, in my opinion.)
Stepping outside these days is such a contrast to the warm sparkly cookie baking/tree decorating/present wrapping vibe we've got going inside: The light covering of snow on the spent cornfield, the faintly luminous grey noontime sky, the theater of gnarled and twisted bare-limbed trees in the uber-still air. And that gulp of cold air that catches your breath, the chill that makes you curl your fingers into a fist inside your gloves. Startling.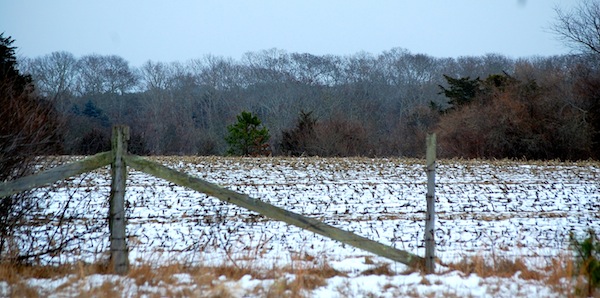 I love going outside. And then I love coming back in.
Even though, no matter how much we try to seal all the drafts in this creaky-leaky old farm house, it is still on the chilly side.
And our Christmas tree brings new meaning to the whole Charlie Brown thing. After traipsing around out back for far too long on the coldest day last weekend, we finally settled on something we thought would work–with the bare back half to the wall! Roy cut it down, dragged it in, and we had a good laugh.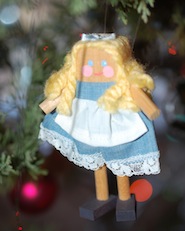 Fortunately, now that I've fortified it with my ornament collection and lots of tinsel, it doesn't look half bad. I just try not to look up when thumbing through Martha Stewart Living. But every Christmas tree is beautiful at night, isn't it? Especially when you turn all the other lights out in the living room and gaze, mesmerized, at the twinkle show that remains.
Now, so far we have eaten every single Christmas cookie we've made. Dad ate the beautiful sugar cookies Libby decorated as fast as I could bake them. So much for gift giving (more batches to come.) Yesterday, I played around with egg whites and a pastry bag (big fun) and made peppermint meringue kisses, a recipe by my fabulous baker friend Abby Dodge. I got the recipe out of one of Fine Cooking's special cookie collections, but it's on the web, too. I've never been a great egg-white-whipper and I think I could have gone a little further with these, but I'm jazzed to make them again. (I tried chopping and smashing peppermint candies a few different ways, too, and that was a hoot.)
In case you can't tell, I love Christmas. And cold days that make baking, well, essential to one's well-being. And I also love these precious limbo days at the close of the year. Serious work goes on hold; afterall, there's a whole new year coming for that.