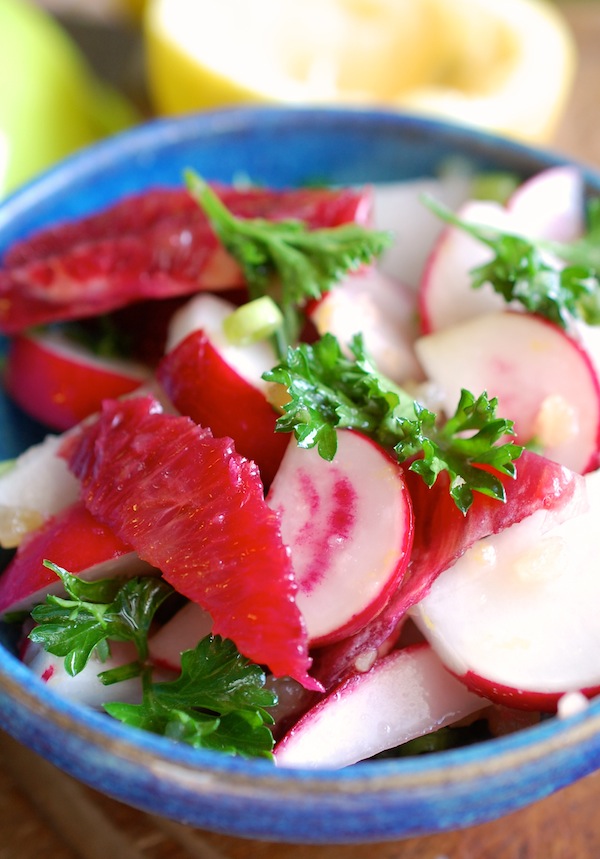 I'm saddling up the horses and heading off to America this week. Actually, driving down to spend a night with my parents in Delaware, then a weekend with my sister Eleanor in Virginia. Leaving Roy alone at the farm with 500 chickens, a farm dog, a frisky kitten, and a lot of eggs to wash. Not to mention about 600 farm chores to start on now that the weather is (sort of) breaking. Lucky Roy.
Hopefully I will manage to pick up some farm supplies while I am off-Island.
Though I hate to be away, I'm looking forward to seeing my family, and of course, my official business for this trip is book promotion, and I can already tell that a visit to DC, my hometown, is going to be swell.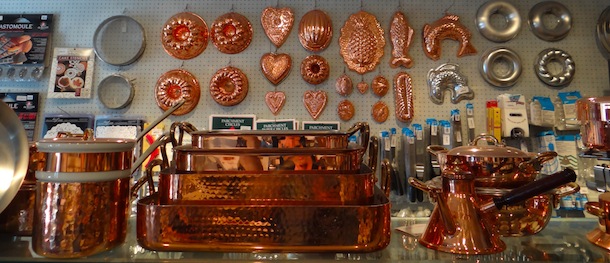 On Saturday from 2 pm to 5 pm, I'm going to be at the very fabulous La Cuisine cookware store in Old Town, Alexandria, Virginia. (The Old Town Boutique District is serious shopping, folks, in case you need an excuse to get out!). I've admired Nancy Purves Pollard and her store (mostly from afar in my years away from Washington) for her one-of-a-kind collection of high-quality cookware and cooking ingredients. I'm just afraid of what I might buy while I'm there. I hear she has amazing coffee, too.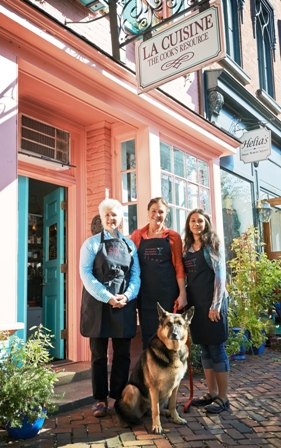 Nancy and I have cooked up a scheme to serve a selection of yummy recipes from Fresh From the Farm. Nancy's going to make the Curry-Coconut Butternut Squash Soup and the Southwestern Quinoa Salad with Black Beans and Farmstand Veggies. And I am going to make the Rustic Roasted Tomato Tarts and the Christmas Slaw with Slivered Pears, Cranberries, & Pecans. I've even enlisted my Mom to make Libby's Lemon Blueberry Buckle! (That's Nancy on the left in the photo at right, with co-workers Val and Larissa and rescue dog Carina.)
While we're serving tasting samples (I'll be at the store from 2 to 5 pm), I'll be signing books, of course, and offering some tips about how to keep a simple, well-stocked pantry for making delicious veggie dishes. I'll share advice on some favorite tools, as well. (Nancy will have a stash of Fast, Fresh & Green and The Fresh & Green Table available in addition to Fresh From the Farm–at 20% off!–so if you've got gifts to buy, this is a good opportunity.)
On Sunday, I'm off to the Dupont Circle Farmers' Market from 10:30 to 12:30.  I'm excited that my cousin, Dr. Kari Evans, is going to hang out with me at the market, while I do a recipe demo, offer tastings, and sign books. The Fresh Farm Market folks have a program called "Chef at Market," and I tried to get down to participate in it 3 years ago. Now I am finally making it, though admittedly March is a tricky season. (I will be there, polar vortex or not.) So we decided to pick a fresh, simple, colorful recipe to anticipate the first radishes of spring—it really won't be too long, now.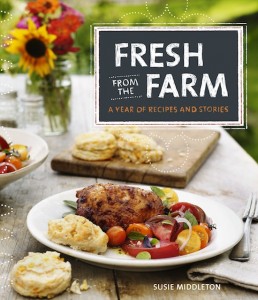 I have to say, the May Day Radish and Parsley Salad with Lemon and Ginger has the most delicious dressing and really is versatile enough to serve all year-round.  I know because I made a batch yesterday to judge how many portions I will need for the market. I remembered loving this salad when I developed it, and fortunately, my memory wasn't warped! Of course, I got into a little thing with crystallized ginger while I was developing recipes for Fresh from the Farm, so I actually had to rein myself in and quit using it after a few recipes. It's an amazing ingredient in vinaigrettes, because the sugar dissolves and the ginger remains spicy, so there is both a nuanced flavor and interesting texture to the dressing.
Yesterday I ate a good deal of this salad right out of the bowl, and then I threw some blood orange segments into the rest (I had half of a blood orange leftover from another test) and wow—loved that color and flavor. Ate the leftovers with roast pork last night.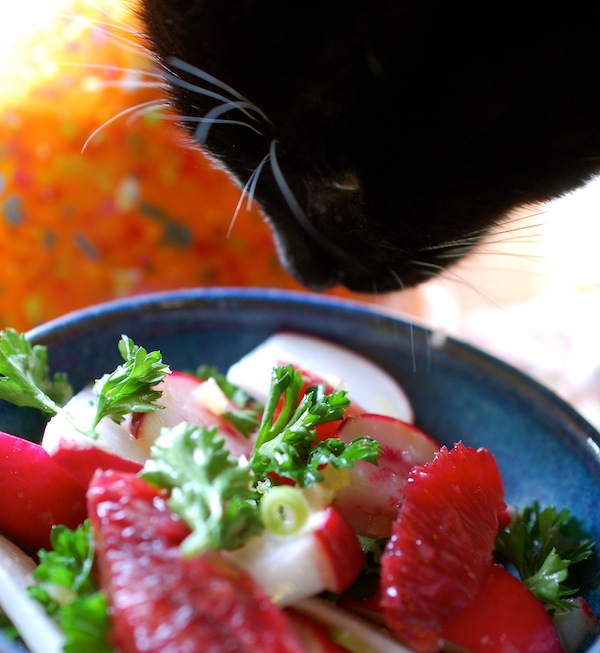 While I was photographing the salad, I got photo-bombed again by Barney the kitty. He moves like lightening and goes from floor-to-food-dish in a matter of seconds. He is fascinated with recipe testing.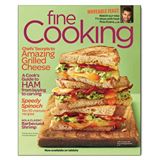 If you would like to make the radish salad, I urge you to click on over to the Fine Cooking website, where the recipe is now posted as part of a collection from Fresh from the Farm. (Feel free to add blood orange segments!) I am feeling particularly grateful this morning to my beloved magazine for the lovely review they've published in the April/May issue, and online. Check it out online, but be sure to pick up that new issue of Fine Cooking on the news stand—it's one of the best I've ever read. Grilled cheese, twice-baked potatoes, tagines, meringues, quick ideas for baby spinach, ham, barbequed shrimp—Oh my!
Hope I can catch up with some of you in DC, but bear in mind I'll be in Chicago mid-March and Montana and North Carolina in April. (Click here for schedule.) Then it's home for the spring and summer. Roy will be glad, to say the least.